RIP, Mike Nichols and His Dangerously Stylish Mrs. Robinson
Photo: Courtesy of Everett Collection
"Mrs. Robinson, you're trying to seduce me. Aren't you?"

That immortal line is usually quoted as a joke — the fumbling college graduate, Benjamin Braddock, can't tell that the woman who's so obviously coming on to him has amorous intentions. But to me, it always pointed to Mrs. Robinson's ambivalence — she wasn't really clear what she wanted. She was bored. At times, she acted like she was trying to seduce Benjamin, but at the same time, with her confession about being an alcoholic, she was trying to put him off. That's what made her then, and still makes her now, one of Mike Nichols's (who passed away yesterday at 83) most arresting creations.
When I watched the film as a teenager, Anne Bancroft's character fascinated me far more than the more traditional love interest played by Katharine Ross (who, awkwardly, happens to be her daughter). First, there was her impeccable bourgeois-with-a-trashy-side wardrobe, the echoes of which could be seen in Tom Ford–era Gucci and in the Versace ads I paged through in Vogue, starring a big-haired Amber Valletta. Then there was her gaze: the direct, almost offhanded way she examines Benjamin as a sex object, or perhaps as just a relief from boredom. Though she instigated their weird, Oedipal trysts, she wasn't even interested in talking to him afterward. That's radical ambivalence worthy of Kate Moss in a Mert and Marcus photo.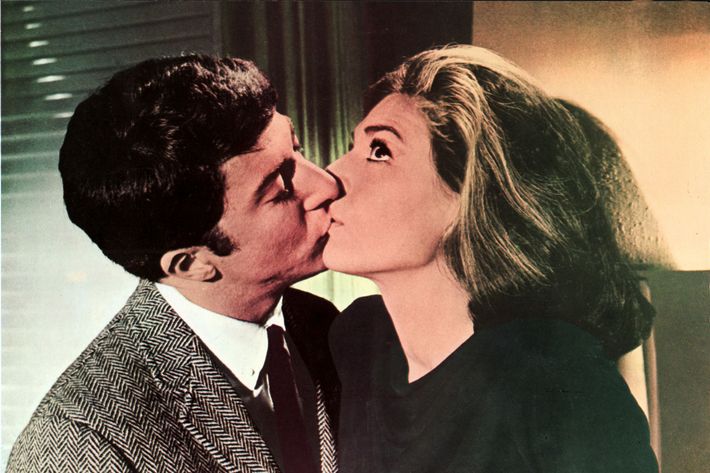 Nichols created a dynasty of great antiheroines, one that stretches from Elizabeth Taylor's blowsy Martha in Who's Afraid of Virginia Woolf to Sigourney Weaver's root-her-on villain in Working Girl. But Mrs. Robinson stands out, in large part, due to her fashion. When Anne Bancroft first appears onscreen, it's in a filmy cocktail dress, and she spends the film dressed with all of the props of the ultimate femme fatale: a closetful of leopard prints, black lingerie, a fully stocked tiki bar, and an ever-present cigarette. Unpredictability is notoriously sexy, and there's more than a hint of danger to her.

But there's also a poignancy to Bancroft's character. Like the characters in John Updike's Couples, which would come out the following year, she straddles two very different generations — an unhappy housewife trying to get in on a sexual revolution she's mostly missed. Her minor imperfections — that sweeping gray streak, the lurid tan lines shown in second-long flashes, like a subliminal message — are heartbreaking. (It's worth noting that Bancroft, who's playing a middle-aged woman, was just six years older than Hoffman.) Her idea of what's sexy is a little shopworn, relying as it does so heavily on animal prints and half-slips, while the fashion around her had already shifted toward braless coeds in flower-child getups.

After I first saw the movie, I started to notice the Mrs. Robinsons around me — waiting for a ticket at the bakery in leopard-print pedal pushers, or perfecting their bouffants under a dryer at the hair salon (while, perhaps ill-advisedly, smoking a cigarette). The middle-class Irish and Italian neighborhood where I grew up had little in common with the wealthy, pool-in-every-backyard Pasadena of the film, but these women were everywhere, all the same. Sure, fresh-faced Katharine Ross might have ridden off into the sunset (on a city bus) at the end, but Mrs. Robinson is the one we remember.