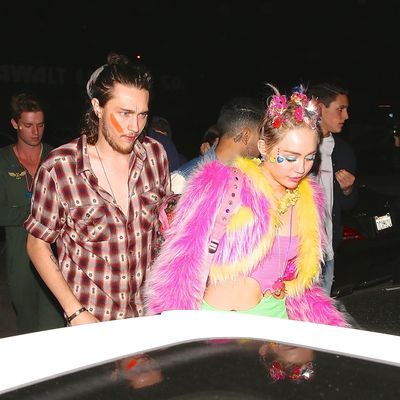 Photo: Splash / Splash News
To honor her 22nd year as Earth's resident nonsense-muppet, Miley Cyrus threw a quiet soirée on Saturday in West Hollywood. It was mellow, muted, and — dare one say — relaxing?
The event adhered to a standard plan — no frills, no fuss, no muss. For activities: a mechanical bull that was shaped like a dick. For food: a cake decorated as if it were a pizza. For dates: a boyfriend who is a Schwarzenegger, and a Kennedy who wore a pilot's jumpsuit. For a color scheme: muted neons, tasteful lime. For conversation: topics presumably ranged from insurance policies to the state of campaign-finance reform. For companions: a variety of floating blow-up dolls. 
It was minimalist, it was sophisticated, and it has officially marked Miley's passage into maturity.