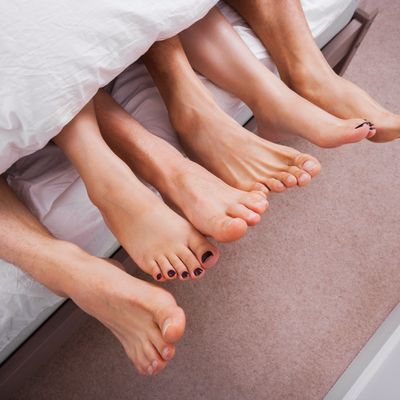 Photo: Ryan Stuart/Corbis
Five years into our relationship, I let my boyfriend sleep with another woman.
It wasn't that monogamy wasn't working. We were a committed, happy couple who enjoyed each other's company, laughed at dumb stuff, and had great sex. But we were 27 and itching to do something crazy — something that would make the hurtle toward 30 feel less like a death march. A threesome seemed like a good place to start: exciting enough to test the boundaries of our sexual adventurousness, yet harmless enough in the long run if it went horribly wrong.
We weren't the type to go up to women in bars, and the thought of asking one of our friends was just too weird. Later that summer, we met a young art student at a friend's party. She was the free-spirit type, the kind who wrote poetry and talked about spirit animals without irony. She had short, light-brown hair and a come-hither smile. She touched my arm and asked if I'd be willing to edit her application for an art prize. I pulled my boyfriend into a corner. "This is it!" I whispered excitedly. We spent most of the night chatting with her, and asked for her number at the end, promising we'd continue our stimulating discussion on the pros and cons of palmistry over a drink the following week. As we were saying good-bye, she leaned in and kissed me on the mouth — a quick, chaste kiss not unlike one between two close girlfriends. But it did, I thought, betray some kind of unspoken desire.
We kept our word and invited her out for cocktails the following Friday night. I had spent most of the day curled up in a ball on the couch, refusing food or drink. Darryn had tried his best to soothe my nerves. "You know you don't have to have sex with her if you don't want to, right?" I did want to have sex with her, but I was also considerably freaked out. How would I know what to say, or do? I was relying strongly on alcohol to guide the way. We met her at a fancy bar by the water and made our way down the cocktail list until someone — probably me — suggested we go dancing. We jumped in a cab, got to the club, and, within 20 minutes, I was making out with her on the dance floor. I went to get another drink and when I came back, I found her making out with Darryn. After 20 more minutes of this, I yelled in her ear, "Do you want to come back to our place?" She smiled and said she'd always fantasized about sleeping with a couple. "Well," I offered, swaying slightly, "now's your chance!"
We spent the next four hours in a feverish tangle of sweaty limbs and crumpled bed sheets, passing out around dawn. When we woke up, Darryn made scrambled eggs and we sat cross-legged on our balcony, talking excitedly about the night before. I confessed to myself, and later to Darryn, that I'd found the sight of him going down on another woman sexy. I'd had little reason, up to this point, to doubt the conventional wisdom on monogamy — that it alone was the key to a happy, healthy relationship. Suddenly, that perspective seemed woefully misguided. What did it mean that I enjoyed watching my partner having sex with another woman? Why didn't I feel jealous or insecure?
It was all we could talk about for the next few months. We delighted in our own prurience at every opportunity — over coffee, at the bus stop, at dinner. It felt like we'd been let in on a great big secret and we were laughing at the mere mortals who weren't privy to its exhilarative power.
The plan was to keep seeing our art-student friend, but she went and got herself a boyfriend a few weeks later. Finding someone as free-spirited would be a challenge. One night, I jokingly suggested we hire a high-class escort. We laughed at this for a few weeks, but then started giving it serious consideration. The more we thought about it, the more appealing it sounded, both for practical reasons and for the added benefit of providing us with a pretty great story. We spent a week searching online for a reputable escort agency — the price per hour was a good indicator — and finally settled on a leggy brunette named Karen. There was no online booking form: You had to call up, leave your name, credit-card details, and hotel. I felt incredibly juvenile making the call. I was too nervous to even sit down, and I had to bite my arm several times, hard, to keep from laughing. We booked a fancy hotel in town and met Karen in the lobby the following night. We took her up to our room, me giggling like a total jerk the whole way because I'd ignored Darryn's advice and drunk half a bottle of red wine to calm my nerves. She kindly broke the ice with a story about an animal-rights march she'd participated in recently, and, after confessing she didn't much care for Jonathan Safran Foer's latest collection of essays, she asked if she could give my boyfriend a blow job. I raised my glass in her honor. She left two-and-a-half hours later, with half our monthly salary.
A few weeks later, I went out of town for work. Darryn called me one night to tell me the art student had asked to hang out. "We can wait until you get home," he said. I thought about it. "What if you and her were to hang out — alone?" I suggested. This took Darryn by surprise. I explained I was curious to see what would happen. I obviously enjoyed watching Darryn with other women, but would things feel different with me out of the room? We had been very adult about the whole thing so far. I was ready to take some risks.
It turns out the art student still had a boyfriend, so she wasn't looking for anything more than a friendly drink. The fact that this news disappointed me was in itself a revelation. When I got home, Darryn and I decided to initiate an open-relationship trial run. How many people feel ashamed for even daring to think about the prospect of sleeping around? Here we were, excited by the prospect. The only "rules" we set were that we wouldn't actively seek out people to sleep with, and that we would tell each everything.
A few months later, an old friend of mine from out of town came to visit. I'd always had a bit of a thing for him — Darryn knew about this and teased me endlessly about it — and, since he was single at the time, I thought why the hell not. I discreetly made my new circumstances known, and, a few nights later, we organized a plan to go to dinner. I skipped around the apartment like a nervous 15-year-old, trying on dresses and asking Darryn's advice. "Nothing that screams, 'Fuck me now,'" he cautioned. He'd organized to go out with some friends that night, so he wouldn't have to be alone. I finally picked a light-blue dress — more girly than provocative — and kissed Darryn good-bye, laughing at the sheer ridiculousness of the situation.
At dinner, even though I'd known this guy for years, I was suddenly self-conscious. Normally, I'd be confident and flirty, but now that sex was a certainty, I no longer knew how to behave. We talked about films, books, art, gun control — everything but the fact that we were going to have sex later. We didn't even kiss until we'd each had a few cocktails. We finally jumped in a cab and made out all the way back to his place. I felt strange taking off my clothes: No one but Darryn had seen me naked in five years, if you don't count the art student and the sex worker. Also, even though I knew I wasn't cheating, a small part of me couldn't let go of the idea that what I was still doing was wrong. But once things got going, I started to relax and enjoy the sensation of an unfamiliar body next to mine. (I asked him recently for his impressions of that night. He said our chemistry and the level of comfort we'd already established through our friendship served us well, and that he trusted me not to make any decisions I would regret.)
I got up early the next day and went home. I was proud of myself for going through with it, but also a little frightened. I had to speak to Darryn. We spent the rest of the day holed up in a diner across the road from our apartment. He didn't want to hear too many details; he seemed satisfied with the knowledge that I'd enjoyed myself. We decided we could keep going as long as we were careful to immediately come clean about any feelings of doubt, or insecurity. We drank our milkshakes and went home.
A few weeks later, we both signed up for Tinder. We were honest about the open relationship in our profiles, and, a few weeks later, I was helping Darryn dress for his first date. (I vetoed his blazer and tie in favor of jeans and a T-shirt. He took the blazer anyway, and, according to him, the first thing his date did was compliment him on his "style." Whatever, man.) I made him promise to text me every few hours. After he left I tried distracting myself as best I could, but I couldn't sit still. I kept checking my phone. Finally, he texted to say it was going well. An hour later, he texted again: They were going back to her place. I panicked. "USE A CONDOM," I texted back.
When he came home the next morning, I wanted to know everything: what she was like, what she said, how she'd acted. What they did. Knowing everything made me feel composed, as if I'd been in the room with them. I needed facts, not guesswork. But I wasn't jealous; mostly just curious, and, if I'm being honest, a little turned on. We began going on a few dates a week, separately. I had pretty shitty luck: I rarely went on a second date with a guy, and almost never got to the point where I liked someone enough to want to sleep with them. (Guys on Tinder, right?) Darryn, on the other hand, was meeting cute, interesting women every week. While not all of his trysts ended in sex, the intimate details of other's people's lives made the experience totally worth it. Almost every woman Darryn met was interested in our experiment. Some even wanted to meet me. Since I wasn't getting much action anyway, this eventually led to us supplementing our individual adventures with a steady run of threesomes. We also made a few close friends this way — last week, we hung out with a friend we met on Tinder, someone we've both slept with on separate occasions. Darryn had left his belt at her place and she'd remembered to bring it along. It was a surreal moment.
I do still occasionally get jealous, particular when women hint they want more from Darryn. One kept sending him poetry she'd written and asking for writing advice. Another asked for handwritten letters. As long as the interactions are purely sexual, it's fine. But once they cross over into emotional or intellectual territory, I get uncomfortable. It's like these women are trying to muscle in on my territory. The jealously, however, is not unwelcome. It reaffirms our feelings for each other. It also keeps our own personal sex life interesting: Watching other women fall over themselves for Darryn makes me hyperaware of my own attraction to him.
Ultimately, we look upon each new conquest as a shared triumph. There's no competition between us. Some couples in open relationships give each other free rein but insist on not knowing of each other's affairs. We work as a team. Our interest in this isn't purely sexual — we like having the kinds of conversations and connections that are usually off-limits for people in relationships. While other couples at the coffee shop argue over whose turn it was to take the dog for a walk, we vet each other's Tinder matches. When our friends ask us what we did on the weekend, we have to make up something less exciting than the truth. We've become better at communicating our feelings, both in general and to each other. Our experiences, together and individually, have helped build a rare trust between us that we could never have with anyone else.
We got married last year. The few friends we've confided in about our situation have asked if we could ever go back to monogamy. Sure. But why would we, when this is still so much fun? Besides, I'm not sure that I still believe that monogamy is the basis for a healthy, happy relationship. Darryn and I have met plenty of people who've confessed to all kinds of infidelities, friends and lovers alike. Some said they considered broaching the subject of sexual experimentation with their partner, but were scared that it would lead to a breakup. Others said they preferred to just get it out of their system and hoped they wouldn't be discovered.
A few months ago, my first lover started dating someone. We went for a drink recently, and I asked him how it was going. He confessed he was hoping to convince her on the merits of an open relationship. She, not surprisingly, wasn't keen. I warned him it's not for everyone. "I know," he said. And then we kissed.