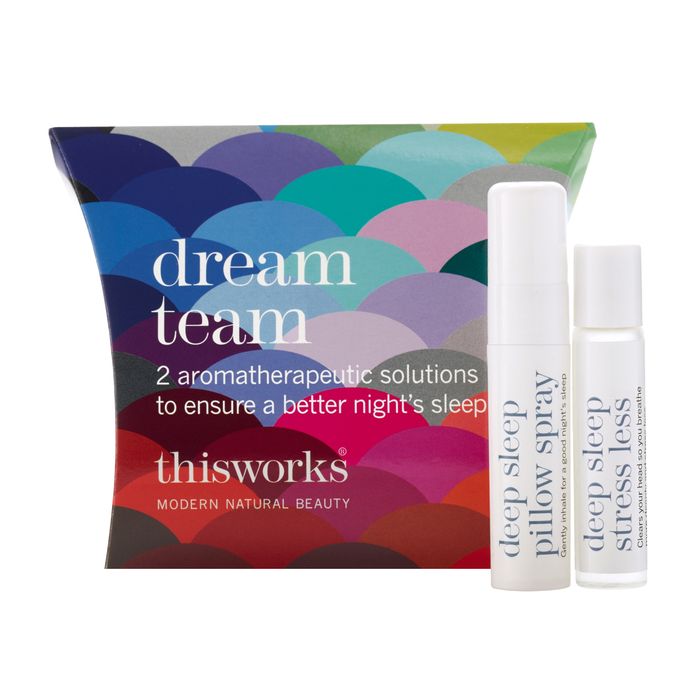 Photo: Courtesy of thisworks
When you constantly toss and turn at night, beauty sleep is a fleeting dream. I wake up consistently throughout the night, every night. While there are sleep solutions aplenty along the shelves of Duane Reade, I decided to try something a bit more natural. Enter Dream Team: an aromatherapeutic answer to a restful night's sleep.
Dream Team is a two-part set by a skin-care company aptly called This Works. It contains a pillow spray and a calming body oil, both of which have a cocktail of essential oils — like lavender, patchouli, camphor, and chamomile — to ease you into slumber. I wasn't sold on the premise at first; after all, fragrant oils seem like they would keep me up all night rather than help me sleep. But because I'm willing to give pretty much anything a try, I gave Dream Team a whirl for a few nights.
As instructed, I spritzed the pillow spray over my pillow. At first it smelled like lavender, but dissipated after a few minutes. Then I rubbed the "stress less" body oil — a mixture of lavender and eucalyptus — over the pulse points on my wrists. Following the directions, I inhaled the vapors, closed my eyes, and hoped for the best.
It was 7 a.m. when I opened my eyes again. Unlike most nights, where I wake up every few hours, stare at my wall, and wait to fall back asleep, the oils helped me go down for hours. It appeared that Dream Team had made my fantasy of a decent night's sleep come true.
Just to be sure, I tested Dream Team the following night, and the next. Same results. On its website, This Works states that nearly 80 percent of users experience a deeper, more meaningful sleep with the product. Those are lofty claims for what amounts to just a few essential oils, but alas, This Works actually does.
This Works Dream Team, $18.50 at Space NK.