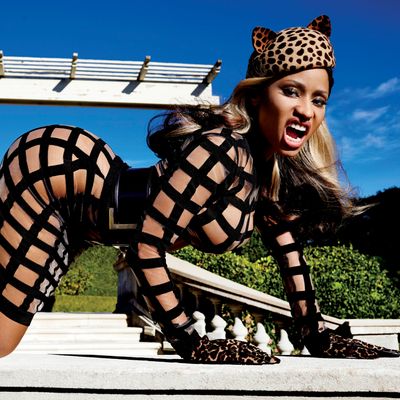 Photo: Mario Testino/V Magazine
Nicki Minaj has been everywhere lately in advance of her upcoming album The Pinkprint, and it seems that "everywhere" includes a Rococo sculpture garden. For V's latest cover, Mario Testino shot the rapper having some fun with statues and cage bodysuits. In the accompanying interview, Minaj proclaims her love for — who else? — Donatella Versace. "I'm so in love with Donatella," says Minaj. "What I love about Donatella and what I love about Versace is that it's so rich. It's not afraid to be rich and braggadocious," which is, in fact, not a word she coined just for this interview. Minaj, who's also friendly with Jeremy Scott and Alexander Wang, says she feels comfortable in the fashion world:
There are attitudes in fashion and in hip-hop that match each other … it's an almost snobby type of feeling. It's fun! It's like showing off! I think rap is a lot of showing off, and fashion is too. Versace is like, Look at me, bitch. I'm here.