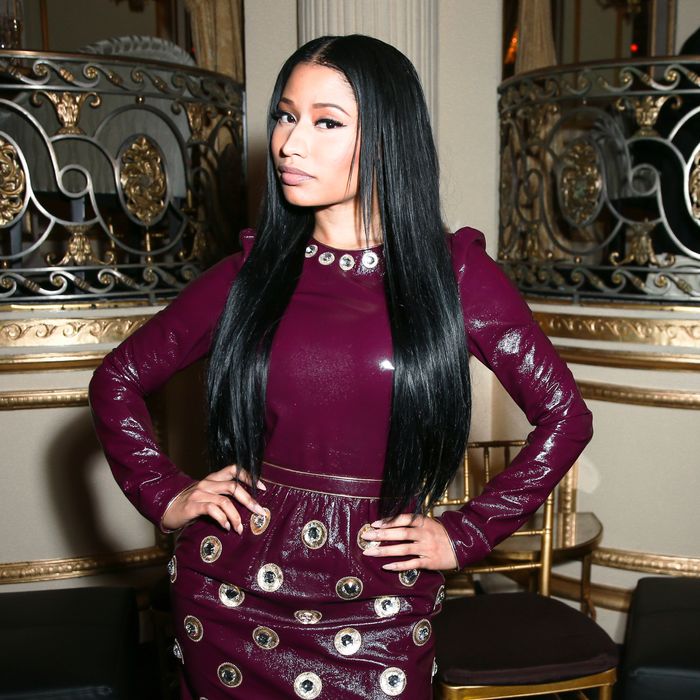 Photo: David X Prutting/BFAnyc.com
Pink ping-pong ball of identity Nicki Minaj is frequently asked about who the real Nicki Minaj is. There at least nine different Nickis cited in the Complex profile honoring her new album, The Pinkprint, from Mixtape Nicki to Alter-Ego Nicki.
How is it possible to be so many things at once? people wonder. Are you a spy? Is this how you acquired so many fantastic wigs, Ms. Minaj? Is it spy-craft?
No, Minaj explains, it's called being a complicated person, specifically of the female variety:
Every woman is multifaceted. Every woman has a switch, whether she's going to be maternal, whether she's going to be a man-eater, whether she has to kick ass, whether she has to be one of the boys, whether she has to show the guys that she's just as smart or smarter, she's just as talented or creative. Women suppress a lot of their sides.
Minaj is the one who suppresses men! she would probably say and chortle. Or at least the interviewer said, after she complimented Minaj on putting Drake in the friend zone at the end of the "Anaconda" video, Minaj laughed. It was unreported, but a million neon angels rang bells in a hologram behind her.