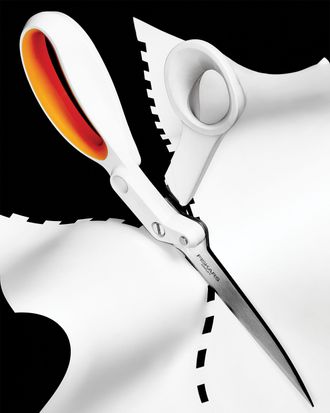 The goal: Find the ideal scissors for cutting paper (and gift wrap, and ribbon, and card stock). We spoke to stationers and professional wrappers, who sent us in search of large non-constricting handles and a lightness conducive to sweeping through craft paper.
The verdict: The ten-inch Amplify scissors by Finnish brand Fiskars are a recent update to the 365-year-old company's familiar orange-handled paper scissors. The nubby brace at the base of the handle positions the blades at an optimal angle even under the pressure of thicker materials. The rubbery loop has a comfortable 3.5-inch width, and the stainless-steel shears have a ribbon-curling-friendly flat edge.
$40 at fiskars.com.
*This article appears in the December 1, 2014 issue of New York Magazine.