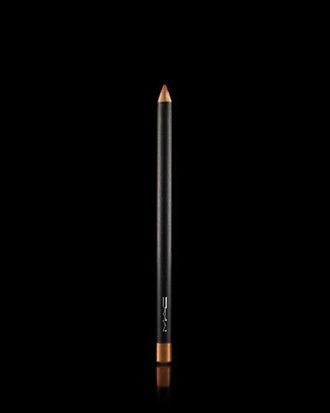 They say eyes are windows to the soul, but after four sleepless nights last week, my soul looked comatose. I've read how a white or nude eyeliner can awaken tired eyes, so in pursuit of brighter eyes that would make me look even remotely awake, I put MAC's Chromagraphic Pencil in NW25/NC30 to the test.
The Chromagraphic Pencil is a multipurpose tool offered under the brand's Pro line. Available in three skin-matching shades, it contains a creamy formula that dries into a velvety finish. I chose the middle range of the shades, NW25/NC30, which is slightly lighter than my own skin tone, but dark enough to fake the illusion of awakened eyes.
Tracing along the lower waterline and around the inner corners of my eyes, I applied the pencil as close to my eyeball as possible. The lighter shade covered redness that lingered around the sliver of skin surrounding my eyes. It complemented my under-eye concealer and the highlighter I drew above my cheekbones. I also noticed that my eyes appeared bigger, like a wide-eyed (but tastefully awake) deer. It appeared that the Chromagraphic was reviving my cold, dead stare.
Any eyeliner worth its salt must, of course, last an entire day without smearing or sparking irritation. The Chromagraphic stayed put from morning to night and didn't dare migrate into my eyes. It seems that sleep can continue to remain a hankering dream as long as the Chromagraphic is an arm's reach away.
MAC Chromagraphic Pencil, $16 at MAC Cosmetics.