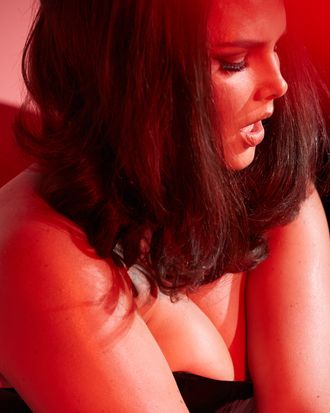 Photo: Courtesy of Pirelli
Today marks the release of the 2015 Pirelli calendar, an artwork calendar so notable that it's referred to colloquially in the press release as just "The Cal™." This year's, the 42nd edition of this elite tire-racing calendar cum nude-supermodel yearbook, has two firsts: It's the first time that fashion photographer Steven Meisel has shot the calendar (Carine Roitfeld styled), and it's the first time a plus-size model appeared in its pages. In addition to Gigi Hadid, Joan Smalls, Karen Elson, Carolyn Murphy, Anna Ewers, and Sasha Luss, Candice Huffine, former Vogue Italia cover girl is also represented.
The Cut spoke to Huffine to learn about how bad cell-phone reception almost interfered with her Pirelli-calendar destiny, her feelings on plus-size tokenism, and size as a fetish. You can also see her picture from the calendar here (NSFW).
You're the first plus-size model to be in the Pirelli calendar. What was the casting process like?
It was two phone calls: One says you're on hold for them, and then the other one is you got it or you didn't. I've worked with Steven Meisel a few times times before, so he knew me well enough. My phone actually cut out on me during the conversation. They said, "Candice, Pirelli is going to 'blank' you." That's right where it cut out, and I was like, "Did they just say confirm or release? Confirm or release?!"
So I was like, "I need you to say that again." And then they said it, and I very calmly was like, "I'm going to need to hang up now; thank you for calling." And then I freaked out — they were probably like, You're so weird! Who does that? But I just needed to process that information, because it did not seem real or possible. I didn't even plan on something that big, you know? I keep saying it wasn't on my career bucket list, because I just didn't think that I could get that high.
This year's calendar theme was "fetish," but you and the other models had no idea of the theme before the shoot.
I had no idea what to expect, but that's okay, because it's full trust in Steven Meisel and the team. You're just like, "It's okay. I trust everything that's going on here. I know I'm gonna look the fiercest I've ever looked." And then, it's your turn to do the final part, to bring in your bit of collaboration to make it what it is. So I see an entire rack of latex when I get on set and I'm like, That looks really sweaty but really sexy. But you're just fascinated when you put it on. Latex and fishnets just really do something to a woman, you know?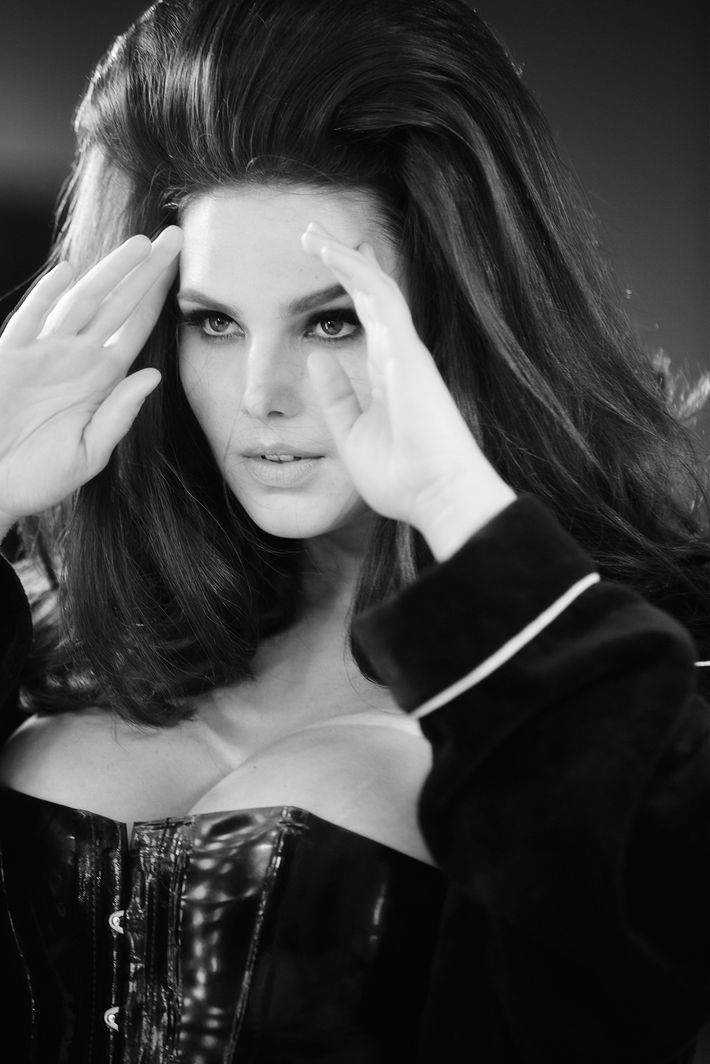 What was your character?
Each girl is so different; it's almost like a fantasy land for each of them. I guess I'd say I'm a little dominatrix pussycat. [Laughs.] I'm in all-black latex and I have a whip.
Was the bodysuit sweaty?
No, no. I wasn't like dripping with sweat. Honestly, those aren't even things that you think about. I didn't even realize until I took it off later, because it's like the last thing on your mind. Mostly you're like, "Oh my God, this is so awesome, I can't believe it's happening." And then you're also trying to bring it.
I think about almost nothing when I'm shooting, which is the weird thing. I've been asked before what kind of music I request when I'm shooting. And I don't know! Because I don't hear it! That's how into the zone and the moment I am. You feel the whole moment where, you're like, I am fierce and badass and I'm gonna just bite the air and — I don't even know what I'm doing with myself, but it's just pouring out me. 
How do you mentally and physically prepare for Pirelli?
Mentally, it's a disaster [laughs]. Just kidding. I was working out the night before Pirelli, just as I would normally. I'm convinced that my workout routine is not probably that dissimilar from any of the other models'. We run, we eat really healthy, and we're not opposite in that way just because our sizes are different.
I was so happy, I was running on the treadmill, and started really thinking about the gravity of the situation and that I was going to be the first. The weight of it just hit me and I just started crying [laughs]. Then, I had to jump off the treadmill early. It's just something I never expected, and each year tops the next year. What could be next?  It's not only exciting for me, personally, but for the women who have always wanted to see something different.
A lot has been made of the fact that this is the first time in 50 years that a plus-size model has been cast. What are your thoughts on that?
I think that it is obviously extremely exciting, and I'm so happy that I can say that it's me. It signifies so much and is such a bold and brilliant move on Pirelli and Meisel's part. It's their understanding: They know that sexy can be in different shapes and sizes. They're willing to take the risk and do something new. It's just overwhelming in the best of ways.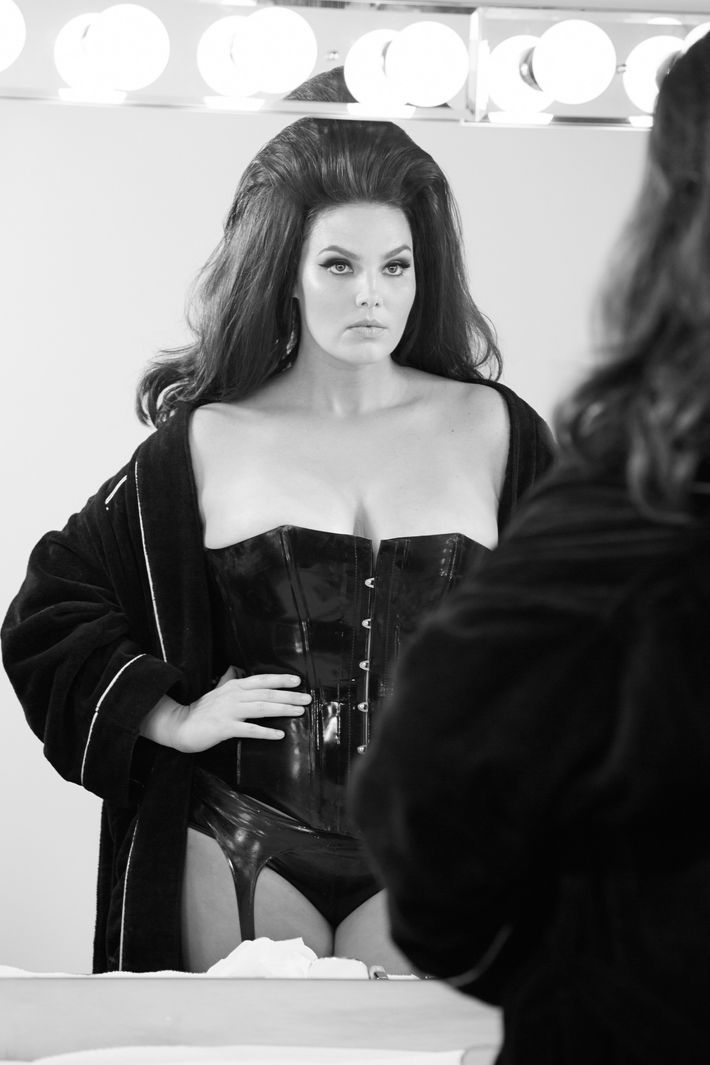 Did you ever feel you were the token plus-size model when you were on the shoot?
No, no. Gone are the days where you only just saw a curvy celebrity or model in a Shape issue. I think that even as we speak, there's probably ten publications, if not more, that are featuring a curvy model at this moment, or on the cover. It's almost not even headline-worthy, because it's become normal, which is amazing. It's like the new normal, which is exciting.
Everyone's excited when there are curvier models represented in media. Yet it feels like it's still a long time coming.
It's been a question mark for a long time, because the consumer wasn't or never felt represented, and they were always confused as to why. But I think that that's not really going to be a topic we're going to be discussing from here on out, and not just because of Pirelli.
There's a major celebration happening right now of — not even just curves — but models of different ages and color and size. I don't blame anyone or the industry for the reason why it took, let's say, maybe a decade. I've been in the industry 15 years, so I've sort of watched it happen. It's a big move; it's a big change, but it's really exciting. It's super well-received and a breath of fresh air.

This interview has been edited and condensed.