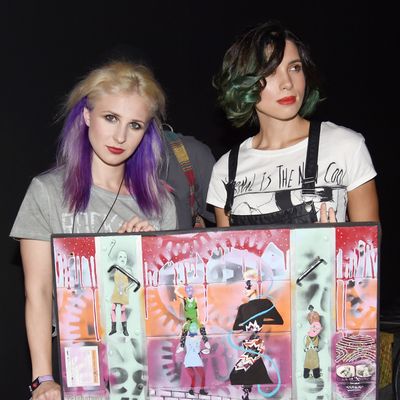 Photo: Ethan Miller/Getty Images
Yesterday evening, Masha Alyokhina and Nadya Tolokonnikova — two of the most visible members of the Russian punk-art collective Pussy Riot — gathered for cookies and wine in PS1 director Klaus Biesenbach's third-floor office. The pair was in New York to celebrate being included in PS1's new show "Zero Tolerance," which opened last week and runs through March 8.

Curated by Biesenbach, the show is named for New York City's approach to policing vice in the 1990s, and it explores the responses of individuals to often draconian policies of local and national governments. On display is a video of Pussy Riot's infamous 2012 action in a Moscow church Punk Prayer — Mother of God, Chase Putin Away! The exhibit also features a video of an action called Operation: Kiss Garbage by Voina, a Russian street-art group and Pussy Riot precursor, in which individuals kissed Russian policewomen in Moscow. (Earlier in the afternoon, Alyokhina and Tolokonnikova sat down for an onstage conversation with Biesenbach and fellow collaborator Pyotr Verzilov; they discussed early inspirations as well as shared the factoid that Pussy Riot is typically translated as "enraged vaginas" in Russian.)

As Masha dragged on a cigarette, she and Nadya spoke with the Cut about their lives in Moscow, upcoming plans for another Pussy Riot action, and the "incredible situation" of their Vogue shoot.


You're living in Moscow. What is life like there right now?
Masha Alyokhina: For us, it is just like life and work. We are like office mouses, who are finding ourselves every day going to metro station to get to our office, because now we start an NGO and media outlet and it really takes all your time. We're just completely inside it.

I read that you were under a lot of surveillance.
Nadya Tolokonnikova: We are under surveillance but we don't feel it, we prefer not to feel it because otherwise you can become crazy. Why should you think about it all the time? I don't understand why it is such a big question for foreign journalists. As you know, you are under surveillance also. The CIA is looking for you.
M.A.: If you just stop to reflect, every country, your country, or what any European country is doing you will become very political, political. It is just what you prefer to think most of the time. If you prefer, like us, to think most of the time about work, about what we can do, even in these conditions, you will just work. It is very simple.

You said that you didn't feel right doing a Pussy Riot action right now with the current situation in Ukraine. Is that still the case?
M.A.: Our last action was during the Olympic Games, and after that Crimea happened. For us, in our usual life, we are talking about all this stuff. But we are just trying to find a way to do our Pussy Riot actions. It is completely impossible to do a regular Pussy Riot action during the war. It is not funny. People are dying, and we don't want to do it. We are working on it, but it will not just be a regular action it will be — you will see.

Any sense of when that will happen?
M.A.: We don't want to promise. We are not politicians, we don't want to promise.

You are working on a book right now — is it about your time in prison?
N.T.: As Russian people, we are always working on a book, because Russia is a very text-centric culture. Even before our prison time, we also worked on the book. It is just a state of mind.

But at tonight's lecture you said it would be released soon?
N.T.: I don't think it will be released soon, but we are working on it.

Earlier this year, you were photographed for Vogue in Michael Kors.
M.A.: Michael Kors, it was? It was really an incredible situation where they just bring huge suitcase with dresses.
N.T.: Most of the dresses were really disgusting. I don't want to hurt somebody, but they were.
M.A.: It was really impossible to imagine that somebody really put it on. They were like, "Put this, and put this." And we were like, "That? We will never do it. Never, never." 
N.T.: We chose the most monk outfits.
M.A.: We are very traditional girls.
N.T.: At first, they wanted to put us in something transparent. And we chose these monk suits, and the girl who was the photographer, Taryn Simon, she is great. She is not a glamour photographer, she is an artist, and she decided to [work] with Vogue because of us, and we also were happy to work with her because we think she is amazing.

Is that coverage good for you guys or does that dilute any of your message?
M.A.: We like these photos.
N.T.: We are not the kind of people who separate pop culture and punk culture.
M.A.: And say, "Is this underground or is this not underground?"
N.T.: When you are punk it is completely conservative to talk — "I will never be in a pop magazine."
M.A.: You have to be less snobby.
This interview has been edited and condensed.