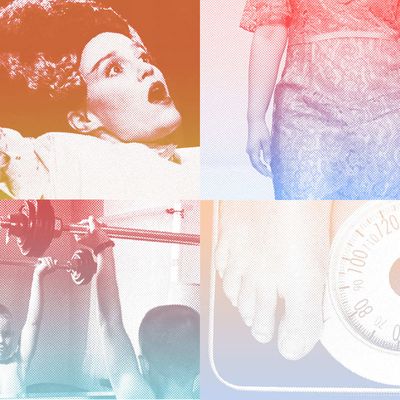 This week, the Cut dove into the deep end of exploring women's complicated relationships to beauty standards — from armpit hair to anti-wrinkle electrocution treatments. In case you missed it, here are all of our Pretty Hurts stories in one place, including meditations on Spanx, dandruff, and double D cups.
WE ASKED NEW YORK WOMEN TO DRAW THEIR BOOBS. Big boobs, small boobs, cupcake boobs — the results run the gamut.
WE SPENT THE MORNING GETTING READY WITH SEVEN DIFFERENT WOMEN. Petra Collins photographed the morning routines of Tavi Gevinson, Linda Rodin, Cynthia Rowley, Yvonne Force Villareal, Haley Wollens, Paloma Elsesser, and Jackie Storr.
WE REVELED IN THE BADASSERY OF BABES WITH ARMPIT HAIR. Including Julia Roberts, Barbra Streisand, Penélope Cruz, and more.
AND GOT SOME EXPERT OPINIONS ON DEALING WITH CHIN HAIR. Kathleen Hou investigates your options.
WE INVESTIGATED THE "BLACK HAIR TAX." Ashley Weatherford explores why salons charge more for natural hair.
WE TESTED ELECTROCUTION TREATMENTS. Rebecca Harrington test-drove an extreme — and not yet FDA approved — approach to minimizing wrinkles.
WE LOOKED AT PICTURES OF FAT SHAMING. Haley Morris-Cafiero photographs strangers' reactions to her body.
WE THOUGHT ABOUT HEIGHT. Ann Friedman reflects on what it's like to be a woman who's 6'2".
AND WHAT IT'S LIKE TO GAIN WEIGHT RAPIDLY. A woman who gained 50 pounds in three months talks about how it changed her perspective.
WE CONTEMPLATED THE USEFULNESS OF SPANX. Meaghan O'Connell recounts her postpartum body revelations.
WE CELEBRATED THE FACT THAT SOMETIMES, YOU JUST HAVE TO GO BRALESS. Jessica Silvester explains what it's like to wear a wedding dress when you're a size double-D.
WE CONSIDERED LASER HAIR REMOVAL — FOR TEENS. Kat Stoeffel weighed the pros and cons of becoming permanently hair-free as a 13-year-old.
AND EXPERIMENTED WITH AT-HOME WAXING. Ouch.
WE HEARD A SOCIOLOGIST'S TAKE ON THE PLUS-SIZE MODELING INDUSTRY. For her dissertation, Amanda Czerniawski decided to see if she could make it as a plus-size model.
WE PONDERED WHETHER BODY POSITIVITY IS A LEARNED SKILLL. Allison Davis tried out the Pavlock — a piece of wearable tech that shocks you in service of breaking bad habits — in an attempt to cure herself of body dissatisfaction.
WE EXPLORED THE PSYCHOLOGY BEHIND WEARING MAKEUP. Nina MacLaughlin recalled what it was like to start wearing makeup at age 30.
AND GOT PRO TIPS ON HOW TO COVER A BLEMISH. Wayne Goss works his magic.