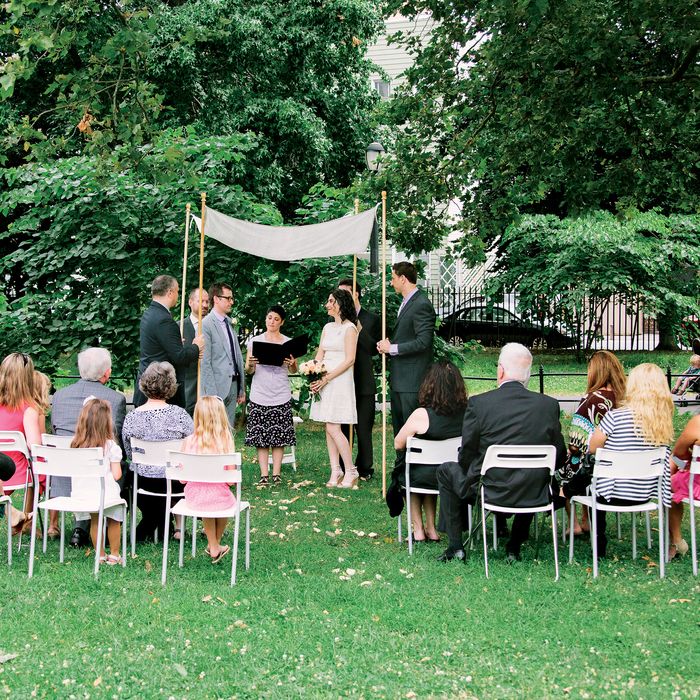 Photo: A Couple of Cameras
Alexis Scherl, 40, and Chad Allen, 41, met on the now defunct site I'm in Like With You in 2007. "We were supposed to meet for PBRs in Brooklyn, but Chad canceled," according to Alexis, a research pathologist. "I wrote him off." The two kept in touch on Flickr, and Alexis was charmed when Chad, a software product manager, made his own camera for a Polaroid outing she had organized. ("That really won me over," she recalls.) After dating for almost six years, Chad popped the question in the summer of 2012 on a raft in the Berkshires. The couple wanted the wedding to be as simple as possible: "City Hall and a party at a bar," says Chad. "But our friends were like, 'You can do something cooler than that.' " They decided on an 18-person ceremony in Brooklyn's McCarren Park, then threw a boozy dinner party at Sammy's Roumanian. Eighty-five guests dined on hanger steaks, chopped liver, and potato latkes while chilled bottles of Ketel One were passed around the tables. Resident comedian-cum-musician Dani Luv played his shtick songs ("It Had to be Jew"), and at midnight the party relocated to a karaoke bar. "People were dancing before the appetizers even came out," says Chad.
The Details:
Dresses: Nanette Lepore (ceremony), Milly (reception)
Suit: Topman
Flowers: Alexander Brothers Florist
Cake: Dortoni Bakery
Photographs by A couple of cameras
*This article appears in the Winter 2015 issue of New York Weddings.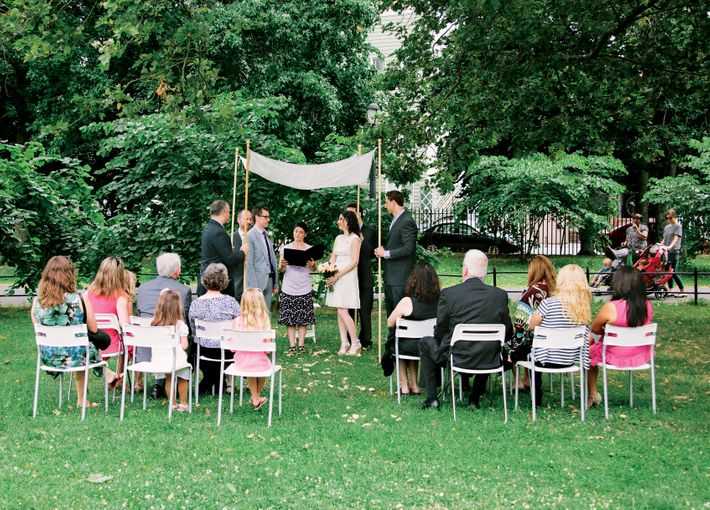 McCarren Park, July 12, 2013
"When you surpass 20 people in a city park, you're required to get a permit. For the ceremony, we narrowed our guest list down to 18."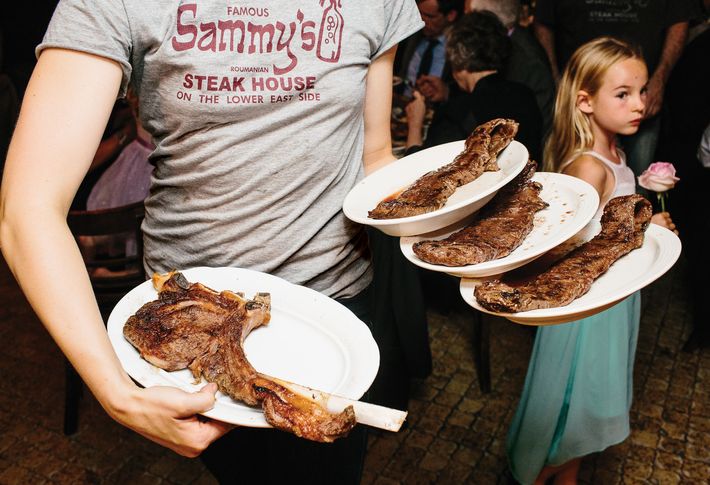 "We were like, 'Is any place going to be more fun than Sammy's?' The answer was 'Obviously not.' "