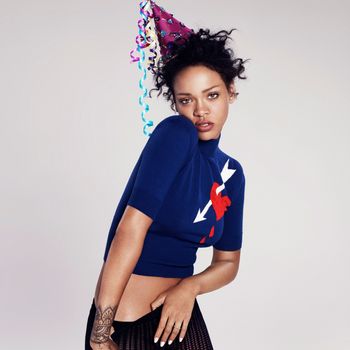 Photo: Paola Kudacki/Elle
RiRi is on the cover of Elle's December issue. As usual, she looks great. The coverline "Rihanna's Most Shocking Act Yet" is intriguing and promises exciting words and situations from her life, presumably. As if we weren't sold already, Elle has teased a sample from the accompanying Q&A to further stoke our fascination:
If you were a piece of jewelry, what would it be?

I'd be a choker!

What's on your Christmas list?

A big, trimmed ****!!
Uh-huh. Choker — seems Rihanna-y. But what is the mystery item to which you refer? What is it you desire this holiday season, Ri?
I want to know so badly I might actually purchase the issue when it's on newsstands. But in the meantime, friends, it appears Rihanna has provided us with a riddle. Let's guess. What is big and trimmable?
A tree.
An Afro.
A turkey.
A beard.
Bangs.
A standard poodle.
The neckline of a formal gown.
A weed plant.
A claw.
A budget.
A cigar.
A pork loin.
This is a real stumper. Please, share your best guesses in the comments. Together we can make Rihanna's Christmas wish come true.