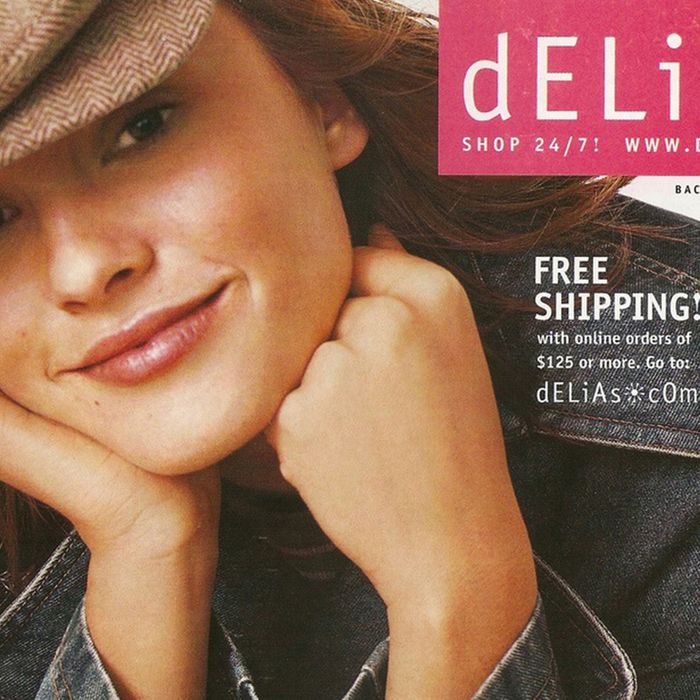 "I loved being a middle-schooler named Delia during the high time of dELiA*s," says Delia Crowder, 30, a middle-school psychologist in Lake Wales, Florida. "Many people were not sure how to pronounce my name, but when I would tell them, 'It's like the dELiA*s catalogue,' girls would say, 'Oh, got it! I love dELiA*s.'"
Like many millennials, Delia grew up on dELiA*s, which is going out of business after nearly 25 years. She still wears a black peacoat she got from the much-beloved clothing company almost 15 years ago. Melissa Aquino, 27, a marketing account manager in Los Angeles, doesn't have any of the clothes left but considers her '99 catalogue a treasure. She held onto it through middle and high school, brought it to college to page through with friends, and scanned the whole thing onto her fashion blog a few years ago. She sees it as a time machine, a relic of her girlhood that made her feel confident during those rough middle-school days. Shaunna Murphy, 28, an editor at MTV News, wore a shimmery dELiA*s dress (strapless and covered in a layer of sheer material) to her eighth-grade graduation. "I had a small case of bacne at the time, so it really helped cover all the bases," she says.
Starting in 1993, dELiA*s encouraged a certain badassery that squared with middle-school girls living across the country.  It was where you went after Limited Too felt too babyish but before you could handle Urban Outfitters. There were belly-baring shirts but no cleavage. Skirts were mostly maxi-length and far from tight. "Get hOme aftEr miDniGht * taLk duRinG thE moVie," read the text between two rows of girls looking sassy in graphic tees and chokers. As a 12-year-old in New York, when being up late meant talking to one of my best friends on the phone 'til 9 about our crushes, dELiA*s helped us imagine a world of staying out past curfew — that is, when we were old enough to have one. Fashioning ourselves confident and cool, we'd talk during the movie, if we had something funny to say. Read my two-toned lipstick.
In that sense, dELiA*s tapped squarely into the girl-power ethos that blossomed in the '90s. "Girl power emerged to address the cultural anxiety surrounding female self-confidence," says Caryn Murphy, a history professor at the University of Wisconsin (Oshkosh). In the '90s, books like Reviving Ophelia were on every parent's nightstand, and improving girls' self esteem as they transitioned into womanhood was a national conversation topic. The U.S. Department of Health and Human Services launched a Girl Power campaign in 1997 with vague aims to empower young women. "In the case of dELiA*s, girl power was about consumer activism more than anything else," Murphy says. "The message was to express yourself, but to do that through your clothes and makeup and room décor." Self-consciousness, each catalogue asserted, could be overcome by spaghetti straps. Being a girl was hard work, of course, but a dELiA*s baby-blue minidress made the seventh-grade dance tolerable. It taught us that being a little bit boy-crazy was not something to be ashamed of. "mOrE fLIrTatiOus tHaN YoUr BeSt fRiEnD's bROtHeR," read one page advertising babydoll dresses. Next to accessories, beneath the butterfly clip, right next to the bubble rings, was this advice: "… kEeP 'eM wRaPPed aROunD YoUr fiNGeR," and we certainly tried.
In 1993, Stephen Kahn and Christopher Edgar, former Yale roommates both in their 20s, started dELiA*s in Brooklyn. Edgars was pursuing a doctorate in comp lit at Columbia and Kahn was getting an MBA; he'd studied philosophy and Victorian literature as an undergrad. They wanted to do something creative, and seeing stylish undergrads on Columbia's campus gave them an idea. Since women were more likely to invest in clothes than their sloppy male counterparts, the duo launched dELiA*s, targeting female college students in the Northeast. Using catalogues would keep overhead low and allow them to tap into a larger market. After the first few catalogues came out, they found it was the younger sisters of college girls who showed the most interest in the clothing, so Kahn and Edgar broadened their customer profile. "It's frustrating to see a bunch of cool stuff on TV and be living in a small town and not have a place to buy it," Edgar once said of their decision to do direct mailings. The catalogue model allowed them to secure the loyalty of young women before they got licenses and could drive to the mall. At a time when 90 percent of catalogues targeted women 30 through 50, the use of a direct-marketing approach was radical. Kahn and Edgar focused on what they called the "Three C's": commerce, community, and content, which turned a catalogue into a cultural phenomenon. dELiA*s hired college girls to distribute catalogues on campuses and high schools, generating a word-of-mouth buzz. dELiA*s also marketed to teen girls way before other companies did. Ten percent of the 40 million female millennials currently living in the U.S. have requested a catalogue.
The line offered a bit of New York edge — "To order call 1800-DELIA-NY" — and featured a diverse group of models that weren't too pretty to be unrelatable. "I grew up outside of New York, and when my parents would take me to Soho, I'd see these amazing '90s art students with crazy hair and cool clothes. dELiA*s made that accessible to me," Aquino, who still treasures her '99 catalogue, said. (That year, they began to open dELiA*s stores in malls across the country.)
By 1998, the dELiA*s website was getting 11 million hits per month, offering a combined sales and editorial experience, with cap-sleeved velvet shirts next to tips on how to apply glittery eye-shadow. That same year, the company acquired gURL.com, a major portal of '90s teen-girl activity online, and linked the two sites. They flourished before the teen magazine market exploded. Teen People was started in 1997, CosmoGirl! in 1999, Elle Girl in 2001, and Teen Vogue in 2003. Even Seventeen, which had been around since 1944, took note of the brand's success. In 2001, it bought gURL.com from dELiA*s and used it as a companion to its print publication. With catalogues and stores in malls across the nation, dELiA*s hung on for a number of years. But competitors crowded the market, and fast fashion soon offered cheaper alternatives. Girl Power was a marketing tool made into cliché, and the mom-approved chasteness dELiA*s espoused lost its currency as millennials aged. Malls across the country have struggled post-recession, parents have tightened their budgets, and dELiA*s hasn't been able to bring in the cash it once did. Now it's just a clothing brand. It sells T-shirts and jeans, not a way to be a girl.
Says Ana Alvarez, 23, a former dELiA*s employee, after hearing that the brand is shutting down: "I guess you forget that it wasn't just you who grew out of it."