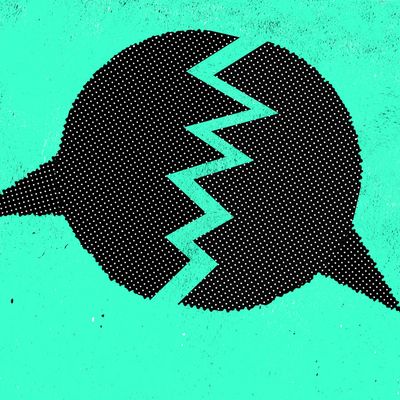 Back in high school, Darren, now a 27-year-old advertising executive, crushed on Ella, now a 28-year-old Ph.D. student, hard core. After reconnecting on Facebook, and then in the bedroom, she moved in with him. It didn't last long. She quit drinking, he didn't know where Stockholm was, and then someone stopped coming home …
ELLA:
We had gone to high school together, but I was a year older — and technically cooler — and never really noticed him. It wasn't until we reconnected on Facebook in our late 20s that I even said his name out loud.
DARREN:
I had a huge crush on her in high school. She was so cute and smiley. I was a dork with acne with parents going through a bad divorce. I remember getting the biggest boners when she'd walk by!
ELLA:
After dating a bunch of guys I wasn't that into, Darren friended me on my 27th birthday. I texted my high-school friends, "Do you remember that kid Darren? Is he normal?" He looked really hot. My heart was jumpy.
DARREN:
I heard she came to New York a lot for work and that she was single. I sort of peaked in college, and now I can get a new league of woman. So I pursued Ella with confidence and told her to get her ass to New York so I could take her to dinner.
ELLA:
I started visiting him in the city — a short train away from Philly, where I lived — every weekend. We had the best dates! The sex was absolutely incredible. His body was ridiculous. Hooking up with him was a sexual revelation of sorts.
DARREN:
For about four months, she'd visit every weekend. I couldn't believe it was Ella in my bed … Ella making us breakfast … Ella sending me selfies. It was like a dream. I was on top of my game, boyfriend of the year. I could not screw this up.
ELLA:
Just before turning 28, I suggested moving in with him. Philly was bringing me down, and I could figure it out work- and school-wise. My only concern was that Darren turned me off intellectually. Some things he said were really stupid; I actually wondered if he was illiterate or "slow." I remember he didn't know where Stockholm was. He also didn't know what a symphony was. But I was mildly addicted to the sex, and I also liked our story: high schoolers reunited in the big city. I told myself: Some girls marry dopey guys — and it's endearing in a "hot jock" or "Joey from Friends" kind of way.
DARREN:
She thought she was all intellectual, but she lacked street smarts. I was excited for her to move in, though. It was still like I was tripping — having Ella from high school, naked, making us coffee. Crazy!
ELLA:
I moved in. Things got rocky. We just didn't mesh so well on day-to-day things like when to go to sleep and how to spend our free days. I'd have to get drunk to enjoy myself around him — a pattern in my dating habits. When I wasn't fucking him, I kinda hated him.
DARREN:
She moved in and basically turned into the biggest bitch.
ELLA:
I got a therapist because I didn't want to hate him. I wanted to make it work. I just felt so critical of everything. He never read. He literally made fun of me for wanting a subscription to the New York Times. He wanted to go out and get wasted, and I decided to quit drinking altogether. I guess my sobriety was like a little "fuck you." Like, You are a loser and so you drink, and I am a winner and will be sober. Plus, drinking had become a bit of a crutch, and I wanted to catch it before it was too late.
DARREN:
Not only did she turn real bitchy, but she got real boring. Suddenly she was all AA. That was weird. I had no idea why she stopped drinking. My sisters said she was probably preparing to get pregnant. I still really loved having sex with her — our bodies just fit — but I made sure she stayed on that pill.
ELLA:
Darren's hotness and sexual persuasion started to win me back over. I was never an alcoholic, but I loved being sober and was feeling pretty good. I compartmentalized. I decided that I would still read and travel and keep that separate from him — while still going to sleep with, and waking up to, a big, strong man who would always love me more.
DARREN:
I thought I loved her, and I certainly told her that all the time, but I didn't. She picked on me. The idea of marrying her freaked me out; it wasn't even an option. I wasn't going to sign up for that. I don't want to say she changed; I think I just never really knew her.
ELLA:
At almost our one-year anniversary, Darren was distancing himself from me big time. He was staying out later, texting a lot less. He just didn't give a shit about me at all. I doubled my therapy.
DARREN:
Honestly, I just wanted her gone. I didn't want to deal with a breakup. I didn't want to deal with her psychoanalysis. I know I sound like a dick, but I had no emotional feelings about any it. I was ready to change the channel and watch something else.
ELLA:
Everyone I know has a husband or boyfriend who can be a real dick now and then, and then they get back on track. We'd get back on track. I didn't want to move back to Philly and be single. I just kept thinking how we looked so good together and had this great love story. He had to mature. Men mature later. Then he literally stopped coming home. He vanished from his own apartment.
DARREN:
It was a Thursday, and I hopped a Jitney to the Hamptons. I couldn't deal with any of it, and there was a girl at work who invited me to her share house. It sounds terrible, but I was just avoiding reality. It was basically over with Ella, so at that point it didn't matter what I did — she was going to hate me.
ELLA:
When he disappeared and wasn't returning my calls — other than one text saying he was in the Hamptons and "don't worry" — I called my family in Philly and said they had to get me. They were fucking furious with him. They found me in a corner of his apartment, white as a ghost, shaking like a little mouse. They packed my things up and put me in the car. I left him a note: "Fuck you. You lost me forever. Ella." A small part of me had hope that he'd come to his senses and turn it all around, but I also knew no one in my life would allow it after that. I assumed I'd hear from him and that there would be some begging …
DARREN:
I got her note. I don't know what's wrong with me, but I felt bad maybe for one second. I never reached out to her again.