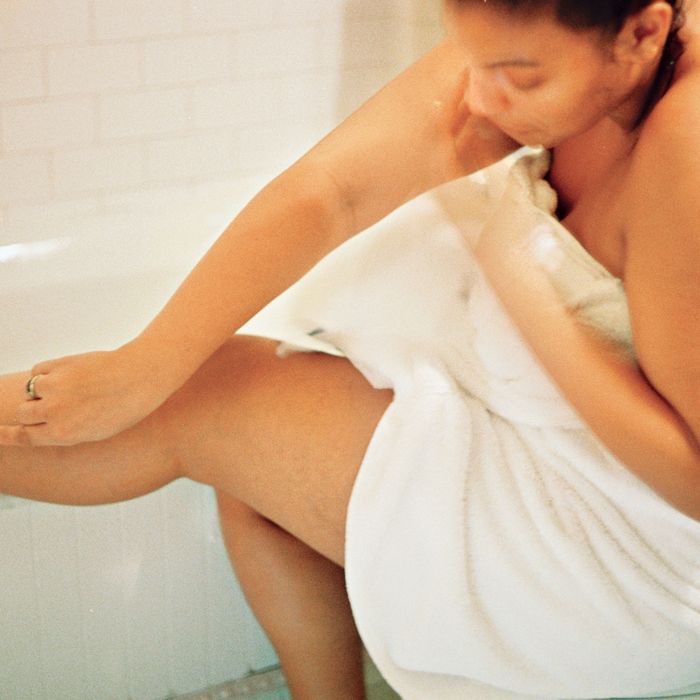 In this series from Pretty Hurts, Petra Collins photographs six New York women as they prepare for their days.
Student, writer, and model Paloma Elsesser, 22, just wants to feel clean and organized in the morning. "My therapist once said, 'Even if you feel shitty on the inside, it is always nice to make yourself feel better on the outside,'" she tells the Cut. "So even if it's like, Fuck Monday, I just start my day out however I want my day to be."

As a psych student at the New School, Elsesser's morning classes mean early beauty routines, like exfoliating and shaving. "You can get all the dead skin away, and it is the smoothest result ever," she says. "It is just like ridding you of that week and starting anew." 
Click through the slideshow ahead to see Petra Collins's portfolio of Elesser's morning routine.
*This article appears in the November 17, 2014 issue of New York Magazine.
Additional reporting by Katie Van Syckle.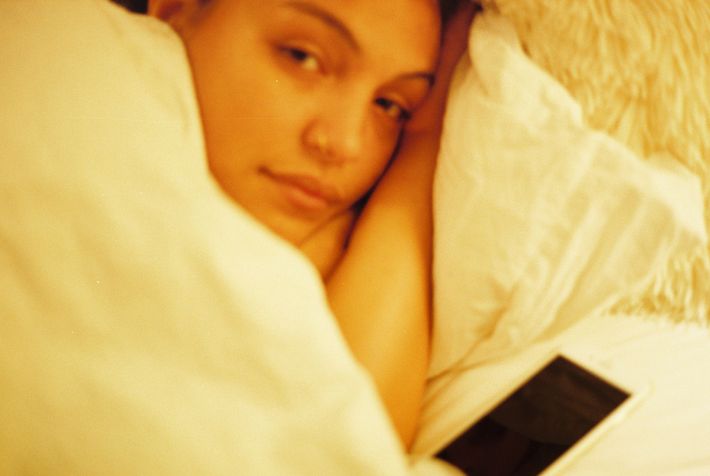 "I get out of bed super-early on Mondays because I have a class. My alarm is set for like 6:30 and then 6:43, and then I'm up by 7, because I like to shower. I normally just like to feel clean, and I like to smell good. My scent is really powerful to me. Weirdly, in New York when everything smells so bad, I will catch a whiff of myself and feel a little bit refreshed, which makes me feel pretty."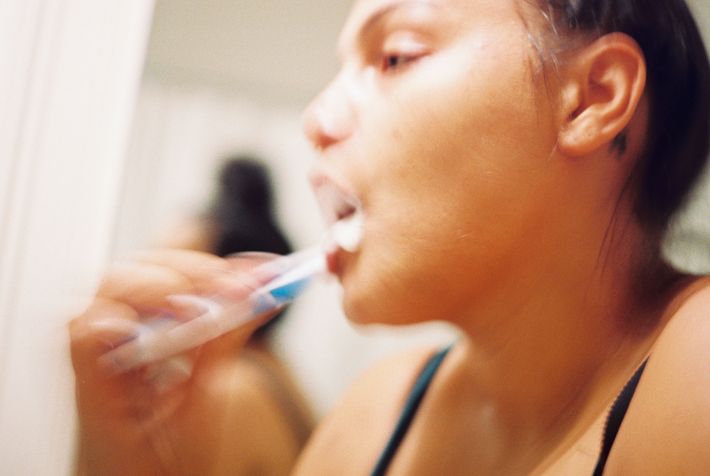 "I wash my face and I brush my teeth right when I wake up. I exfoliate about two or three times a week because I have porous skin. I use a Fresh Rose exfoliating mask; it is super-coarse. I like it very coarse so it feels like it is getting the job done. I normally exfoliate in the morning."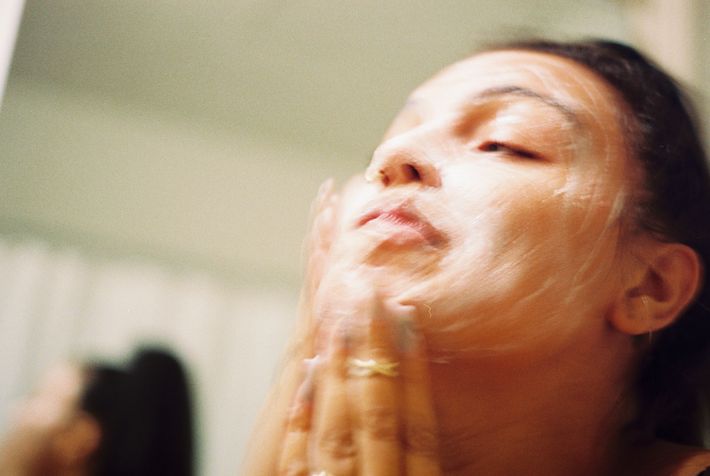 "Gentle, cleanser-wise; I bounce between Neutrogena and Kiehl's cleanser. I use a Dermalogica spray toner or sometimes witch hazel, which works really well as well. Sometimes my skin has color variations, or, for dark circles I have noticed that toner works quite well. And then I finish off with Dr. Hauschka's Rose Day Cream."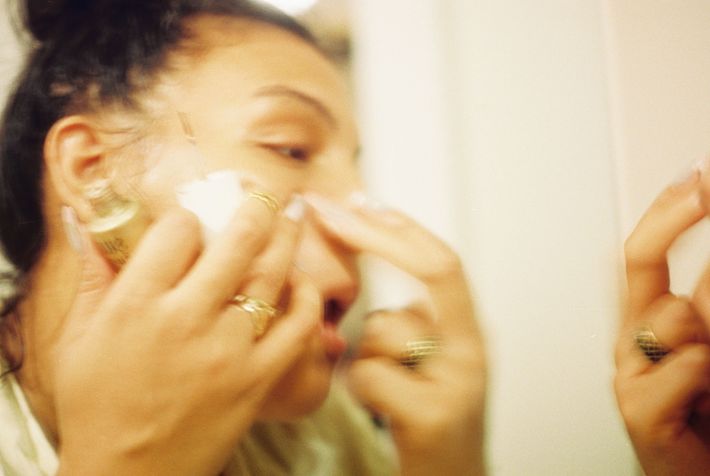 "At night, I do pretty much the same regimen: It is makeup remover, and then I use a seaweed night cream from Mario Badescu."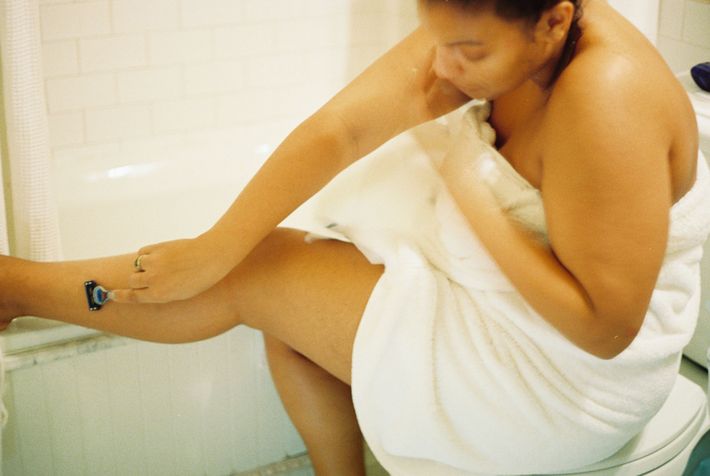 "I kind of have a routine about shaving my legs on Mondays. That's why I did it. I actually exfoliate my whole body with a Sabon body scrub. I exfoliate everything to reveal all of the hair, to get everything up, and then I shave. You can get all the dead skin away, and it is the smoothest result ever. It is just like ridding you of that week and starting anew. I am not a very hairy person, so if I shave that Monday, I can go that whole week."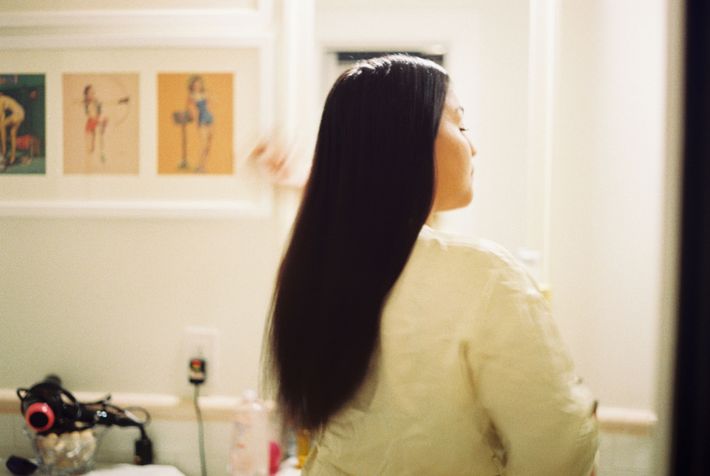 "As of late, I have been straightening my hair. Once it gets greasy, I will hit it with the curler, and it will look like I got my hair done again. I go for four or five days, then redo the process. When I do have my hair straight I use a John Frieda blow-dry cream, blow my hair out, and then straighten it. If I'm curling it, I personally swear by the Oribe anti-humidity hairspray. It is so fucking amazing. My hair has a lot of volume, and it keeps all the moisture out but doesn't make it hard and crispy, which I hate. I get my hair blown out at this hair salon on Rivington called Yany's. It is this old Dominican spot, and they will blow my hair out for 20 bucks."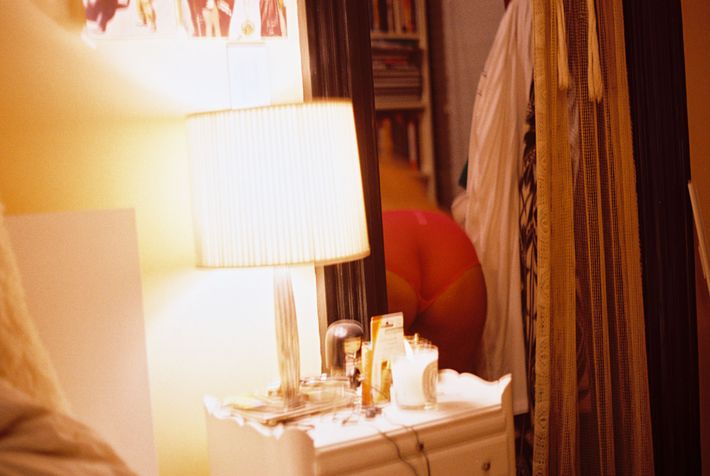 "I think about my outfits in the shower. I wear a lot of camo pants. It is normally like camo pants and a crop top. I love sportswear."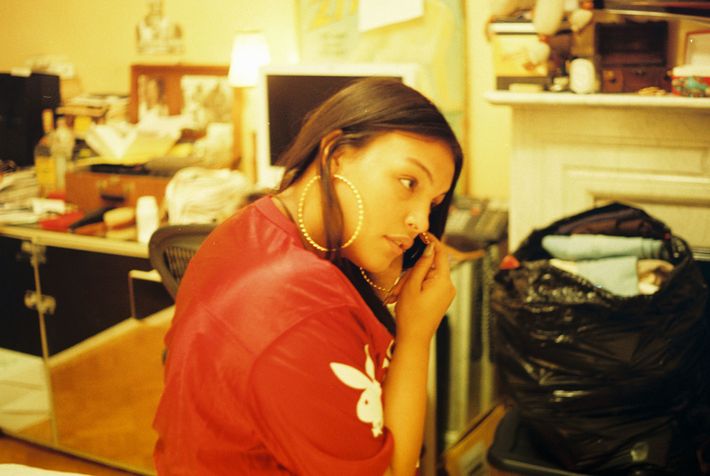 "I try not to wear too much makeup during the day, because if I have to go out at night I'm going to have to take off my makeup and put it on again. I don't mind my face without makeup. I'm either not wearing makeup, or I feel like I am wearing makeup. I don't do a really natural look; I don't know how to do it that well. If I do, my most minimal is that I use a bit of concealer. I know nothing about cover-up. I just know that I have dark circles under my eyes and I use this Nars Sheer Glow, on this cool little sponge that looks like an alien head, so I don't look so haggard."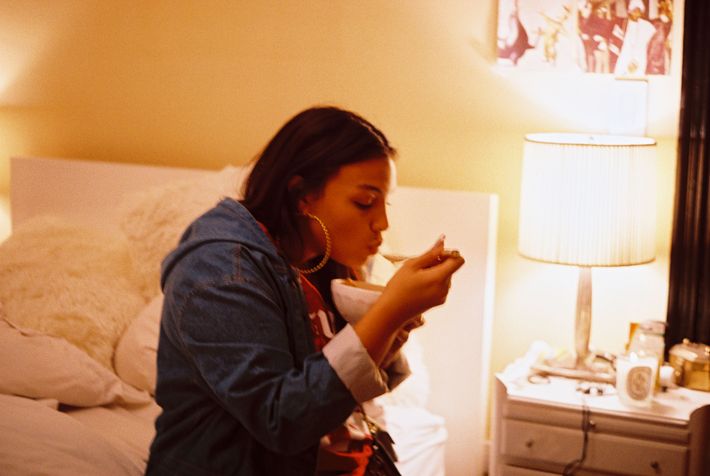 "I like to do little things for myself in the morning. I love to write, so sometimes when I have class later it is a really nice thing to do. I don't know if it is what makes me feel pretty, but it makes me feel happy in my body. Then I think it can offset the shitty-shit that may or may not happen."