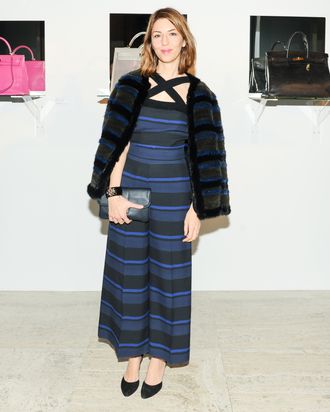 Photo: Neil Rasmus/BFAnyc.com
What do you get when you cross a Birkin bag with Jeff Koons? Pretty much the most expensive handbag imaginable, it turns out. For his latest project, Koons has been soliciting Birkin hand-me-downs from the likes of Naomi Campbell, Diane von Furstenberg, and Sofia Coppola, turning them into ready-mades, and auctioning them off to benefit Project Perpetual, collector Svetlana Uspenskaya's new charity for at-risk children.
At last night's inaugural Birkins x Koons auction, Sofia Coppola had a chance to get some complicated emotions toward her own Hermès handbag off her chest. She told the crowd:
When I was in my early 20s, my dad was in Paris, and he said, "Do you want anything?" It was my birthday, and I said I would love a Birkin bag from Hermès. I was way too young to have one, but I wanted one. He went to the store and took out cash, and he got the zeros wrong, and they said, "Oh, no, no, it's not that — it's one more zero." So I was tortured for years, because he always told me, "I can't believe the price of a handbag that you asked me for." And so he got me this bag and I carried it when I was too young to have one, and then I kept it in my closet because it felt like too much to have. It's been in my closet, and when Svetlana asked me for a bag I was happy that it would become an art piece and help this cause.
The bag sold for $175,000. Good riddance to that waste of closet space, right, Sofia?