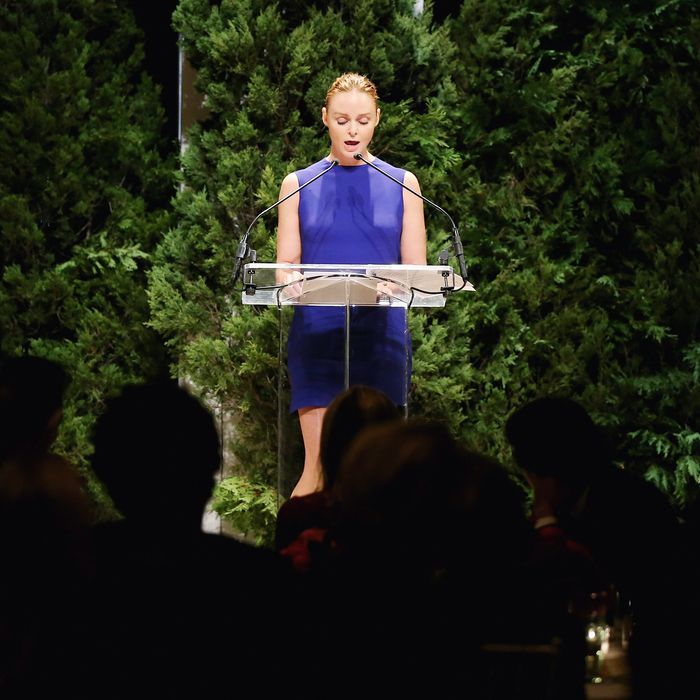 Photo: Neilson Barnard/Getty Images
Stella McCartney was the keynote speaker at last night's CFDA/Vogue Fashion Fund festivities, where Paul Andrew won the top honors. McCartney gave a refreshingly frank speech about her career in fashion, opening by saying, "To be honest, I never felt comfortable saying, 'I'm a fashion designer.' Somehow, it never seemed to sum up exactly what I do. I'm far more interested in why and how we choose the clothes we wear, the psychology behind it."
Despite her rock-star pedigree, McCartney maintained that she had a fairly normal childhood, living on a farm and becoming fascinated with illustration and design. There was one not-so-normal moment, however:
For my 15th birthday present, a PR friend of my parents' gave me a little framed piece of paper that said, 'I've got you work placement with Saint Laurent, Ungaro, Christian Lacroix.' It was the best present imaginable. I went to work with Christian Lacroix on his first couture collection for his own house in Paris. I was completely blown away by it all. The air was thick with fashion. You could smell it, see it, feel it all around you.
McCartney also put in time in British Vogue's fashion department, "calling in samples, an experience, I have to admit that proved a bit too 'fashion' for me at that time! Sorry, Anna!" she joked. Eventually, the designer enrolled at Central Saint Martins, in the experimentation-happy '90s, where "it was all about making dresses out of spaghetti — the more weird and wonderful and unwearable your clothes could be, somehow the better you were, the more creative and innovative." Said McCartney, "At Saint Martins I was always made to feel less of a designer because I was interested in designing clothes that women could wear."
She also recalled her time at Chloé, where she was appointed head designer at only 25. "I felt then that I had to grow balls of steel to function successfully in a male-dominated environment, but now, years later, I realize that my strength lies in being a woman and understanding what women want in a gentler way."
When she left Chloé to found her own brand in 2001, "an executive looked at me and said, 'You name me one brand with a woman's name on the door that's come out of Great Britain and had any global success.' That really stuck with me and I'm still determined, today, to prove it wrong."
Another important commitment of hers is her stance on animal rights. She recalled turning down a position working for Tom Ford at Gucci because she refused to design with leather. Said the designer, "I am in fashion and I do not use leather, fur, or PVC. This is unheard of. This is an industry based on selling leather. You go into stores and you are hit by handbags, not by ready-to-wear. I was always told that I'd never have an accessory business because people associate leather with luxury." Stella McCartney: ultimate boss-lady inspiration.