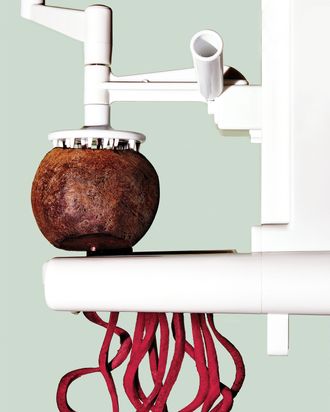 The goal: Find the ideal tabletop vegetable spiralizer — one that produces beet and zucchini loops that won't go mushy in a rolling boil. We spoke to experts including Dirt Candy chef Amanda Cohen and the Inspiralized blogger Ali Maffucci. They steered us toward the middle ground between inexpensive handheld models (too many wrist cramps) and restaurant-grade stainless-steel tabletop spiralizers that can run you $500.
The verdict: Paderno's lightweight plastic Tri-Blade Spiral Vegetable Slicer ships fully assembled (just screw in the crank handle). Three interchangeable blades make noodles of varying widths; suction-cup feet lock it to any countertop so you can conquer even the most bulbous squash. The result is perfectly al dente zoodles, sturdy and long enough — as some instagrammers can attest—for jumping rope.
$40 at Whisk, 933 Broadway, nr. Fifth Ave.; 212-477-8680 or online.
*This article appears in the November 17, 2014 issue of New York Magazine.