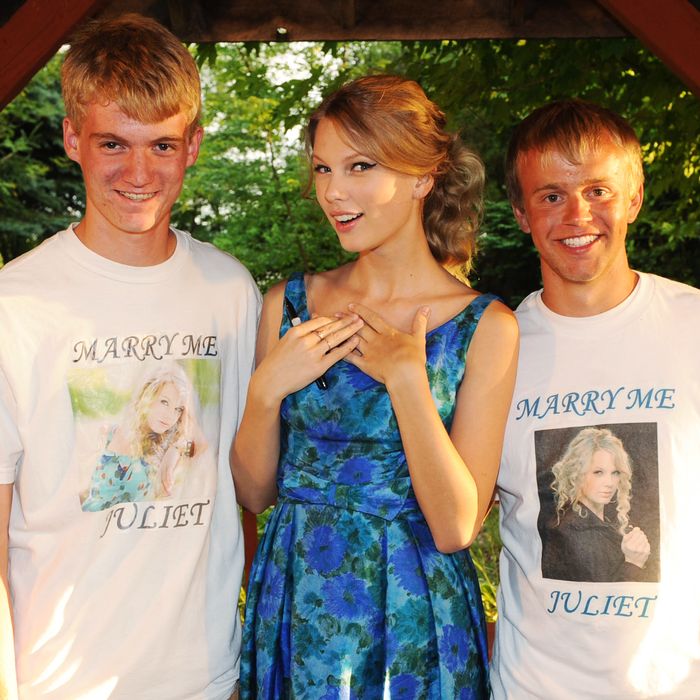 Photo: Rick Diamond/Getty Images
"Shake It Off," Taylor Swift's first single from her new album 1989, is infectious. A couple of weeks after exposure, Saturday Night Live took the cultural temperature and diagnosed America's adults with Swift-induced vertigo. Mere months ago, a casual observer would have described the population most vulnerable to Taylor Swift with phrases like "teenage soul," "female," "crush-haver," "likely intermittent diary-keeper," "certainly sings alone in the car." But now she could strike anyone. The virus has mutated, and no one can shake it off.
Reviewers assured the general population that this was OKAY. This is Good Music for Adults. Timeless, even. (The tone of Billboard's review in particular called to mind those essays that reassure adults it's fine to like YA novels.) But perhaps most revealing of Swift's successful crossover to new audiences was the spontaneous outpouring of bro affection. 
Three genres of bro — a NASCAR driver, a high-school football team, and a dorm hallway of fraternity brothers — each released lip-sync videos to varying degrees of virality (100,000 to 300,000 views). Their mastery of lyrics and shoulder shakes was consummate. A veneer of humor barely masks what these videos are: dudes experiencing the joy of immersion in a deliciously warm pop bubble bath.
I spoke to one of the men behind Delta Sigma Phi's lip sync, the most viral of the videos, which caught Swift's attention and sought to raise money for leukemia. Barton Lynch, 20, said that some of his brothers had groused about the song choice — but if you can find one unsmiling fellow in this video, you have found a thing that does not exist. Any grumbles or posturing have evaporated; they are happy men dancing in a hallway. 
What about irony, though? Are they just being "quirky"? What's their favorite song? Let these bros who love Taylor Swift tell you all about it.
"All these songs are related to my life."
Stephen, 27, physical trainer
I've taken any song that relates to my life and played it over and over again. All these songs are related to my life, to my little relationships and romances. There is this song called "Holy Ground," and it talks about everywhere [Taylor] went with this guy, where they first met and first kissed. Every girl I've ever been in love with, everywhere I met them or had a moment with them, is a special place to me. Taylor Swift and I, our issues aren't exactly the same, but it crosses over gender stuff. 
She comes to my studio. I met her. I talked to her a few times, we talked about the winter and her shoes. The guy I work for is her trainer. She's exactly how she portrays herself. She's amazing. Such a nice person, beautiful, very outgoing, she's just who she is, kinda awkward. I've seen her when no one's watching and she's just like, dancing. She'll say hi, she's got good vibes.
"I listen to her when I'm at peace."
Ketin, 34, consultant
I like to listen to her when I walk to or from work or if I'm just driving in the car. I listen to her when I'm at peace or want to be at peace. It's good to mellow out to. All [the songs] have an opinion or message or story — even the upbeat ones.  
I like her because I think of past relationships, and that's why I don't understand why guys don't like her. Her perspective is told from the female side, but the dilemmas always are on both sides of the relationship. I can listen to one of her songs and be like, Oh yeah, that's like that high-school girlfriend. 
"Friends took a while to realize I wasn't joking."
Alex, 24, reporter
I was fully obsessed with "Call Me Maybe," and a friend recommended "We Are Never" … as "like that but better." I loved it, got Red, loved that. I haven't gotten shit for liking her, though a few friends took a while to realize I wasn't joking. I bought my first tickets to see her in concert today! 
"Very cathartic."
Brendan, 25, freelance journalist
"I Knew You Were Trouble" is my favorite; it's very cathartic. I would not have considered myself a Taylor Swift fan before Red, which I know makes me a Johnny-come-lately. I'm fine with that; I think she would be fine with that. The only exposure I had to her before Red was just, like, she was someone who was always dating other musicians and writing songs about them. Now she's living it up in New York with her girlfriends, which seems like it's good for her. The one thing I'm fixating on right now in terms of her personal life is the whole cat controversy. The other cat, Olivia Benson, where did the cat go? I'm a cat truther. Not sure what the truth is, but it's out there.  
"The only other guys there were chaperones."
Charles, 29, VP at investment bank
I found out another male friend was going to the concert, unbeknownst to me. He was actually in the mosh pit. It was a lot of fun. I was slightly self-conscious at the concert — the only other guys there were chaperones. I was in line to buy the T-shirt, surrounded by 8- to 12-year-olds. Pretty much all the sizes sold out, and I was like, "Can I have a large?" And they were like, "We have every T-shirt available."

"This is an adult singing about lost love."
Andrew, 25, marketing analyst
I've bought all the albums on the first day they came out. I was scared to tell my last girlfriend. I didn't tell her for a month! That was like getting it off my chest. I love Red. It's very real. All her older stuff, she's growing up and trying to figure everything out. I think it was the first time she was reflective on an adult level. This is an adult singing about lost love, and it's easier to relate to. 
There is a lot of pushback — most comes from girls that like Katy Perry. They dislike her as a person so much, from what they see on the news; they won't give it a real chance. I know they would love it, but there are definitely some arguments about whether she's a "good person," quote unquote. They'll say things aren't true at all. I always argue back, and they're shocked by how much I know. Mostly facts I picked up from my cousins — they're obsessed.
"I will often sing her songs at karaoke."
Jack, 24, writer 
My sister had the first album. She's two years younger than I am. I happen to think my taste for Taylor Swift's music is more refined. She was like, "'Welcome to New York' is catchy," and I'm like, "No, it's not."
I will often sing her songs at karaoke, and I cannot hit any of the notes. I feel guilty when I do it. Sometimes I'll go with people who are a little too cool for school, who will want to pick quirkier choices — for a while it was "Mean" because it was one people knew. I couldn't sing it; I just can't hit any of the notes in the song. I gotta figure out what to do about that. I want to convey my passions, but they're not in my key.
"We need to stop the car and buy this album."
Brian, 27, kindergarten teacher
My roommate also likes Taylor Swift. He and I were on a road trip together just as Red was coming out. We kept listening to YouTube videos on our phones of "We Are Never Ever Getting Back Together." Finally, we were like, "We need to just buy this album. We need to stop the car and buy this album." It was getting really late, and we were on our phones mapping every Target and Walmart off of the highway. It's getting dark; they're gonna close. We were racing against the clock. My gas tank holds more gas than I thought, which I learned from this trip — but we were desperate, rolling in on the last fumes of gas. We tracked down this album in the middle of the night and listened to it the rest of the drive on repeat. 
"I got a very positive response."
Will, 25, writer 
I was working at an arts camp in 2008, and one of my campers performed "Teardrops on My Guitar." I played a version of "You Belong With Me" on the guitar at a few concerts in college, sort of joking but not really at all. I got a very positive response. I think it's more relatable than a lot of bros would like to admit. 
The rapper El-P tweeted something funny about "Welcome to New York," though, that set off her fans [Editor's note: Info on this meltdown here], and I enjoyed following that. I googled her relationship with Jake Gyllenhaal, because apparently they went to Gorilla Coffee together, and I found pictures of her with Maggie Gyllenhaal holding a bag from Brooklyn Larder, which led me down a rabbit hole on this Taylor Swift fan site. I read about their breakup and the song that it inspired and all the clues in the song. It was weird and fascinating, and I felt kind of pathetic about it but also really enjoyed it. She must enjoy it a little bit, right? I feel like she invites speculation and obsession with all the clues in her songs, referencing things that she knows have been publicized, like her scarf in some picture or whatever.