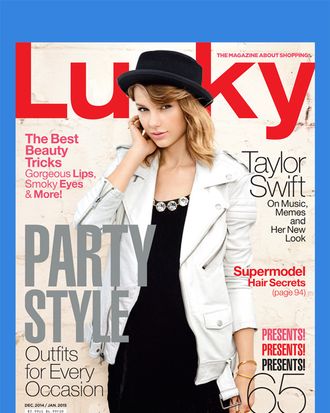 Taylor Swift used to live in a cookie-scented world of bouncing, singing angel-kittens and purple unicorns and rainbow clouds that shot giggles and hearts. It was a world where Prince Charming, "The One," was on the way and happily ever after was pretty much a done deal. Used to. As she tells Lucky magazine, she is a naïve child no more. Her eyes are opened in the harsh light of day. Her singing angel-kittens are dead:
"Wow, I really used to think that happily ever after was a thing. Not in those simple terms … I think that no matter what you find in terms of happiness and compatibility, there's always going to be a struggle attached to it. I used to believe that you find the one and that's it: Nothing's difficult after that. But then again, I know nothing now. I know legitimately nothing about lasting relationship experiences because I don't have them."
Ah, that explains the directorial choices in the "Blank Space" video. Welcome to the real world, Tay-tay; we embrace you with our cold, cold arms.