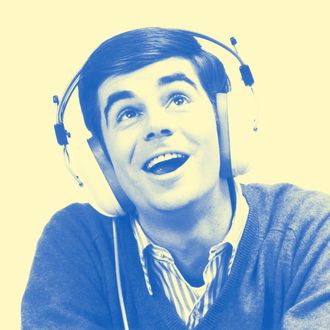 Photo: SuperStock, Inc./Getty Images
If you give yourself a second to think about it, you can probably come up with the song Dutch researchers have deemed "catchiest": It's "Wannabe," the earworm-y '90s hit by the Spice Girls, reports the BBC. 
They came to this conclusion after 12,000 people played a little online game called Hooked on Music, which plays snippets of pop music and asks users how quickly they recognized the song. People tended to recognize "Wannabe" the fastest, in an average of 2.3 seconds; here's a list of the next most-recognized songs:
1. "Wannabe," by the Spice Girls
2. "Mambo No 5," by Lou Bega
3. "Eye of the Tiger," by Survivor
4. "Just Dance," by Lady Gaga
5. "SOS," by Abba
6. "Pretty Woman," by Roy Orbison
7. "BeatIt," by Michael Jackson
8. "I Will Always Love You," by Whitney Houston
9. "Don't You Want Me," by The Human League
10. "I Don't Want to Miss a Thing," by Aerosmith
The researchers are trying to figure out why, exactly, some songs stick with us for life, and they have a hunch that there may be certain musical qualities that tie these songs together. So far, their answer is not exactly earth-shattering. "Although this is just a casual observation on my part, very strong melodic hooks seem to be the most memorable for people," lead researcher Ashley Burgoyne, of the University of Amsterdam, told the BBC. 
It seems like a lightweight bit of research with a fun online game attached, but Burgoyne has bigger ambitions, hoping that, eventually, this work will lead to a better understanding of how to use music as therapy for dementia patients. "There has already been some research that shows that if you can find the right piece of music, something that had a very strong meaning, playing that piece of music can be very therapeutic," he told the BBC. "But the challenge is figuring out what is the best piece of music."