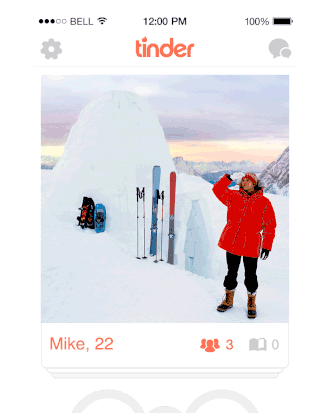 Photo: Courtesy of Tinder, Getty Images
A few months ago, I was alone in a hotel room in Arizona and I was bored. I could have just gone to sleep, but instead I started browsing Tinder. At first, it was a social-aesthetic game. How do men in the Southwest present themselves compared to their New York counterparts? Why so many dogs with bandanas? Could I count how many guys posted photos of themselves rock climbing? (Answer: I stopped counting around five.) Where were all the Tinder Tropes I usually find within a six-mile radius of Brooklyn: bearded bros wearing Barbour coats, the hot-in-a–Patrick Bateman–way finance guys, the 25-year-old art handlers?
I swiped right on a few men without really thinking about ulterior motives and soon the messages started rolling in. One was a guy who worked in the Middle East who was visiting family. We chatted, we promised each other we weren't serial killers, and I gave him my room number. He showed up with some questionable facial hair and two bottles of pinot noir.
When you travel, if you're single or even if you're not, Tinder has become its own kind of guidebook: a way to meet someone for a drink to cut through the loneliness, or even just to get a more-reliable-than-Yelp recommendation for a bar, if meeting up with strangers in strange lands feels too risky. I know a college student who downloaded it with her roommate while studying abroad in Spain with zero intention of actually meeting anyone, partly because they didn't feel entirely safe doing it and also because they didn't want to get mired in relationship drama when they could be gorging on tapas and Gaudí. Instead, they used it for comparison shopping ("I don't want to say the guys there were more feminine, but they seemed more into their looks than American boys"), and to hear about cool clubs, and practice their language skills (education!). A friend of mine, an academic who travels a lot, has skinny-dipped with a lawyer in Stockholm, swiped left on a lot of "photos of girls at hen parties" in London, got someone to take him on a walking tour of Berlin, and struck out in Brazil due, he said, to "the language barriers and slower courtship process in Latin cultures."
What transpired on my trip to Arizona was definitely not the birth of a long-distance romance, but it was enjoyable, and it inspired me to keep Tindering while traveling. In turn, I turned into an armchair anthropologist. There was the professional paddleboarder in Montauk and the guy in Woodstock who tried to persuade me to have a threesome with his wife. A road trip through the South became Lonely Planet: Right Swipe. I took screenshots of guys named Ian holding the American flag in one hand and a rifle in the other. There was also Warren, whose main photo showed him sitting on the bed of a truck, holding a beheaded deer with blood running down his camouflage-covered legs. I still regret that I never got to meet up with the guy in Nashville who looked like Deacon on the show of the same name and who, when we messaged, called me "Darlin.'" He would have made a perfect tour guide. A neurotic guy in Memphis gave me a great out-of-the way restaurant recommendation but then used our one drink together to talk to me about why he wanted to get a vasectomy. Ulan Bator, where I was sent on a last-minute work trip — yes, there is Tinder in Mongolia — was sadly not made up of cashmere-goat-breeding nomads with smartphones as I had dreamed, but a mix of Western world-traveler types, with photos standing in front of Angkor Wat or NGO workers in the Gobi Desert. Tinder can help you get in touch with locals in theory, but only if they're part of the smartphone set, which is in itself a kind of filter. I was deeply intrigued by one guy named Zolboo whose photos depicted him seated by a campfire in some kind of arctic landscape. I swiped right, but we didn't match.
Sometimes, though, you strike Tinder gold. One friend of mine tried to get me to move to Boston because of the sheer number of hot bearded bros she was matching with while there for a conference. Alicia, who works in TV production, was once working in Alaska. She swiped right on a guy who was "in good shape, had a picture with a really cute dog, and he had green eyes," she says. "I was all in." They ended up hooking up for the duration of her trip. And that was it. Tinder Tourism, like any good vacation, has an expiration date.
Am I making sweeping cultural generalizations based on an app marketed to Westerners that requires a certain amount of money and technological savvy to access? Yes, of course. But is it a harmless way to entertain yourself while jet-lagged and feel like you are gaining some insight into the locals at the same time? I would also say yes. Tinder, whether you're wading through scores of Burning Man photos in the Bay Area or Mardi Gras in New Orleans or the many dudes showing themselves doing Tough Mudder in New York, is at its heart all about how we want to present ourselves to the world. Travel Tinder makes it a little more clear how much our self-conceptions are influenced by our environment. Vive la différence. (Did I mention I'm going to France for Thanksgiving? I'll report back.)