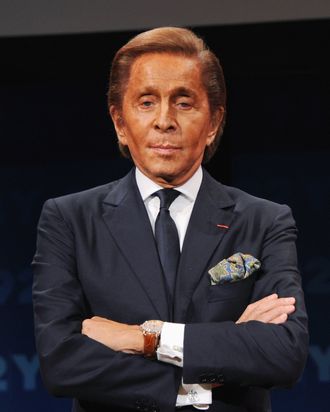 Photo: Andrew Toth/Getty Images
The man born Valentino Clemente Ludovico Garavani loves what he calls, charmingly, "beautiful thing." The term could apply to a beautifully set table (like the ones in his new food-and-entertaining book, At the Emperor's Table), a sweeping red gown, or even his pugs ("the best thing in the world, after human beings"). Valentino can't get enough beautiful things. Though he would like you to know that he didn't recently snap up a $9 million Diebenkorn, contrary to reports. And if it was his partner, Giancarlo Giammetti, who made that purchase? Well then, "he did without my approval," he said with a Ricky Ricardo–esque finger wag at Giammetti.
These and more revelations were on tap yesterday at the 92nd Street Y's Fashion Icons series, hosted by Fern Mallis. The designer weighed in on dressing Elizabeth Taylor and Jackie Onassis, why he loves the color red, and why you won't find him throwing an '80s party any time soon.
On being influenced by the movies:
When I saw the film Ziegfeld Follies with Judy Garland, Hedy Lamarr, and Lana Turner I was so enchanted about all those evening gowns, those sequins, those shiny things, then I realized my way was to do designs.
On dressing Elizabeth Taylor:
She came to my first show. The crowd was so enchanted to see Elizabeth Taylor that they'd wait for hours to see the collection. And finally, I said, "I promise you one gown. Choose what you like." And she chose the most expensive one.
On (unwittingly) designing Jackie O's wedding dress:
She had already ordered seven dresses from this [all-white] collection [in 1968]. And when all the magazines, they came out saying that she would marry Onassis, Women's Wear Daily was the first to call and to say, "We know you made the dress." The month after the wedding, we sold 30 pieces [of the same dress].
On Michelle Obama:
She has the most beautiful arms in the world.
He developed his love for red after a trip to the opera in Barcelona:
In the beginning I was a young guy enchanted about, to see all the lady of the evening. And I was really attracted by the bright color. And I said, "One day when I am going to be a designer with my own official house, I will put the red as a lucky color." And I always did.
On his least favorite color:
I'm not so enchanted when I saw in this street lots of people all dressed in black.
On his least favorite decade, the '80s:
I hated the dresses, with shoulders that didn't belong to the women. They were all terrible. The shoes, they were not good.
On his legendary parties:
I am lucky, lucky, lucky because I have lots of evenings with people that I would never dream about. But when they know that I am there, they come.
On his cameo in The Devil Wears Prada:
For me it was quite simple to do that scene, because I'm used to saying [his line], "Hello, how are you? You like the collection?" [Asked if Anna Wintour was upset that he appeared in the film, he said, "No, I don't think so."]
On whether he misses designing:
No. [With successors Maria Grazia Chiuri and Pier Paolo Piccioli], I know that the work is up to them, and they do very, very well. But you know, the way we used to work now is more difficult because life is changed; the people, they work in another way. They're still successful, like, no discussion about it. But what I did, what many of the colleagues of mine did, I cannot do this anymore.