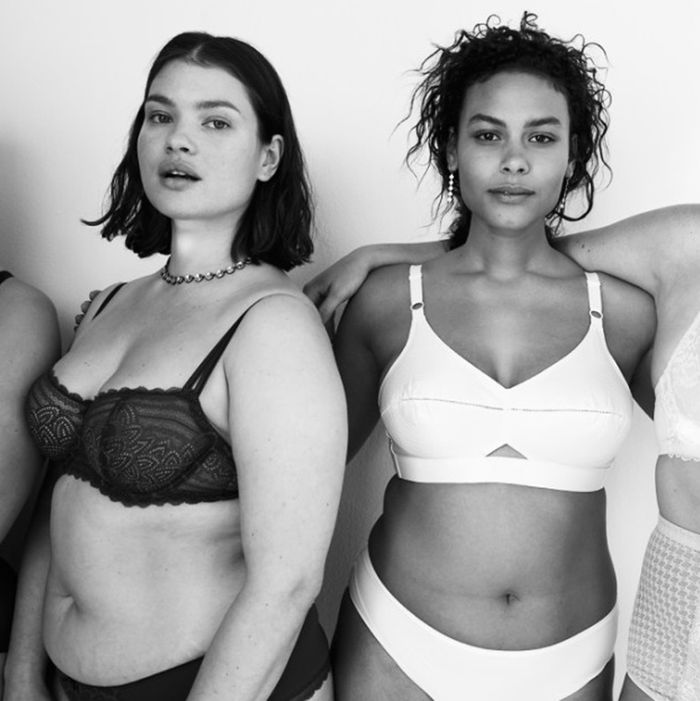 Fresh off its discovery of the butt, Vogue has realized the glory of big boobs. Today, Vogue published an online lingerie editorial featuring cup sizes not commonly found in its print edition. "My kind of #supermodels," photographer Cass Bird wrote on Instagram. Bird's shoot features members of ALDA, a body-positive coalition formed last year by models who were left stranded when Ford Models closed its plus-size division — and were quickly snapped up by rival IMG.
In some ways, tapping ALDA for this shoot was a logical decision. It's about bras, and bras are a more meaningful purchase for people who have boobs that don't fit into Prada samples. But Vogue's editorial also cannily plays into the rise of the "in-betweenie" model. Not sample-size, not plus-size (very few "plus-size" models actually wear sizes 14 and up), the in-betweenie is nonetheless very fun to look at. Stars like Crystal Renn (who has modeled at every size) or Tumblr "It" girls Bored Barbara and Dirty Diana (favorites of American Apparel and photographer Petra Collins) reveal how restrictive and arbitrary the plus-size designation is, and endear brands and magazines to customers who feel excluded by the unattainable thinness of "straight" models.
Case in point: Calvin Klein stirred up more good publicity than controversy this week by introducing size-10 Myla Dalbesio as its newest lingerie model. Dalbesio called her casting "ground-breaking," but also told the Cut it's part of a larger sea change within the industry. Nine years ago, she was deemed "plus-size" because she wasn't a size 4 Now, Wilhelmina has changed its plus-size board to "curvy," and the former Ford plus-size agents started Jag, a modeling agency without labels.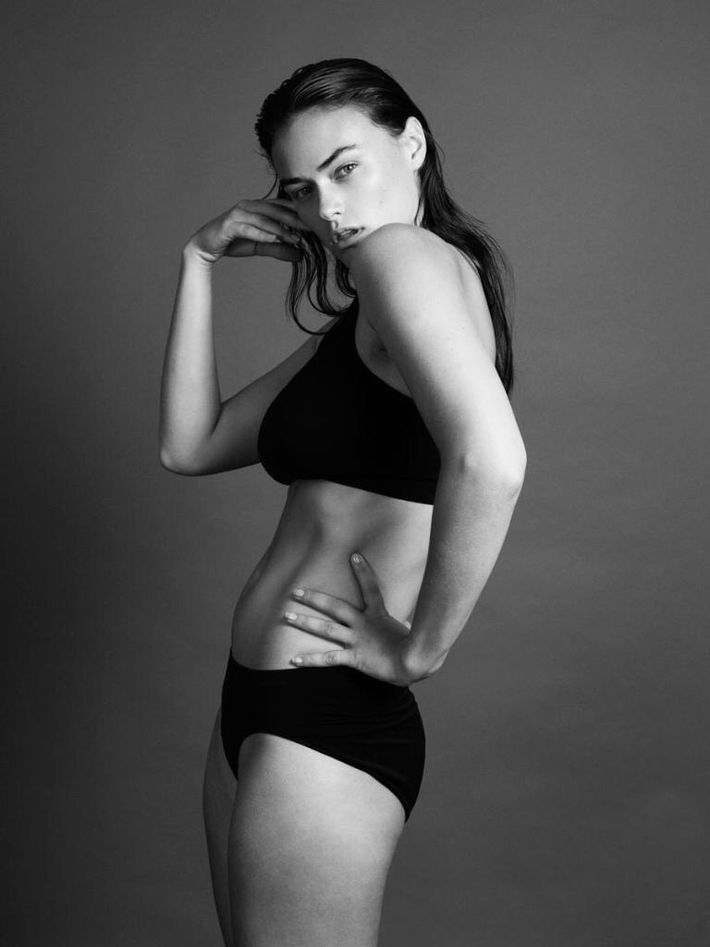 Blurring the lines between straight- and plus-size can only mean good things for models. They no longer need to choose between dieting to skeletal glamour and praying to book the token curvy editorials (which tend to be pedestrian, political, or corny-sexy). And improving body diversity in advertising and fashion editorials will probably have a ripple effect on the standards to which women hold themselves. (It might be happening already: A friend recently said that he had enjoyed passing a Cacique billboard on his morning commute for over a year before he realized the store sells plus-size lingerie.) But for now, the message to curvy girls is still a somewhat limited one: You look good out of clothes — and preferably in high-contrast black-and-white.