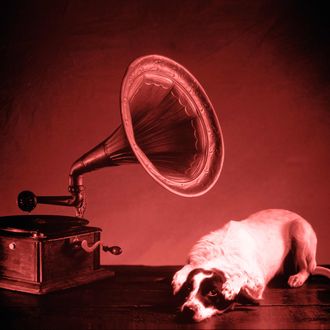 Photo: Markku Lahdesmaki/Corbis
There's something strangely satisfying about immersing yourself in a perfectly melancholy song. It's a pleasant kind of unpleasantness that persists even if you are not feeling particularly sad in that moment, which suggests that the drive to listen is about more than pure catharsis. So what is it about? Some recent research in PLOS ONE suggests that sad music evokes a wide range of feelings, including nostalgia and a sense of peace. 
Researchers from Freie Universität in Berlin surveyed more than 700 people — mostly from Europe, but also North America, South America, and Africa — asking about their music listening habits and, specifically, when they listened to sad music and why. Their answers varied widely, so it's not just that sad music cheers us up, as other studies in this area have suggested. "[T]he paradox of sad music has largely been discussed in an oversimplified form, based exclusively on the happy-sad dichotomy," the authors write. "Rather than happiness, sad music elicits an entire range of 'sublime' emotions." Those "sublime" emotions include wonder, transcendence, peacefulness, and nostalgia. (Nostalgia was the most frequently mentioned emotion.)
The authors say that melancholy music helps with emotional regulation — that is, it helps us process our emotions by prompting reflection and contemplation — and that this study could provide the groundwork for new ways to use music as therapy. The authors don't list every song the participants named, but they do include a few, including Samuel Barber's "Adagio for Strings" and Billie Holiday's "Gloomy Sunday." My personal favorite, Tom Waits's "Picture in a Frame," did not make the list, but you should listen to all three if you want to feel perfectly gloomy on this November day.