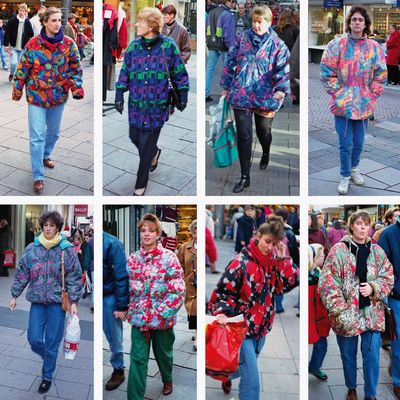 Photo: Hans Eijkelboom/Courtesy of Phaidon
When the Dutch photographer Hans Eijkelboom sits down to meet me at a café in Paris, he pulls out a paragraph by the writer João do Rio that he has cut out and stuck into his notebook. It begins:
"I love the street. I would not reveal to you a feeling of such intimate nature did I not consider, had I not reason to consider, that this love, such absolute, such exaggerated love, is shared by you all. We are brothers, we feel alike, we feel akin in the towns, in the villages, in the settlements; not because we suffer from afflictions and irritations, the law and the police, but because the love of the street unites us, levels us, brings us together."
When I hand it back, he explains, "That's basically my motivation. That's how I can do this for all these years."
Eijkelboom is referring to People of the Twenty-First Century, a book he's been working on since the early 1990s. It's a diary project for which he has photographed strangers on the streets of cities all over the world, from Stockholm to Nairobi. "I look for 15 minutes, and then I choose a theme, and then I only photograph that theme," he explains of his strategy — and the theme can be anything from men in plaid shirts to women carrying Louis Vuitton totes.
He hangs his camera around his neck and takes photos by pressing a trigger in his pocket. Then he goes home and compiles his "Photo Notes," with each page recording 12, 15, or 18 examples of people dressed similarly — a dozen strangers in red coats, for example. All of them were there at the same time, in the same place, in more or less the same outfit. The question he's trying to answer, he says, is "In what part are you a product of the culture you live in, and in what part are you really a unique person?"
His work is astonishing to look at, especially if you've been happily living your life assuming that you're one of a kind. I ask him if there are any cities where the locals are so individual that he can't find similarities. "No," he says, without hesitation. "In every street, in every city, in one hour you can easily find eight themes. I think I can do that now in every city in the world."
The book is an excellent record of 20 years of street style — from the neon, nylon jackets of the early '90s to the printed jumpsuits of 2013 — but that's not really the point of the work. "The Sartorialist is about fashion. My work is about culture," Eijkelboom says. Still, it's hard to look at it without questioning the point of fashion itself. Can anyone really be original?
"I made a decision a long time ago that I don't think of it like that," he says. "I am always very interested in the individuals within each theme. And when you look at each Photo Note, you'll see that everybody wears the theme slightly differently. In that way we are each giving something to help build the culture." In other words, culture is shaped and nudged forward by the little variations between how I wear my leather jacket, for example, and how you wear yours.
Eijkelboom was born in 1949, and he says postwar memories have influenced his work. "When you are born shortly after the second World War, you can't avoid being afraid," he says. "You might say, 'It could only have happened in Germany that a culture could change so much that concentration camps became possible.' But of course, that's nonsense. It can happen anywhere, and if you were born in that time, then it was a very disturbing experience. I think that's the reason that I'm interested in the ordinary more than the extraordinary. The mass is the most important power in a culture."
Eijkelboom's images are about our togetherness, and the things we have in common are as valuable as our uniqueness. The photographer says he is sometimes contacted by members of the public who have spotted themselves in one of his Photo Notes and want a copy of the picture. "It's very disappointing," he says, laughing. "Because we send them the series, but no — it's only ever their own photo that they want."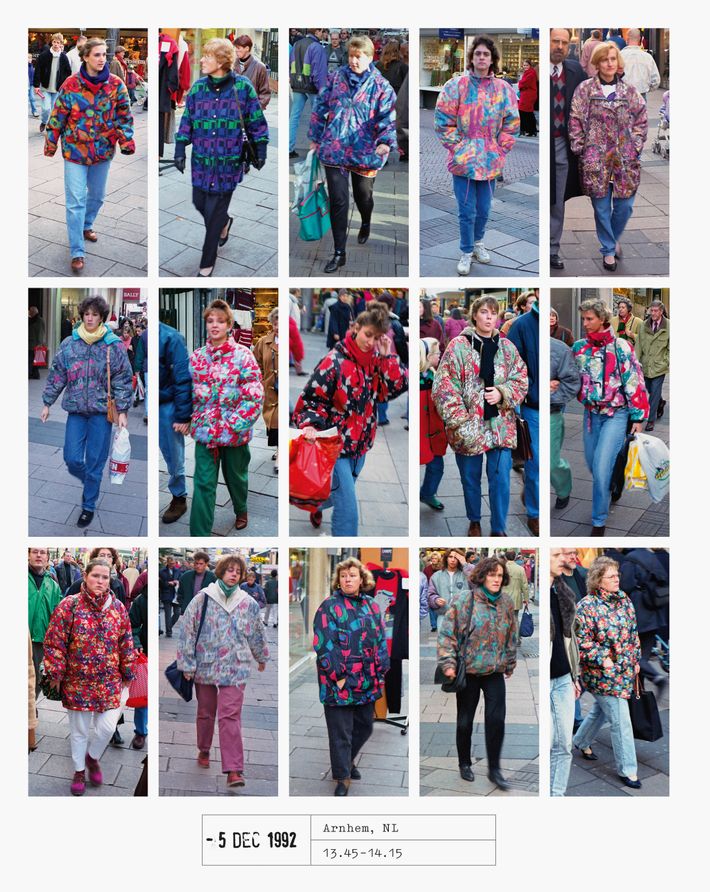 Photo Note, 5 December 1992, Arnhem, NL, 13.45-14.15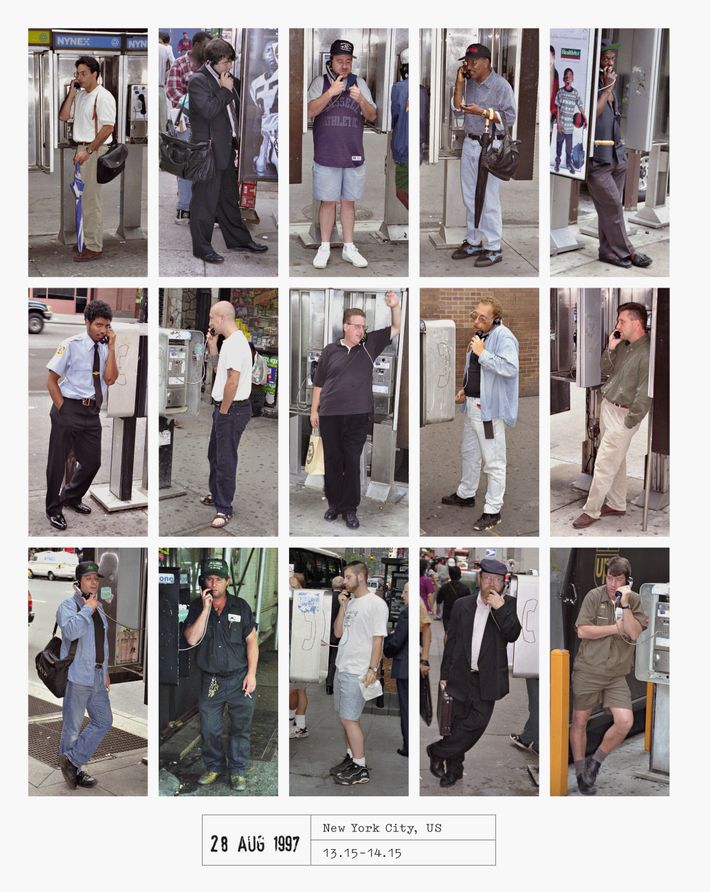 Photo Note, 28 August 1997, New York City, US, 13.45 – 14.15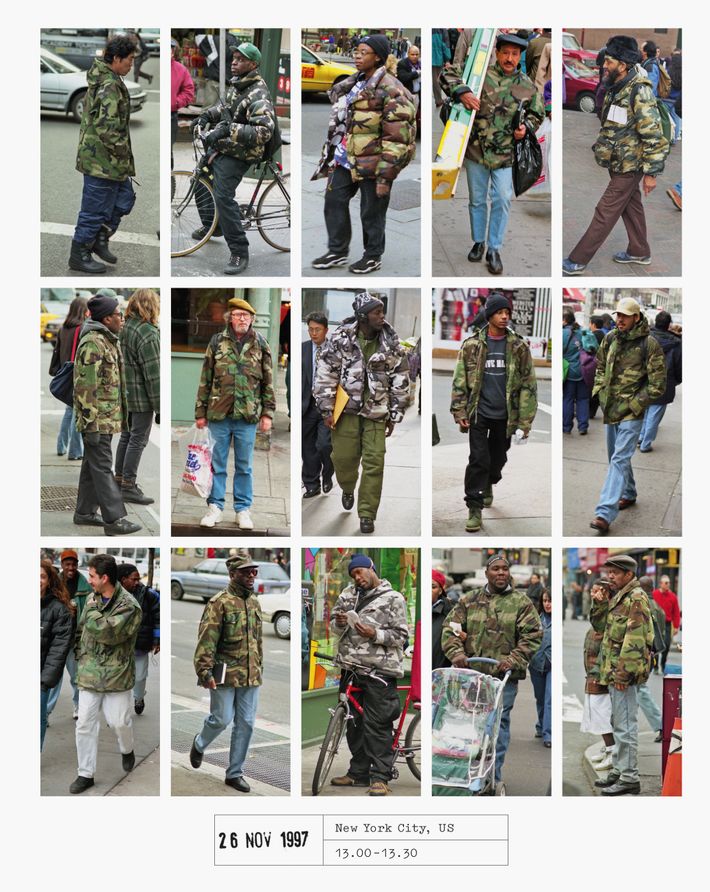 Photo Note, 26 November 1997, New York City, US, 13.00-13.30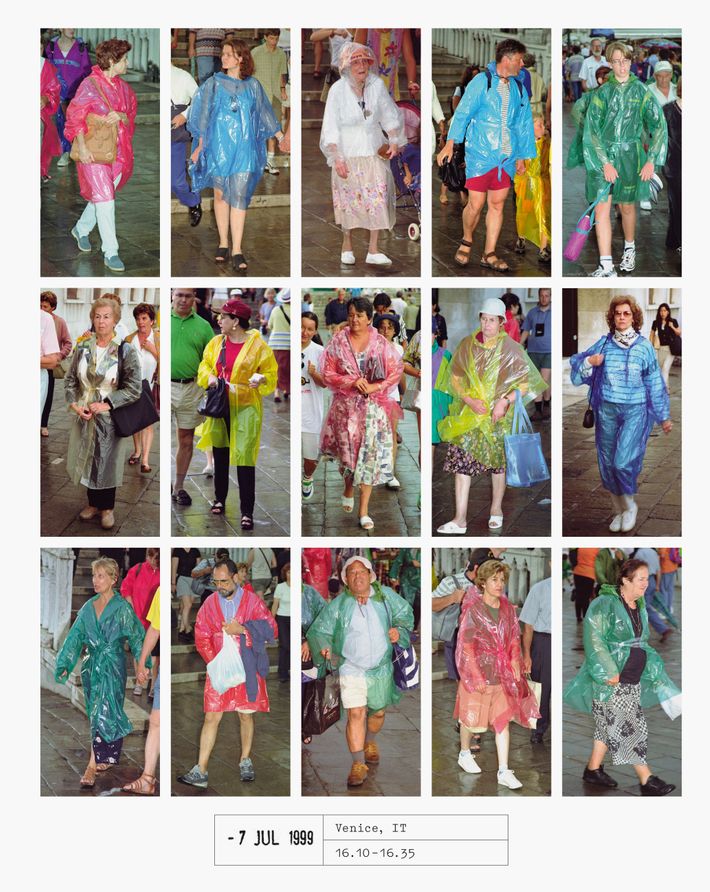 Photo Note, 7 July 1999, Venice, IT, 16.10-16.45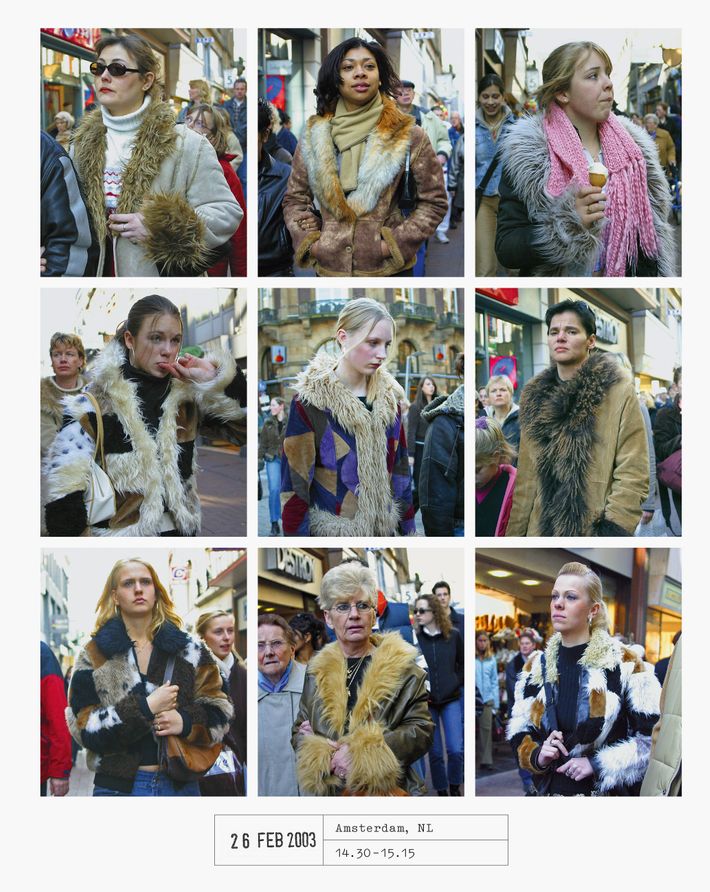 Photo Note, 26 February 2003, Amsterdam, NL, 14.30-15.15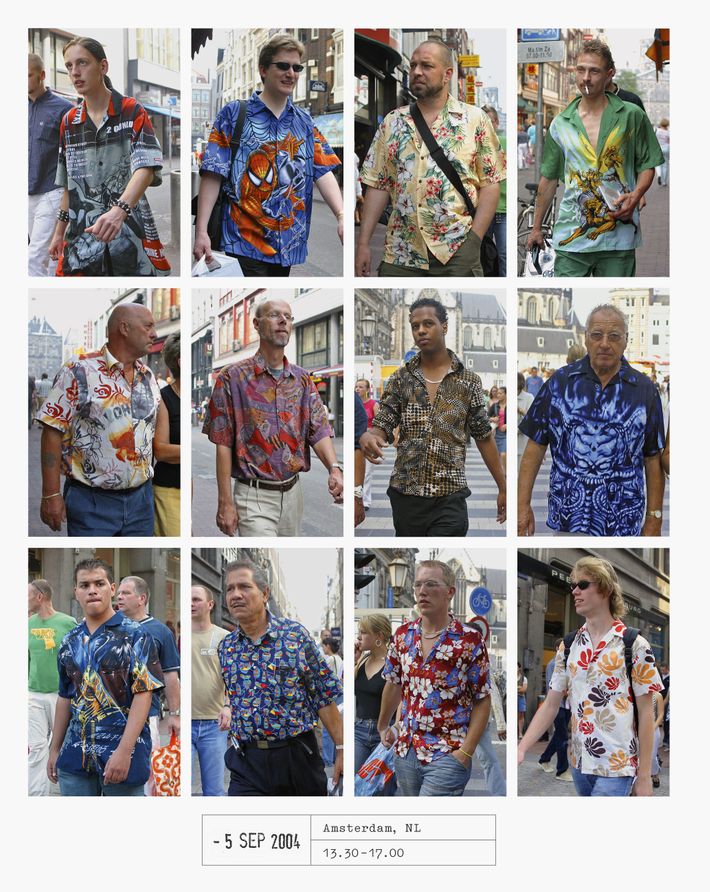 Photo Note, 5 September 2004, Amsterdam, NL, 13.30-17.00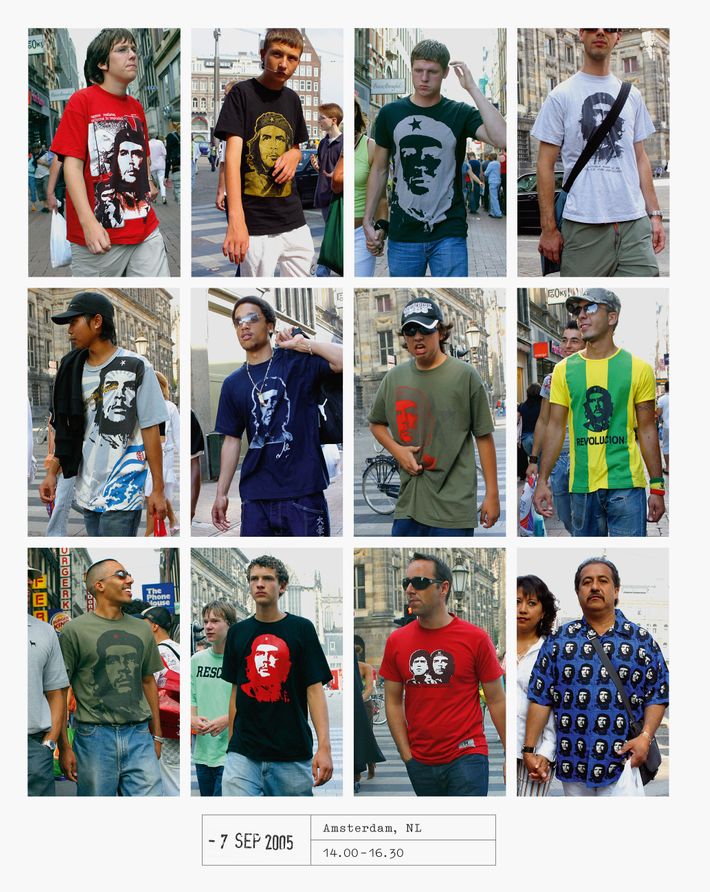 Photo Note, 7 September  2005, Amsterdam, NL, 14.00-16.30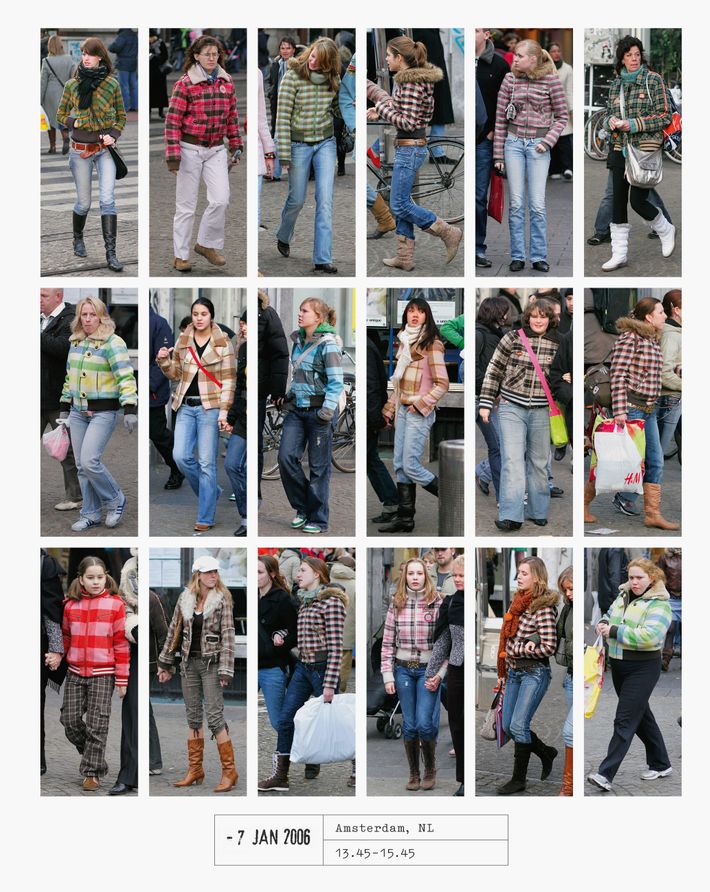 Photo Note, 7 January 2006, Amsterdam, NL, 13.45-15.45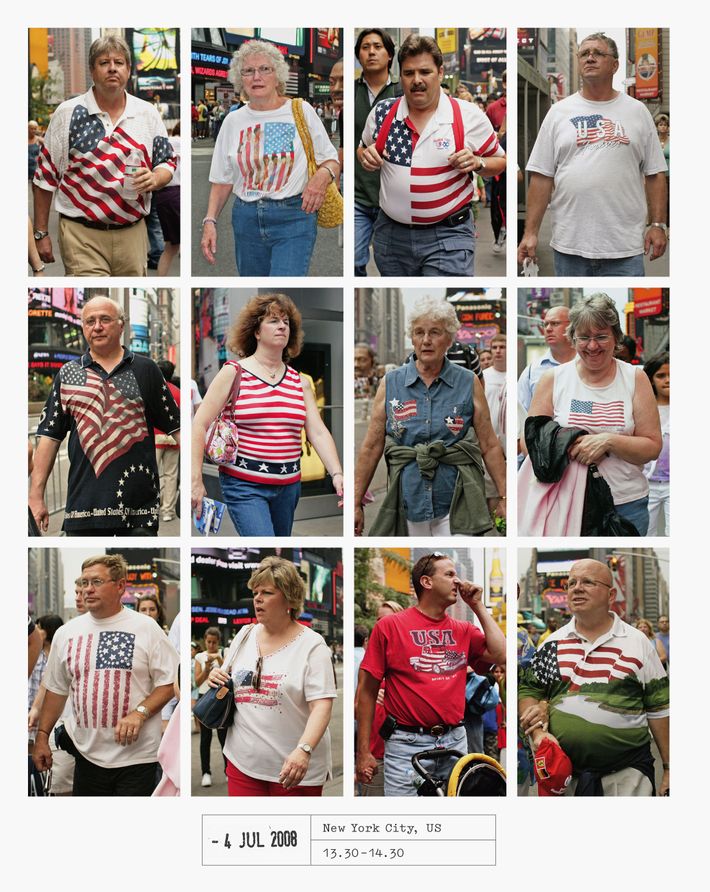 Photo Note, 4 July 2008, New York City, US, 14.00-15.30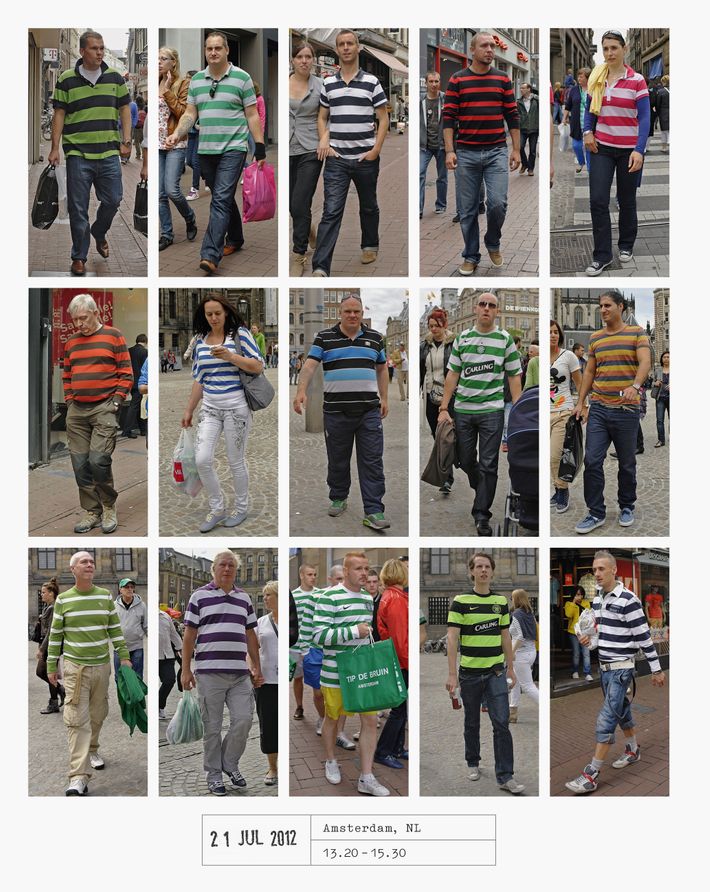 Photo Note, 21 July 2012, Amsterdam, NL, 13.20 – 14.30