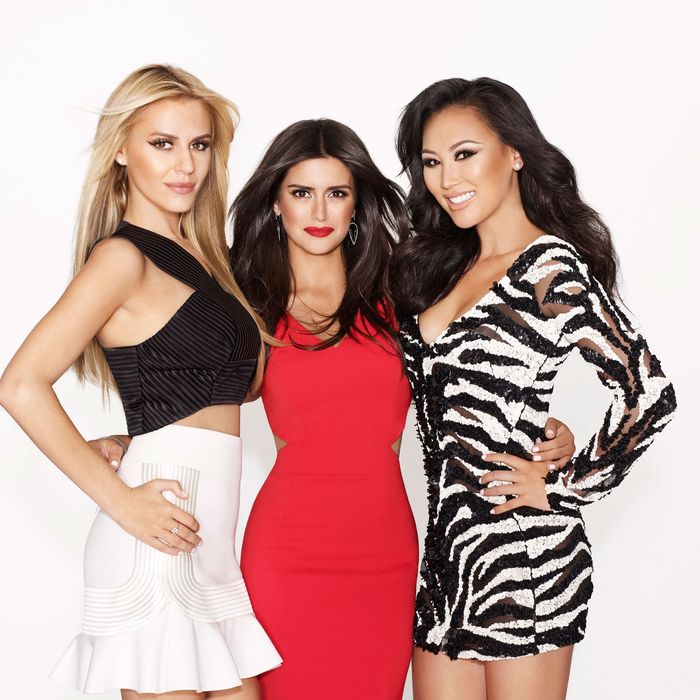 Photo: E! Entertainment Television, LLC
Does anything really happen in the last two weeks of the year? If it did, would you care? Welcome to Brain Dead Fortnight, two weeks of mental vacation.
So, what are the Rich Kids from #RichKids of Beverly Hills up to?, you probably aren't wondering, because your life is full and joyous. Well, their lives aren't quite as brimming with hobbies and friends and lovers, so they're working on their side hustles.
So, what's a good side hustle for a rich kid these days? Let's explore:
Roxy Sowlaty: Her main hustle, in addition to pout-lounging, is interior designing. She sells a candle called PRINCESS. It sells for $45 and smells like rose and cassis and like the product of someone who has never done a chore.
Dorothy Wang: Her main hustle, in addition to sass-lounging, is "building an empire." This involves adorning the necks of willing participants with hashtag necklaces. There are three options: #RICH, #NOFILTER, #FABULUXE. She also promises that she's working on a side side-hustle with her holiday hashtag options. They'll say things like #SANTABABY. They're all $28 and have an extraordinary sheen.
Morgan Stewart: Her main hustle, in addition to complain-lounging, is maintaining a blog called Boobs & Loubs. In this capacity, her duties include hosting a mid-level red-carpet event: the American Music Awards. The most exciting thing that happened was that she found that the security tag was still in her dress. Crazy world.
That's what the rich kids are doing with their spare time, which is also all their time.