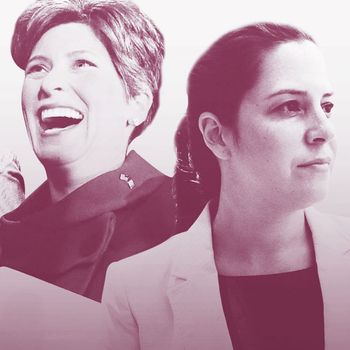 Under the dark cloud of Tuesday's Republican victories, many women pointed out a silver lining: For the first time ever, Americans are now represented by more than 100 women in Congress.
"That is a milestone," says Kelly Dittmar, a professor at the Center for American Women in Politics at Rutgers University. But don't get too excited. Until recently, we had 99 women in Congress, and if you count non-voting delegates, we've been above 100 for awhile now. "It's tough for us to celebrate when it's only an increase of one," Dittmar says. Pending the outcomes of a few more races, the count could rise as high as 105. Not exactly a landslide.
No one will mistake 2014 for another "year of the woman." This is partly because there wasn't a big change in the total number of elected women, but also because plenty of the women who were elected this year were Republicans like Joni Ernst, a woman candidate whom most women voted against. As I watched election returns roll in yesterday, I wondered which is worse: to be from a state that has never elected a woman to Congress? Or to be from a state that's just elected a woman who who believes embryos are people, the EPA should be shuttered, and that she needs a Smith & Wesson to defend herself against the U.S. government?
Ernst's was one of several prominent victories for Republican women in the midterms. Mia Love made headlines as the first-ever black Republican woman elected to Congress — from Utah, no less. Love is also pro-gun and anti-choice. Elise Stefanik, a 30-year-old from New York State, became the youngest woman ever elected to Congress. And GOP women did even better in statewide elections. West Virginia elected 18-year-old Saira Blair to its state senate. Blair, who did most of her campaigning from her dorm room, is a self-described fiscal conservative who wants people to have more access to guns and less access to abortion.
Numbers-wise, though, Republicans continue to do a poor job of both recruiting women and appealing to women voters. Among the 11 newly elected female members of Congress, four are Republicans and seven are Democrats. And overall, not much has changed in terms of women's representation in Congress. "The shifts are pretty small for women," Dittmar says. "For the first time we have six Republican women in the Senate." But that's still far fewer than Democrats' 16. And in the House, Democratic women will still outnumber Republican women three to one — a balance that's virtually unchanged. "In essence, we sort of cancel out," Dittmar continues. "We'll continue to have many more Democratic women than Republican women in the House."
Why so little improvement? Here's the hard truth: This election, women didn't vote. Well, not enough women voted. Women were a smaller percentage of the electorate than they were in 2012 or in 2010. The low turnout among women favored Republicans and hurt Democrats, especially those who focused their campaigns on women voters. Mark Udall — disparagingly nicknamed "Mark Uterus" by the GOP for his vocal support of women's rights — lost his Senate race in Colorado, where turnout among women was the lowest it's been since 1992, according to exit polls.
It was demoralizing to watch some truly pro-woman candidates like Wendy Davis lose on Election Day as other candidates win by ignoring or outright disparaging the very feminist values that enabled them to become politicians in the first place. As I watched the Republican women deliver their victory speeches, I wondered: Has she never been on birth control? Has she never had a pregnancy scare? Has she never had a friend threatened by a man with a gun? Has her life experience really taught her that everyone ignores race and gender and judges each other on the merits? Clearly not: The Ernst campaign was quick to identify sexism during the campaign when Iowa's outgoing Democratic senator, Tom Harkin, said of Ernst, "I don't care if she's as good looking as Taylor Swift or as nice as Mr. Rogers." He apologized after the Ernst campaign made a big deal about it. Republicans understand that women candidates don't have to acknowledge feminism to benefit from the work of feminists.
But just because Republican women are free to capitalize on the gains won by feminists doesn't mean their election is automatically a boon to women. When Republicans win, women lose. Or at least remain stagnant. Even with their midterm gains, women make up only 10 percent of the Republican caucus. (By comparison, a third of Congressional Democrats are women.) The Washington Post predicted that more Republicans in Congress will mean fewer women-led committees. And there will be other consequences as well: While there were already anti-choice majorities in both the House and Senate, preliminary 2014 results show the House has become significantly more unfriendly to reproductive rights, losing 19 pro-choice members and gaining seven who are anti-choice.
The lesson is that while electing more women is overall a good thing, historically, it's Democratic landslides that really change things for women in Congress — look at 1992, when Congress gained 22 women, or even the more modest 2012, when it gained 10. The best-case scenario in 2014 is a gain of five. Republican waves sweep in mostly men, and so women's overall representation stays more or less the same. As Dittmar says, "We have so much more work to do."