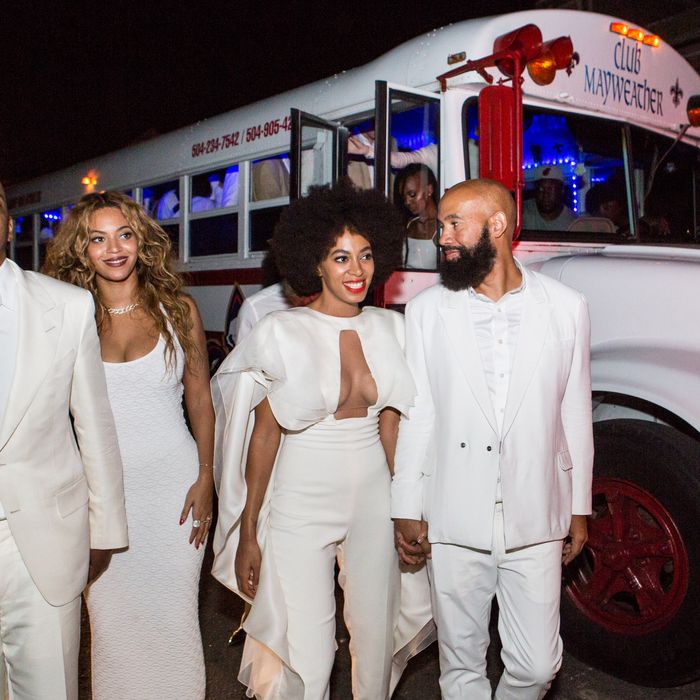 Photo: Josh Brasted/WireImage
Each Friday on It's Complicated: gossipy updates and pointed speculations about the love lives of celebrities. Who will make up, who will break up, and who will stay the course? 

Beyoncé and Jay Z: We all know about the time Solange was very angry at her brother-in-law in an elevator. And perhaps it would seem odd, or somehow not very auspicious, that after her recent impeccably styled wedding last weekend, at which her sister and brother-in-law were in attendance and looking adorable, she broke out in hives. But, you cynics, this is because she ate something she was allergic to! The fact is, Bey and Jay are busily dispelling those nasty divorce/fake relationship rumors every day, especially on days when they are photographed at impeccably styled weddings, because not only do they actually look pretty happy, I really want to believe they are also actually just happy, and so should you.
Chance of a Breakup: ZERO. Some might suggest that Solange's wedding and the photos that would obviously be taken there made for an ideal PR moment for two savvy people in the public eye, but those people should be banned from all weddings.
Amal and George: These newly marrieds are tearing it up around the town, just two ridiculously good-looking people doing fun average-couple-y things like dining in London with Stella McCartney and Alasdhair Willis and looking "very much in love" and maybe but probably not "looking to adopt an orphan from a war-torn nation." George even helped her take off her coat. This is a love meant to last, people.
Chance of a Breakup: Not for a year, at least.
FKA Twigs and Robert Pattinson: Did you know that FKA Twigs is called "Twigs" "because of the way her joints crack"? I did not, but now that I do, I feel concerned about her health. However, if love can heal early onset osteoporosis, or just general creakiness, she may be in luck. Recently, after "stepping out" with her beau (note: Only celebs "step out"; the rest of us just go run errands and walk around and stuff), she told the world that regardless of all the internet jerks who said crude and racist things because she's dating a Cullen, her relationship gives her great "positivity" and is "very worth it." So, yay. Except what red-blooded, joint-cracking woman has ever gushed about how much "positivity" a new love brings, how "worth it" it is? More worrisome: RPatz's head.
Chance of a Breakup: If she's still with him after that cut, maybe never.

Angel Haze and Ireland Baldwin: While the Father Baldwin is doling out relationship advice in cabs on a new web series and letting his wife do headstands on his chest, Ireland and Angel are busily Instagramming their love to the world. And their love is grand! (Candlelit dinners, scattered rose petals, even talk of marriage someday.) Instagram says it best, though.
Chance of a Breakup: Lower than that of the Father Baldwin and the Yoga Baldwin.
Taylor Swift and Taylor Swift: Some recent highlights from Taylor Swift's life with herself: She produces possibly the best modern breakup video in the history of modern breakup videos (discuss!), in which she stabs a cake. She dumps Spotify (discuss!), which is a sort of metaphorical cake-stabbing. She has a wildly successful album named after the auspicious year of her own birth, which is not not narcissistic, but who cares? She holds her cats in her bare hands. AND! She replaces herself on the Billboard Hot 100 at No. 1, making history as "the first woman in the Hot 100's 56-year history to succeed herself at the top spot." Taylor doesn't have time for a man. Despite that, according to some places, she could be getting back together with Harry Styles and maybe he wrote "I Love You" about her.
Chance of a Breakup With Taylor Swift: Are you ever really out of the woods with yourself?
Chance of a Makeup With Harry Styles: Very low.
Chance of a Breakup With Olivia Benson or Meredith Gray: Why would you even suggest something like that?
Jennifer Lawrence and  ______: Rumors swirl like Katniss's telegenic gowns! J.Law might be getting back together with Chris Martin, or maybe she isn't, but he really likes The Hunger Games, so there's that. Maybe she's rekindling with her ex, Nicholas Hoult — he has always been there for her, the Peeta to Gale's Gale. Speaking of Gale, her Mockingjay co-star, Liam Hemsworth recently revealed that they are BFFs and she did her kissing scenes with him only after devouring tuna and garlic and not brushing her teeth. So, maybe it's none of these men for J.Law. Maybe it's all of them. Maybe she's dumping her toothbrush. Katniss is in charge.
Chance of a Makeup With Chris Martin: 1/10
Chance of a Makeup With Nicholas Hoult: 4/10
Chance of Dating Liam Hemsworth: Only during the Mockingjay publicity tour.
Likelihood of Buying a New Toothbrush: 90 percent, within two to five weeks.
Gwyneth Paltrow and That Glee Guy: When not honoring her personal trainer or growing out her legs (are you aware that you can grow your own legs?), the Goopstress has been wearing plimsolls and smart attire and stepping out to do errands. Also, she has for a while now been linked to Glee producer Brad Falchuk, and he seems a nice, steady sort of individual, and she has had luck with the name Brad.
Chance of a Breakup: Not with Tracy Anderson.
Chance of a Makeup With Chris: She may have gotten him to break up with J.Law. And the consciously uncoupled couple might be spending their upcoming wedding anniversary together.
Prince Harry and Cressida Bonas: The on-again, off-again couple seems to still be off, for the moment, but who really knows besides the Queen? Harry might be kissing other blondes in bars; Cressida definitely "wore a side ponytail in a multicolored scrunchie to meet Nobel Prize–winning writer V.S. Naipaul and his wife Nadira." A complementary couple, then.
Chance of a Makeup: 50/50
Barbara Bush and George W. Bush: This week in an interview with Fox News, the former president confessed that Barbara wasn't all that sure he'd beat Ann Richards in the 1994 Texas governor's race, and told him so, ouch. 
Chance of a Breakup: Bush defeated Richards by about 54 percent, so let's go with that and then subtract everything.
Kim and Kanye: There will not be a Kardashian family Christmas card this year, and whose fault is that? Love's. Love is ruining Christmas, because Kanye "wants to have his own card with Kim and North," say some people. "There will probably never be a Kardashian family Christmas card again of all of them," say the same people. (Also, Kim wants another baby, stat. And there are some pesky divorce rumors, but when aren't there?)
Chance of a Kardashian Family Christmas Card Ever Happening Again: Extremely likely.