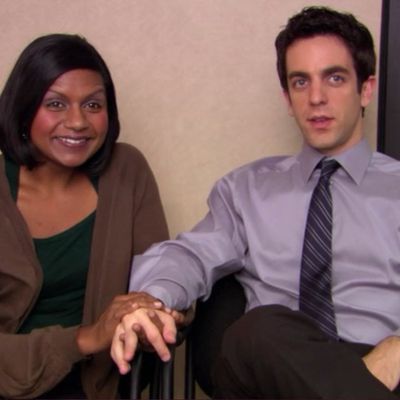 Danger, danger! The workplace crush. You know it's a bad idea; whether it ends in heartbreak or happiness, two jobs may be on the line. But you just can't help yourself. Below, ten daring women share their stories of office love, lust, and/or romantic disaster with the Cut. (Some names and identifying details have been changed.)
1. It felt sexy to be around him. It was in Toronto, about ten years ago. This man and I worked on the same floor and the office kitchen was in the middle of the space. I used to watch him when he went to make tea. I found myself becoming more aware of my appearance. I went shopping for new dresses. I wanted to look pretty. One day, he had his back to me and was rinsing his teacup in the sink. He was dressed just the way I like — dress trousers, tie, and a white dress shirt. But through the fabric of his shirt I could see a massive back tattoo! I felt I had a glimpse of who he really was. A couple months later, I asked to speak with him. We went into the conference room together, and I finally told him what I was feeling. He was very kind and sensitive, but it turned out he had a girlfriend. Then I had to walk back to my desk, trying not to look upset in front of everyone.
2. I threw myself at him. I was interning in L.A. for a film company and Larry was one of the on-site web developers. I thought he was super-foxy and interesting. He thought I was just a kid. Although I was married, I kept finding reasons to go see him in the office. I had a huge crush on him, but nothing happened. We reconnected 15 years later on Twitter, by which time my marriage was failing. We met at a bar, just as old friends and co-workers. I had butterflies in my stomach. He was still incredibly hot. I always thought, just from the way he smoked a cigarette, from the position of his body, that he was going to be really good in bed. After that night, I kept making excuses to get together again and finally threw myself at him. He'd gone outside to smoke and I followed him out. Just after he took a drag from his cigarette, I moved in and kissed him. He had to pull back and exhale. I was racked with guilt, but not so much that I didn't want to do it again. A few months later I left my bad marriage. I've been with Larry ever since.
3. He was good at seduction. I was 23 and living in Philadelphia working in flower delivery. I really wanted a better job, and one of the girls I worked with told me I should interview with this man who had three little shops next to each other — an antique shop, a shoe shop, and a bakery — and was always needing help. I was really drawn to him at the interview. On the first day I worked for him, he invited me out to dinner because I was new in town. He was very charismatic. Super-creative. I really fell for him. Eventually we got involved. I even moved in upstairs — he had an apartment over the shop. We had to keep it a secret from everyone. I would creep down in the morning before my co-workers arrived. He came and went as he pleased. He had at least two other relationships going. We had sex once in the shoe shop, I think, in the storeroom. Turns out he slept with most of the girls he hired. We even looked alike! Just this group of brown-haired, pretty girls trying to look busy when he came around. Oddly, he was not hot. He had a little tummy. But he had very beautiful, thick, long hair. He was warm and fun. He took me on long drives in the countryside, and he took me outside in the snow. I'd never seen snow. It was very romantic. But he was breaking my heart and I had to go. I saw him again a few years ago, but there are no feelings there. I think he's still single. He still has that beautiful hair.
4. I hired my crush. You do these things in your early 20s when you don't know better. I knew her from queer activist circles and then brought her in as a freelance publicist under nefarious pretenses. She had a girlfriend. So did I, for that matter. One night we went out to a lecture together and ended up kissing on a street corner. We both broke up with our girlfriends and had, I guess, about a two-year sexual relationship. We weren't a committed couple, and it wasn't healthy — especially for me. I was madly in love with her, and she was not madly in love with me. The horrible thing about working with someone you're involved with is that it locks you in. You can't get a break from each other. You can't break up! We both needed it to end, but we couldn't physically get away from each other. Eventually, I met and fell in love with someone else. That was the only way to end it.

5. He had this amazing retro vibe. I had an internship at a small museum and would sometimes cross paths with one of the maintenance guys. Jim was on the shorter side but handsome and a snappy dresser. I think he ironed his uniform. He was chivalrous — a door-opener — and a flirt. Always joking, even with the older women curators. I remember he had to bring a chair to one and he put it down with a flourish and said, "Here's your stool sample, Miss Jean." I definitely had a crush on him. He played jazz piano. I think things might have gotten romantic — he made a couple passes at me — but we were also friends, and he would confide a lot of his private life, especially sexual details. I learned more about him than I needed to know. Then he started dating a new girl who was so outspoken about sex that she embarrassed him. I loved that.
6. I saw her biceps. I was temping in downtown San Francisco — a boring word-processing job at an insurance agency. There were eight of us working in a pool together. One of the other women caught my eye. She wasn't especially attractive, and she was kind of butch, which usually isn't my thing, but she had really big muscles. That was exciting. I invited her to my house. She knew I was a lesbian, but she didn't know anything about my crush on her. I sat next to her on the couch while we talked, and I started touching her arm and flirting with her and she suddenly stopped talking and turned to me and said, "Are you coming on to me?" I kind of laughed. I felt confident that once she got over her shock, something good would happen. And it did. We ended up kissing, and it turned into a three- or four-week affair that made a boring job fun. We had to be secretive about it. We used to stay late and make out in the cubicles after everyone left. It ended abruptly and then it was very, very awkward at work. She didn't want to talk to me or look at me. One day she finally said, "I hope you're quitting this job soon." So I sort of took the hint.
7. I was helplessly in crush with Norman Siegel. It was when he was director of the New York Civil Liberties Union. My firm was in the same building, and NYCLU was on the 17th floor. We had some work in common with them, so I used to find excuses to lurk around NYCLU to use their copier or water fountain, and my bosses used to save up their 17th floor errands and paperwork for me. I fantasized about him perpetually. One day Norman came to work wearing a bright-yellow turtleneck. He looked just like Winnie the Pooh, and I was so in love. I had a boyfriend this whole time, but I would have dumped him on the spot if Norman ever noticed me.
8. I was going to fall in love with him. When I was 25 and newly divorced, I started temping at an oil company. I was reinventing myself. Then I found a software company that I wanted to work for. My temp boss suggested that I meet his brilliant Ph.D. geologist friend who was a heavy-duty user of this company's software and could give me a demo. A half-hour before our meeting on the appointed day, a tall, handsome man appeared in my office doorway. He was wearing a striped shirt, a post-shoulder-surgery sling, and an affable, apologetic expression. He introduced himself in a deep voice. "My friend Rick? He sent me to talk to you. I'm Karl." This was the brilliant software demo guy? I remember thinking in that moment that whether or not I got the job (I did) I was going to fall in love with him.
For the next couple months, I was strategizing ways to get closer to him. One of the ways that we got to know each other was by working out together at the gym. I'd always been an athlete. But with Karl acting as my personal trainer, my body started to change. People took notice, and several suggested I consider competing as a body-builder. It was a shared goal that brought us closer as we began to date — and ended up launching a five-year period of fitness competition and modeling that segued into a career of writing for health and fitness magazines. I was a guest on the TV show Baywatch in 1999, around the time of our first wedding anniversary.
9. I would tremble when he was around. I worked on the landscaping crew at a big city park. I could not take my eyes off one of the new summer hires. I don't remember if we ever spoke. We didn't work together closely. I just remember the intense energy between us. We couldn't even make eye contact. I would tremble when he was around. I was married, and nothing was ever going to happen. I'm in love with my husband. But there was just this other possibility, this whole other world. I can't explain it.  
10. I didn't even consider him at first. When I was younger, a lot of my relationships with male mentors had a romantic or flirtatious quality. Without crossing the line, it was just understood that you liked each other. One of these men was especially helpful. He had a lot of credibility and contacts and I was just a young upstart. I didn't even consider him in a personal, romantic way at first. I just found myself really enjoying his company and his advice. When we were at conferences together, he would invite me to these fabulous dinners with his clients. I paid my own way, but there was some blurring of the professional and personal lines, and I allowed that. Then I remember telling him that my marriage was ending, and that changed things between us. I said something like, "Going to dinner with you is nice because you're really safe." And he said, "Actually, I'm not." Well, my rational brain said this would be a disaster for everyone (he was committed elsewhere), but I was hurting, and I wanted to hear the things he was telling me. So we fell in love. Then I got pregnant. That brought everything to a halt. He wasn't marriage material or even remarriage material! I was so afraid, and I had to give up all my rescue fantasies. But the happy ending is this beautiful child — and also my second marriage (to someone else) a few years later.