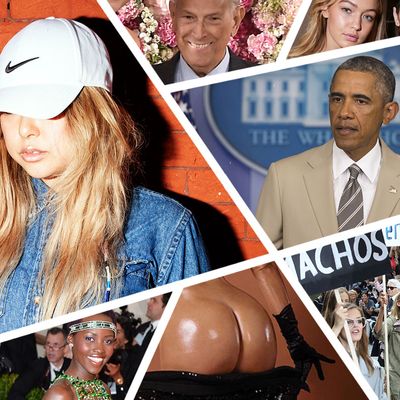 "High meets low" has become a style-world cliché, but nothing better describes 2014's potent brew of luxury and louche. Naked Kardashians fronted indie magazines. Fast-food labels adorned Moschino gowns. Sneakers and sports bras replaced street-style peacocking (well, almost). We also reeled from normcore, wearable tech, tan suits, and yet another year of a raging Kimye takeover. Here, a look at 13 moments that sum up the delicious contradiction that was this year.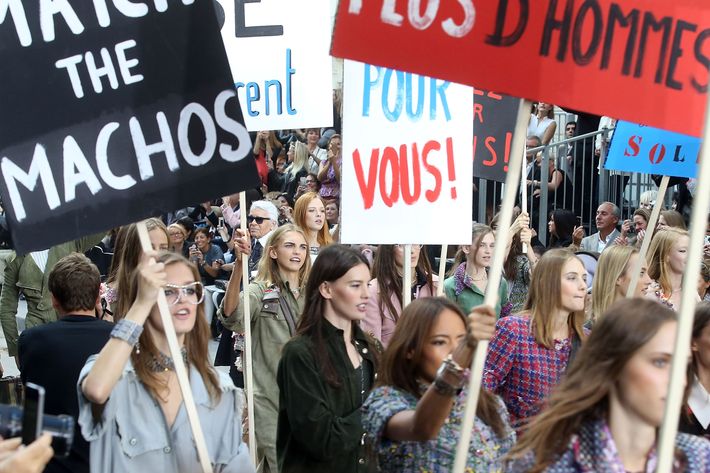 Shows Were Basically Not About the Clothes.
Chanel's spring 2015 show ended with a much-discussed "feminist protest," complete with Gisele toting a megaphone. The Opening Ceremony show-within-a-play, penned by Spike Jonze and Jonah Hill, offered an unexpected critique of the fashion industry's failings — not the kind of pathos would anticipate from the star of 22 Jump Street. And in a much more conceptual way, the Marc Jacobs show's soundtrack delivered a cryptic commentary on suburban life.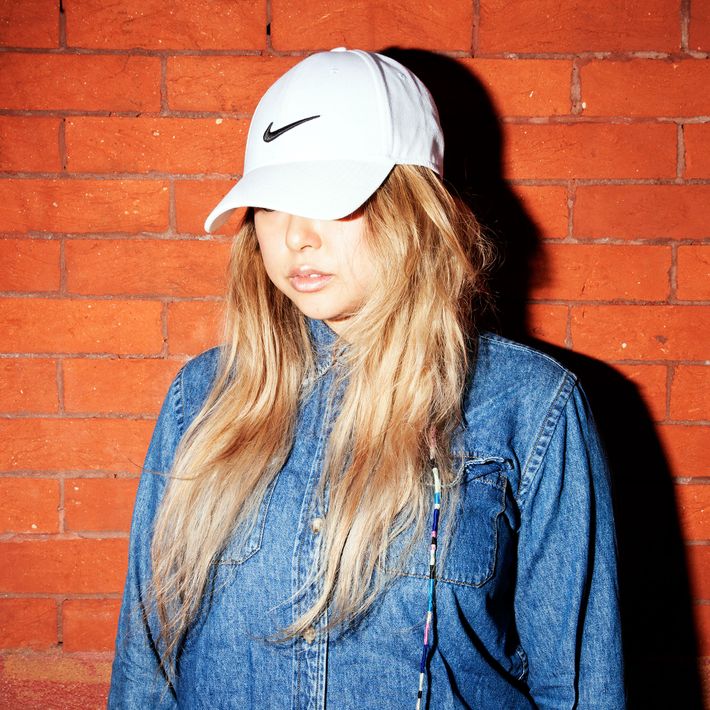 Normcore Happened — and Then Everyone Misinterpreted It. 
Like it or not, normcore was the buzzword of the year, to the point where the term became almost nonsensical. Are $1 burritos normcore? What about flip phones, Obama's dad jeans, or the movie Under the Tuscan Sun? W presented its high-fashion, if not a little bit muddled, take on the phenomenon, and called it "Banal Plus." (The gist: Just accessorize a head-to-toe runway look with shower shoes.) Mass-market brands happily latched on, with Calvin Klein's minimalist #mycalvins campaign and Gap adopting the grammarian-enraging "Dress Normal" as its slogan. (The latter campaign wasn't a huge success, but the company's new CEO, Art Peck, has said he plans on sticking by it.)
So Many Beloved Aughts Icons Disappeared.
Delia*s died, Juicy Couture shuttered, and Abercrombie & Fitch faltered (and yesterday, finally lost its unpopular CEO). Fans of asterisks as punctuation, velour, and shirtlessness soldiered on, heavy of heart. And the mall — that great millenium-era agora — writhed in its death throes. But … what about the food court! What shall befall the food court?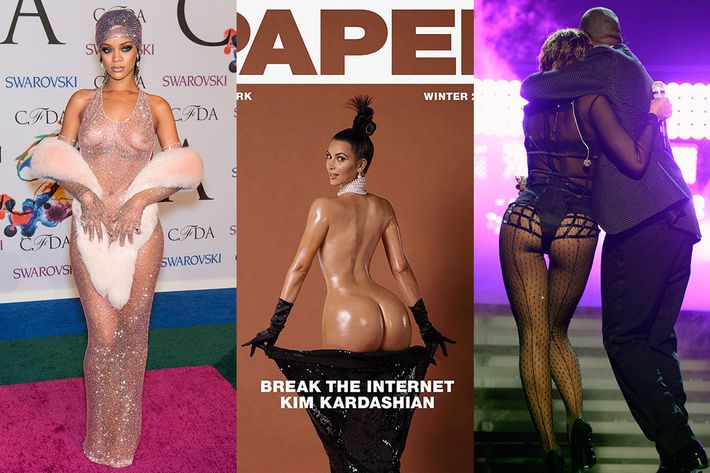 It Was the Year of the Nipple. And the Thong-Cage. And the Greasy Butt. 
After a six-month ban from Instagram for incurring various nudity-related demerits, Rihanna developed an IRL commitment to all things #freethenipple, from her CFDA gown to her Tom Ford pasties (the latter were also worn by Rosie Huntington-Whiteley and Cara Delevingne.) Beyoncé introduced us to the assless leotard — really an encaged thong — and we were never the same. Then the Kardashian-Jenner clan pioneered new erogenous zones, notably Kendall's exposed hipbones and Kim's cleavage wedge. By year's end, Kim was just putting it all on display, in a debatably successful attempt to #breaktheinternet. (At press time, the internet was recovering nicely.)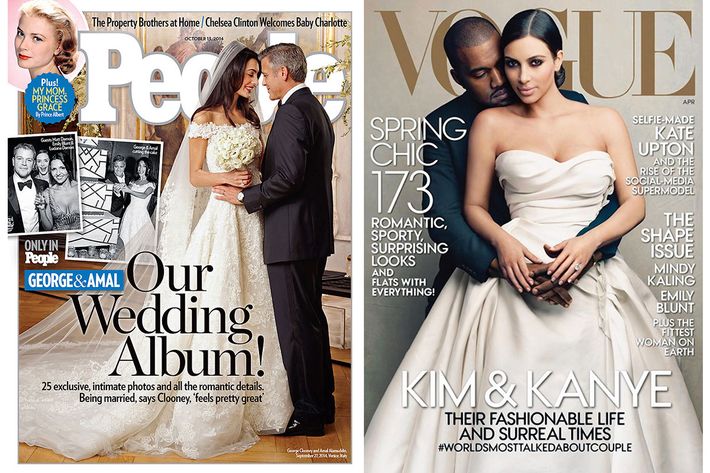 There were weddings, and then there were weddings.
Kim Kardashian wore Givenchy; Amal Clooney, Oscar de la Renta. Though for sheer opulence, it was hard to beat Ashleigh Good, the pregnant bride in a Chanel dress that took nearly 1,000 hours to make. Shotgun couture, anyone?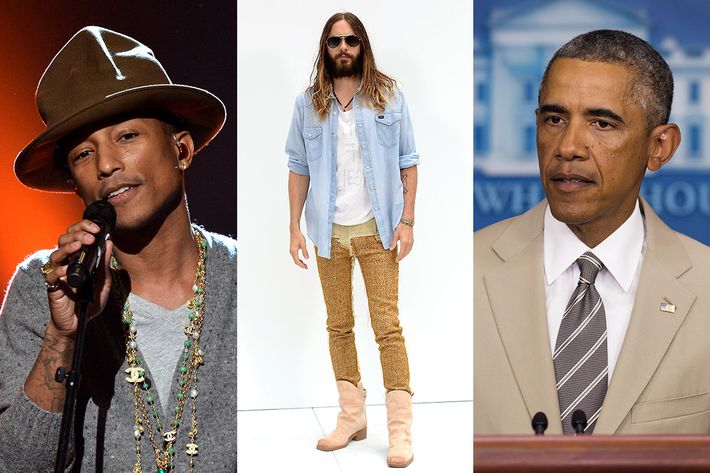 Even Some Notable Dudes Got Weird.
Obama's tan suit. Pharrell's Hat with a capital H. Jared Leto's skintight gold jeans. Male style statements came in for just as much critical ire as women's, suggesting that a "worst-dressed" glass ceiling of sorts has finally been breached. Three cheers for equality?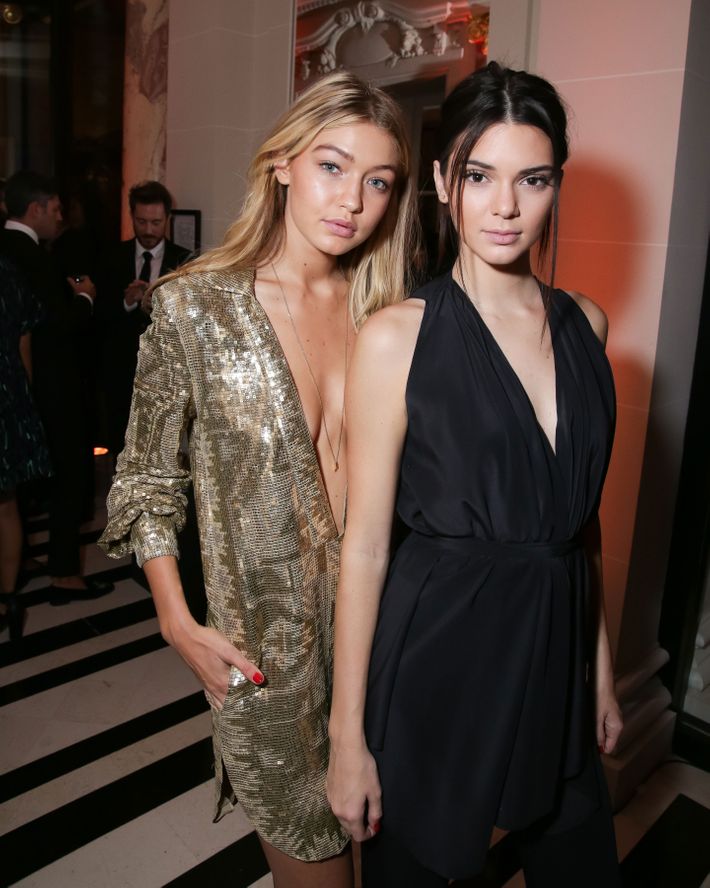 Together, Kendall and Gigi Became the New Cara.
Kendall transcended reality-TV fame to walk the most elevated runways; her best friend (and fellow reality-dynasty member) Gigi Hadid broke out as a star, with her sister Bella Hadid already showing signs of  making fashion-world waves of her own. So much for the old days of getting discovered at the mall.
Tech Courted Fashion — or Was It the Other Way Around?
Apple's Apple Watch unveiling at Colette in Paris was fashion editors' first stop before the Chanel show; shortly thereafter, the accessory made the cover of Vogue China even though it won't go on sale until 2015. Every designer under the sun introduced some form of wearable tech — Opening Ceremony introduced both the MICA smart bracelet and a chargeable varisty jacket, for the hipster quarterback on the go; Ralph Lauren tested heart-rate-measuring smart shirts on a high-anxiety group — the ball boys at the U.S. Open; and Tory Burch feminized the Fitbit. And the lines between the two industries seemed to blur: Apple poached talent from LVMH and Nike, while Google tapped fashion veteran Ivy Ross to lead the Glass team. Even the iPhone 6 made fashion headlines, with some predicting the return of huge-pocketed cargo pants as a corollary.
Long-Shuttered Houses Got a Revival.
The Charles James retrospective at the Met was successful enough that it spurred Harvey Weinstein to buy the rights to the brand. Other coming revivals: Paul Poiret went up for auction, and the house of Courrèges made a push into the U.S. Naturally, the "there are no new ideas" think-piece industry got a significant boost.
Every Day Was Casual Friday.
When flip-flops and bike shorts turn up at couture, you know the athleisure trend is at fever pitch. Alexander Wang's H&M collection was a celebration of performancewear, modeled by parkour athletes and hard-bodied supermodels. Nike made a further push into high fashion with a collection designed by Pedro Lourenço. Sports bras and track pants ruled the street-style slideshows. And come next year, we'll get to see the "athletic streetwear" Beyoncé is designing in partnership with Topshop.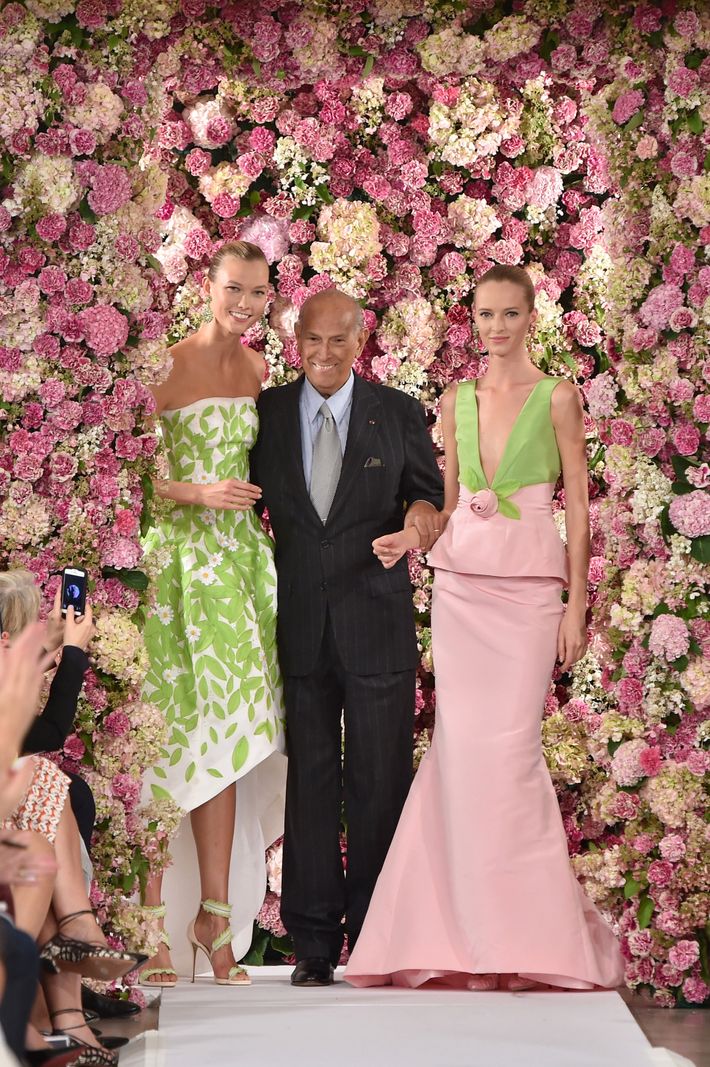 We Lost Oscar de la Renta.
The American fashion legend passed away this year, though his house is making a bold bid for the future in the hands of newly appointed creative director Peter Copping.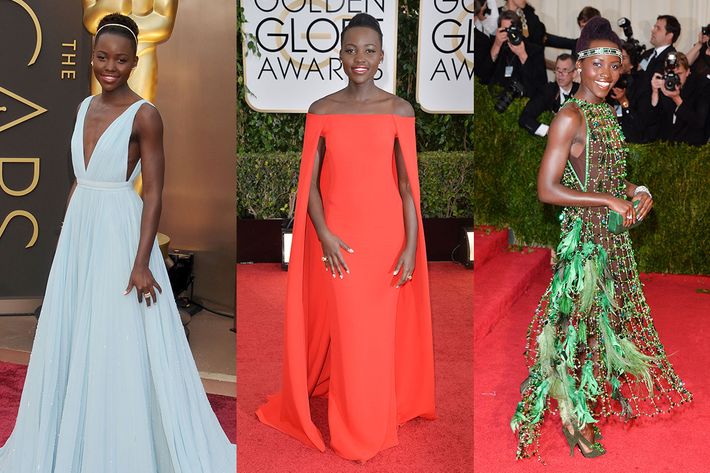 Lupita Became a Fashion Star, and Then a Movie Star.
No longer are stars anointed by Hollywood and then made over as fashion icons. Lupita Nyong'o was catapulted into style stardom long before most people saw her onscreen, and many of the year's biggest red-carpet hits belonged to her, notably an ice-blue Prada and a jeweled headband for her Oscar win, and a caped Ralph Lauren gown at the Golden Globes. Even her controversial flapper dress at the Met Ball got people talking, which is more than you can say for most of the looks on parade.
Fashion's Game of Musical Chairs Went Around and Around and Around.
Nicolas Ghesquière took the reins at Louis Vuitton. John Galliano was an unusual choice for the anonymity-craving house of Margiela. At Loewe, J.W. Anderson replaced Stuart Vevers, who'd left last year to head up Coach. Christophe Lemaire said "au revoir" to Hermès, which appointed fashion veteran Nadège Vanhee-Cybulski. Carven's Guillaume Henry hopped over to Nina Ricci, with no successor yet named. Chris Benz took the top spot at Bill Blass. And Ann Demeulemeester and Jil Sander left fashion behind, replaced (respectively) by Sebastien Meunier and Rodolfo Paglialunga. Julie de Libran earned raves for her Sonia Rykiel collection, while David Koma sexed up Mugler. Mulberry hired Johnny Coca, an under-the-radar talent who's been responsible for Céline's boffo accessories. And Olivier Theyskens abruptly left Theory, leaving us hoping he'll find another spot worthy of his estimable talents.