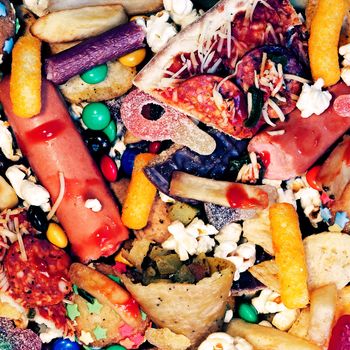 Photo: Caroline Purser/Getty Images
Does anything really happen in the last two weeks of the year? If it did, would you care? Welcome to Brain Dead Fortnight, two weeks of mental vacation.
New Year's Eve means an occasion to get drunk, and an occasion to get drunk means an occasion — later — to eat hangover food. But do you go for an Umami Burger with the works, or a pastrami sandwich washed down with s'mores rice pudding? Or maybe a big stack of sliced white bread with mayonnaise and salt?
We asked 19 connoisseurs about their preferred hangover delicacies, from old standbys to memorable new discoveries. Dig in.
"Vietnamese plus frozen cupcakes"
I eat like a maniac when I'm hung-over. Most recently? A monstrous Vietnamese order from Seamless: one large chicken pho, spring rolls, egg rolls, a peanut and noodle salad thing, and then two still-frozen Georgetown Cupcakes from my freezer.
"A large pizza and a liter of Coke"
An old coke-head party girl once told me that when she's hung-over she gets a large peperoni pizza and a liter of Coca-Cola, pounds both, takes a sleeping pill, and goes back to bed. So that's what I do now.
"Old hummus"
I once ate a container of hummus, via my finger. Realized after it was way past the expiration date.
"White bread, mayo, salt"
I don't know why I like it, but: white bread with mayo and salt. (Repeat.)
"Natural Gatorade!"
This is boring, but I swear tap water with lemon squeezed into it and sea salt sprinkled in is like natural Gatorade!
"Breakfast chicken fingers"
I often find myself ordering in chicken fingers at 10 a.m. with a ton of barbecue sauce.
"Grilled cheese from Village"
Sometimes I get a little extra drunk just to justify going to Village in the middle of the night for the grilled cheese sandwich. Best sandwich in the world, and that it's the world's best hangover cure is only a nice coincidence.
"Cold, leftover burgers"
When I get burgers out, I always get one to bring home for later. So I once had a cold, leftover hamburger from my fridge for breakfast at 8 a.m. It might be gross, but it was so good.
"A whole box of Stove Top stuffing"
Stove Top stuffing … the whole box … at least three times a week … never before 2 a.m.
"Day-old unrefrigerated pizza"
We always end up ordering pizza while drunk, then leave it on the counter overnight. So we eat when hung-over for breakfast … refrigeration is for weak stomachs.
"Cheap chocolate frosting"
Entire tubs of chocolate Duncan Hines frosting. The whole freakin' carton with a spoon.
"Thai food"
Every time: pad see ew and lemon-lime Gatorade.
"Fried chicken with the works"
Fried chicken, French fries, and mashed potatoes at 9 a.m. after an all-nighter with no dinner.
"Cake mash-ups"
I go to this place in Brooklyn Heights called Lassen & Hennigs; I'll buy one huge slice of carrot cake and one huge slice of chocolate mousse cake, put them side by side on a plate, and sorta marry them together one bite at a time. Like half a forkful of carrot cake, the rest of the fork with chocolate mousse. Sublime.
"Endless burnt toast"
One thousand pieces of nearly burnt toast slathered in butter and any cheese I can get my hands on.
"Pastrami and s'mores rice pudding"
No better-slash-shameful hangover meal than a Katz's pastrami sandwich, with a knish and the chicken soup and a soda. But I once did that AND went to Rice To Riches afterward for a humongous s'mores rice pudding bowl.
"Tater tots in SpaghettiOs"
I recently made a tray of frozen tater tots but had no ketchup so I dipped them in a cold can of SpaghettiOs.
"Fancy sushi and a McDonald's milk shake"
I was trying to be good so I dragged my ass to the "it" sushi place, ordered a bunch of high-brow shit, and on the way home with my to-go order, stopped into a McDonald's, ordered a large chocolate shake, sat down there, and had my sushi and shake.
"Cool Whip compost"
I always have fat-free Cool Whip in my freezer, so sometimes when I'm badly hung-over, I'll mix in peanut butter or strawberry jelly, always chocolate chips (which I keep around for baking), rainbow sprinkles, pretzels, whatever else I can find. Like a Cool Whip compost. I eat the whole tub of it.