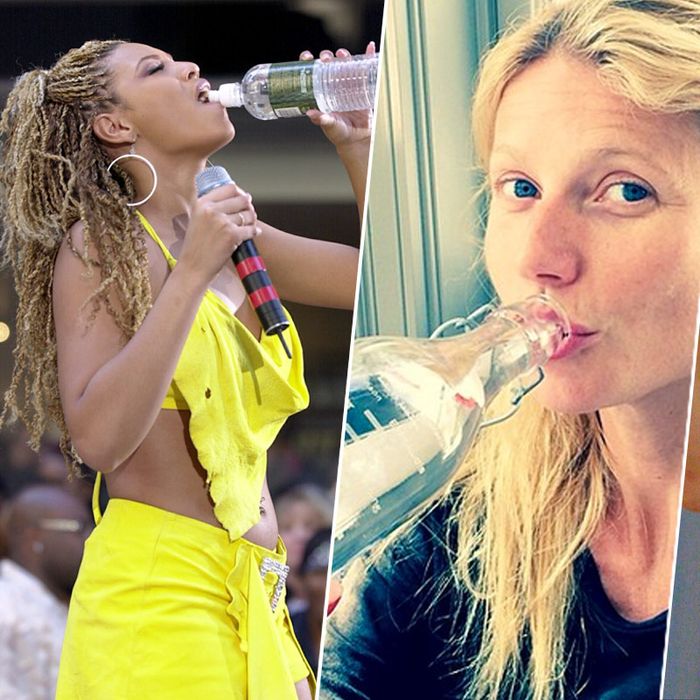 Photo: Splash News, Gwyneth Paltrow/Instagram
Does anything really happen in the last two weeks of the year? If it did, would you care? Welcome to Brain Dead Fortnight, two weeks of mental vacation.
A wise merman once said, "Moisture is the essence of wetness and wetness is the essence of beauty." He wasn't wrong. Since then, celebrities have expressed their love and devotion for life's most rudimentary liquid. Here, 33 quotes from celebrities about the fascinating subject of water.
1. "I have alkaline water filters in my kitchen sink and on my shower heads, so it's purified and alkaline. I learned about the benefits of alkaline in your body from studying nutrition, and there are many ways to do it — drinking alkaline water is one of them." —Miranda Kerr
2. "Once I drink the water, I feel it immediately. I go from being a wilted plant to one that has been rejuvenated by the rain." —Cameron Diaz
3. "I try to take care of myself, drinking at least a gallon of water with lemon a day." —Beyoncé
4. "Drink water, stay hydrated and sleep. It's so boring, yet so simple." —Jennifer Aniston

5. "Your body is so happy when you drink water." —Cindy Crawford
6. "Full of healing power #ILoveWater." —Gwyneth Paltrow

7. "I drink lots of water." —Claudia Schiffer
8. "I drink three liters of water a day." —Elle MacPherson
9. "Water! Gallons of water!" —Karlie Kloss
10. "I try to drink a gallon of water a day, and I try to get in 32 ounces with breakfast." —Gabrielle Union

11. "I just think it's good to just take care of yourself and get massages and drink water." —Paris Hilton
12. "I'll drink a lot of water." —Joan Smalls

13. "I drink a lot of water too."  —Rosie Huntington-Whiteley
14. "I think it's very important to drink lots of water." —Victoria Beckham

15. "Drinking 8 glasses of water a day is so '90s." —Nicole Richie
16. "I drink a lot of water." —Kim Kardashian
17. "I hate when I'm on a flight and I wake up with a water bottle next to me like oh great now I gotta be responsible for this water bottle." —Kanye West

18. "'It tastes fairly disgusting. But it's fantastic for your digestive system. Swig whenever you start to dream about toast and Marmite." —Elizabeth Hurley

19. "Everyone says it, but I drink a lot of water." —Julianne Moore
20. "I'm on this kick where I'm gonna try to drink 64 ounces a day. It's so hard. I can get the first 32 down, no problem. That second bottle is tough but when I do, I feel different." —Courteney Cox
21. "Drink water between meals instead of with them so that the digestive juices will not be diluted." —Jane Fonda
22. "I LOVE drinking water. It's really good for you too. Did u know u are supposed to have at least 32 ounces before lunch??" —Tyra Banks
23. "I drink the juice of a whole lemon every single morning, and green juice. And lots of water. In New York City, I can drink tap water, but at my farm, it's not so great. So I buy the giant bottles and have it dispensed through crocks all over the property. It's not refrigerated." —Martha Stewart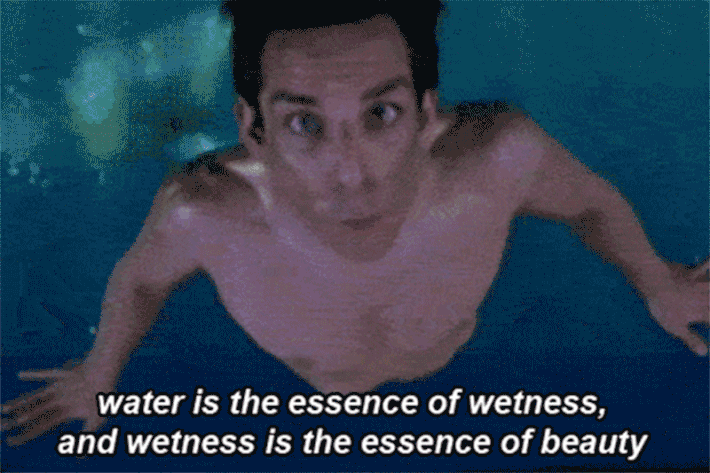 24. "The only thing I really love is Fiji water. That's like the only crazy request — I don't like any other water." —Kelly Rowland
25. "When you have no more water, you have no more life." —Pharrell Williams
26. "The first thing I do is have hot water with lemon and probiotics." —Naomi Campbell

27. "The first thing I do in the morning is drink a glass of water with lemon." —Georgina Chapman

28. "I also drink two to three liters of water a day." —Padma Lakshmi
29. "Drinking water works." —Doutzen Kroes
30. "After the ceremony, the family and guests, including Brad's parents William and Jane and his brother Doug and sister Julie, ate a home cooked meal outside in the garden and drank Bosnian rose water, Angelina's favorite drink. " —The Telegraph, on Angelina Jolie

31. "I've Bin Drinking Distilled Water For So Long That When I Drink Normal Water It Feels Like I'm Swallowing Huge Chunks Of Aluminum." —Jaden Smith
32. "Water is so boring! But that's all I drink." —Tom Ford
33. "Water is so boring." —Lindsay Lohan