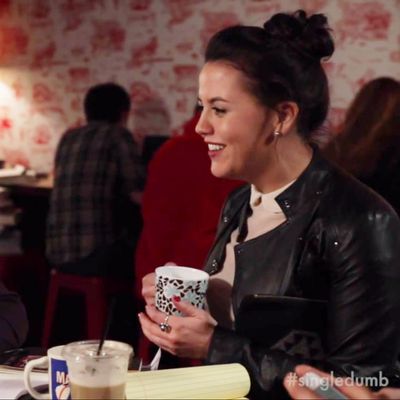 As pretty much anyone with any in-the-field experience with modern dating can tell you, it doesn't take long for encounters with romantic potential to turn into unbelievable comedy. As such, it's no surprise that many up-and-coming comedians, actors, and directors have taken to mining their own dating experiences for new web series — à la Local Attraction, Connor Hines's wildly popular and hilarious miniseries about Tinder disasters. From whispering in silent coffee shops to suffering while single during the holidays, here are four funny new web series about dating, perfect for binge-watching in bed on nights when you can't muster the strength to get out there yourself.
SingleDumb
"I was swimming in a plethora of bad dates — I felt compelled to do something with them," says Alexandra Kern, the writer and creator of SingleDumb, which chronicles the online-dating exploits of "Alex," a twentysomething Brooklynite. According to Kern, the series, which launched in October, mirrors her own New York dating experience quite closely. "I mean, these dates were so bad, some of my friends didn't even believe me," she explained. "How am I standing on Sixth Avenue on a first date with a guy I barely know and meeting his friend, a homeless woman? Things like that." Other drawn-from-life dating humiliations include an entire first date spent whispering in a coffee shop and a man who belligerently insists on sleeping in his jeans.
This Is Why You're Single  
Laura Lane and Angela Spera met in a sketch-writing class two years ago, but it wasn't until attempting to film a parody of Girls — (Amish) Girls — that the idea for This Is Why You're Single was born. "In the process of hashing out that horrible/brilliant idea, we recognized that we had a lot to say about modern dating," Spera reflects. "I dated nonstop when I moved to New York: a chemist, a couple of paparazzi photographers, an Olympian, a Frenchman, a poker player, a trust-funder, you name it. I had a lot to draw from," Lane adds. The sketch show debuted last fall at the People's Improv Theater, and Lane and Spera (who, incidentally, are no longer single) are currently at work on a This Is Why You're Single book. You can buy tickets to see their current, holiday-themed show live here.
Seeking
Seeking starts out with Ella — played by creator and co-writer Ronit Aranoff — betting her roommate that she can't find a normal guy to date: "I want to meet a guy who is marginally attractive. I want to go on a couple of dates without some sort of weird shit happening, and the first time we shtup, I just want to missionary it a bit, to get to know each other. Is that too much to ask for?" Ella bemoans. The first season, which debuted last fall, is based almost entirely on dating stories from strangers and fans — many of which are horrifically mortifying. "Dating in New York really had me examining my faith in humanity," Aranoff joked to the Cut, adding, "It's important to me to create female-written, -produced, and -directed comedy that shows reality like raunchy women, stagnant careers, and all the regular crap that comes with life." As of this week, Aranoff received funding for a second season, which she says will focus a little less on awful first dates and more on the ups and downs of being in a relationship.
About Us
This sweet new miniseries — set to debut December 12 — follows the dating trials and tribulations of three young, L.A.-based friends: Brooks, a broke and confused aspiring writer; Ani, the daughter of strict Armenian immigrants; and Sebastian, an emotionally closed-off jerk. Without giving too much away, About Us creator Avery Anthony told the Cut that most of the show's relationships are "doomed from the start … cue rocky roads, jealousy, confusions, and lies, accompanied by awkward hilarity."