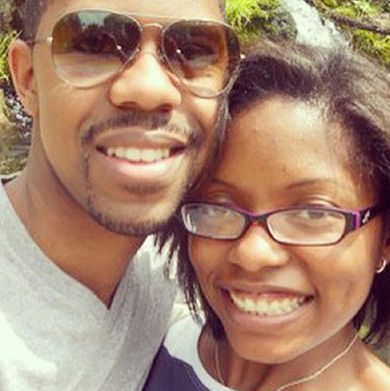 L'Oreal Thompson Payton, 27, took a #firstdateselfie back in 2011, before hashtags were even a thing. She wanted to document a first date at the Pittsburgh Zoo, but since no one was around to hold the camera, the couple took the picture on her point-and-shoot camera. She recently shared it in an Instagram countdown to her wedding. "It's something we'll show our future kids," said Jeff Payton, who takes up half the frame of a photo that they call a favorite.
In the past few years, a slew of new terms have sprung up related to the way we document relationships on social media. Just like your romance, you could say it all begins with the #firstdateselfie, an alternative to saving movie ticket stubs, dried flowers, or even the receipt or wine-stained napkin from your first dinner out. Then there are "relfies" (relationship selfies), photos of you and your significant other that may indicate greater relationship satisfaction, but also practically guarantee everyone else will hate you. It goes further: In order to take satisfying engagement ring selfies (also called "relfies"), some women are getting hand lifts, microdermabrasion treatments, and chemical peels. That, along with the widespread prominence of the "narcissistic" solo selfie, kind of makes a couple together in an Instagram frame, happily documenting the hope that comes with the potential for love, seem really kind of sweet. Not to mention potentially viral; one couple's recent #firstdateselfie racked up likes in the triple digits.
A Pew survey from last year documented a nearly 10 percent increase in Instagram use from the ages of 18 to 29. If you're taking a picture of your relationship with your lunch, maybe your date deserves the same care? Mike Tuck, 22, explained that while the hashtag is popular among his younger sister and her friends, it's also useful for adults: "It's actually a cool way to show your commitment to a woman. Like, I feel good enough about this date that I'm going to broadcast it."
Click through the slideshow for a look at recent self-recorded first dates, including a trip to the Santa Monica Pier, a walk in the park, and the classic dinner out.