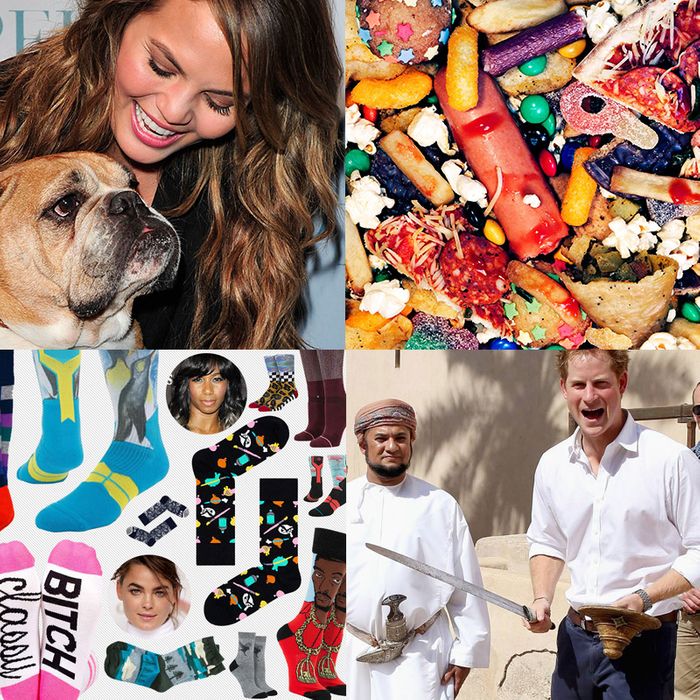 Photo: StarTraks, Getty Images
For the past two weeks, the Cut has been hard at work bringing you the kinds of stories you've been waiting for all year: A celebrity-sock-line explainer, deep thoughts on water, pictures of celebrities wearing winter coats, and, of course, a slideshow of animals that look like Paris Hilton. In case you missed it, here are all of our Brain Dead Fortnight stories in one place. Savor them as you enjoy the final days of mental vacation.
WE BASKED IN THE DUBIOUS WISDOM OF MARILYN MONROE. Here's a collection of the best things she never said.
WE SOAKED IN THE SOOTHING RHYTHM OF VOCAL FRY. Our supercut features enunciation highlights by Kim Kardashian, Paris Hilton, Miley Cyrus, and many more.
WE POLLED CONNOISSEURS ABOUT THEIR PREFERRED HANGOVER MEALS. Tater tots in SpaghettiOs, cheap chocolate frosting, white bread with mayonnaise and salt, and a whole lot more.
WE DOVE DEEP INTO THE L.L. BEAN COMMENTS SECTION. And found some stimulating debates on the thickness of the 100% Pure Maple Syrup and sturdiness of the boat tote.
WE ANALYZED OUR AFFECTION FOR MINIATURE THINGS. Mini screwdrivers, mini corn, mini bottles of Tabasco sauce, travel-size shampoo.
WE LEARNED TO TELL THE CHRISES APART. Here's our handy hunksplainer.
WE THOUGHT HARD ABOUT WATER. Thirty-three celebrities tell you what they really think about it.
WE GAVE ANIMALS THE SPOTLIGHT FOR ONCE. A celebration of celebrity pets with big personalities.
WE FONDLY REMEMBERED THE BEST PARTS OF 2014. Chill parts, smooth parts, fun parts, and more.
WE PAID TRIBUTE TO THE CELEBRITIES WHO DESIGN SOCKS. Shout-outs to Rob Kardashian, Snoop Dogg, Sanitgold, and others.
WE PINED AFTER SHINY OBJECTS. Spoons, glitter, pie tins, a trash can, you name it.
WE TOOK TIME TO APPRECIATE PRINCE HARRY'S MANY TALENTS. He's pretty good at holding things.
WE ADMIRED CELEBRITIES' PROFICIENCY AT LAYERING. Is that really you, Reese? 
WE RESEARCHED THE HISTORY OF MEN WEARING CURLERS. Why not?
WE STUDIED THE MOST INTERESTING MALE MODELS ON INSTAGRAM. Fascinating stuff.
WE RANKED ALL 16 OF BRITNEY SPEARS'S FRAGRANCES. From Chaotic to Toxic to Lucky.
WE REVISITED THE WORST TRENDS OF THE EARLY AUGHTS. A walk down whiskered-denim lane.
WE COMPILED A LIST OF ANIMALS THAT LOOK LIKE PARIS HILTON. You're welcome.