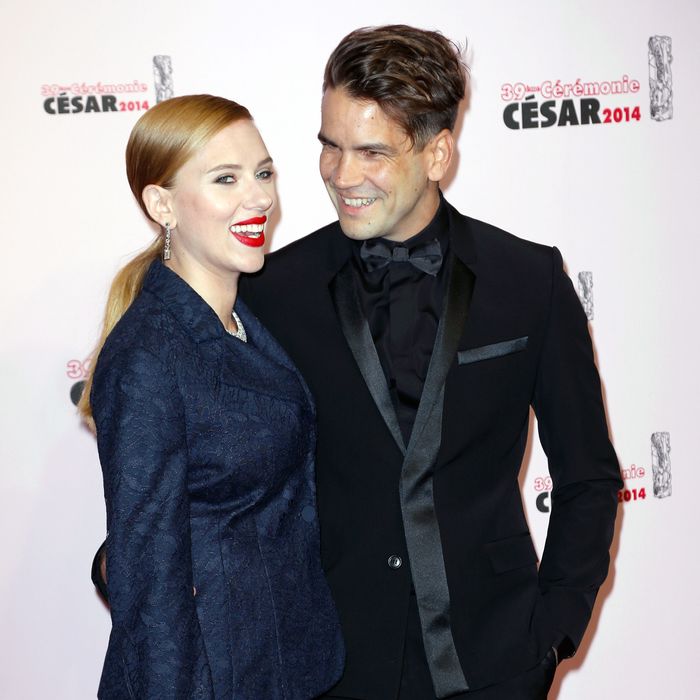 Photo: Rindoff Petroff/Hekimian/Getty Images
How do international spies hone their craft? Wherever might they practice the intricacies of information gathering? How do they learn to deal in the currency of secrets? If you have asked any of these questions before or just now, here is a theory: Secret agents perfect their skills by reporting on the marital status of one Ms. Scarlett Johansson.
"Page Six" has collected a litany of espionage reports that indicate Ms. Johansson, code name ScarJo, has married her fiancé Romain Dauriac. In evidence: various sightings of slight gold wedding bands. Power of observation is a key spy-craft skill. Next, one spy overheard ScarJo InFo at a glamorous party, in which someone said the pair would marry soon. Eavesdropping at a swishy party is also an important talent for the arsenal. And finally, on-the-ground surveillance: After rumors surfaced that Johansson married in a "secret location in the US," some talented scouts reported that she and Dauriac "may have married in a remote and natural location, such as Colorado." Looks like the new crop of agents are ready for graduation.
In other news, Scarlett Johansson is probably married now, good for her.