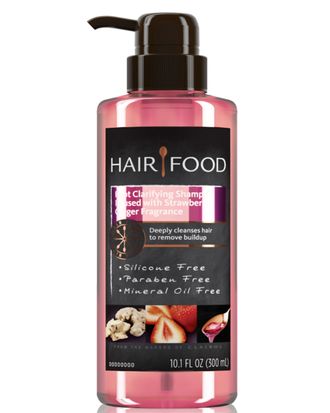 Here's the rub with curly, dry, or chemically treated hair: While moisturizers, masks, and oils keep dull and dehydrated hair at bay, they also leave a nasty coating of buildup on the scalp. This buildup, which often resembles greasy gray yogurt (fun!), inhibits hair growth, triggers flakes, and cramps any decent style. Hair Food's Root Cleansing Shampoo claims to wash away cakey buildup without drying hair. Seeing as how my scalp has seen better (and clearer) days, I put the new shampoo to the test.
The root-cleansing shampoo has a gel texture and smells like a Kiwi-Strawberry Snapple. One pump and the shampoo grew into a mild lather that I used to scrape away a week's worth of products on my scalp. Considering that I usually need to dump half a handful of shampoo on my head to cut through the curls, grease, and scalp scum, one small pump that lathered all over was a promising start. Where the shampoo really had an effect, however, was in the rinse. After washing the suds out of my hair, my hair felt clean, but not stripped. It takes a special kind of shampoo to remove excess residue without leaving my hair feeling like it belongs on the backside of a horse. You could say that I was impressed.
In addition to removing buildup, the bottle of Hair Food's Root Cleansing Shampoo offers quite a few remarkable claims. For one, the shampoo is free of parabens, mineral oil, and silicone. The first two are believed to be linked to serious medical conditions, while the latter ingredient is said to damage hair over time. Silicone also impedes the cleansing abilities of shampoos. Although I can't say for sure that the exclusion of those ingredients helped make my hair feel healthier, it did seem that I gained an additional bounce or two after my wash.
Hair Food Root Cleansing Shampoo, $9.99 at Target.