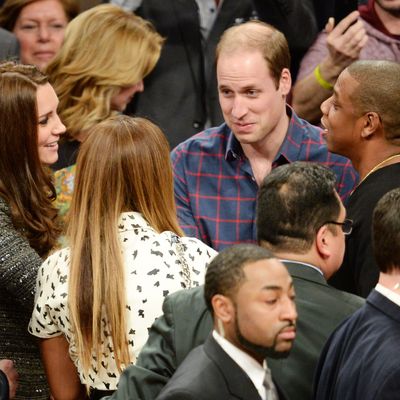 Photo: James Whatling/Corbis
First, there was Jay Z, sitting courtside at the Nets game Monday night in an all-black outfit and white sneakers, a gold chain strung around his neck. He looked at home in the stadium he once owned a $1.5 million stake in, watching the basketball team he encouraged to move from New Jersey to Brooklyn kiiiind of get their asses kicked by LeBron and the rest of the Cleveland Cavaliers. The chair directly next to him was suspiciously empty, and the crowd's murmurs grew louder: Would Beyoncé be joining him, or would we have to feign satisfaction in watching only Jay Z for the entire game?
Then, about halfway into the first quarter, Queen Bey swept in wearing an impossibly chic black pencil skirt and black-and-white short-sleeve oxford, a belt cinching her tiny waist, sensible black pumps on her feet. She took her seat next to her husband. "Sorry, honey, I got stuck at work," we imagined her saying. "And Blue simply would not go to sleep."
A waitress immediately descended upon the couple and took their drink orders, ferrying back clear drinks in plastic (plastic?) cups to them as they watched the game. Several people seated in my section commenced snapping photos of the duo, and when the woman behind me saw me browsing close-up shots of Bey Z on Twitter, she had me text one to her so she could send it to her daughter. Brooklyn's king and queen were officially in the building.
But another royal couple was slated to attend the game — the Duke and Duchess of Cambridge, Prince William and Kate Middleton. Toward the beginning of the third quarter, the British royals shuffled in, flanked with security and clamoring paparazzi, as muted cheers echoed throughout the stadium. They took their seats, next to former NBA player Dikembe Mutombo, and the game resumed, but all eyes were darting back and forth between the Duke and Duchess of Cambridge and the king and queen of Brooklyn, who were seated directly across from each other, only the court separating them.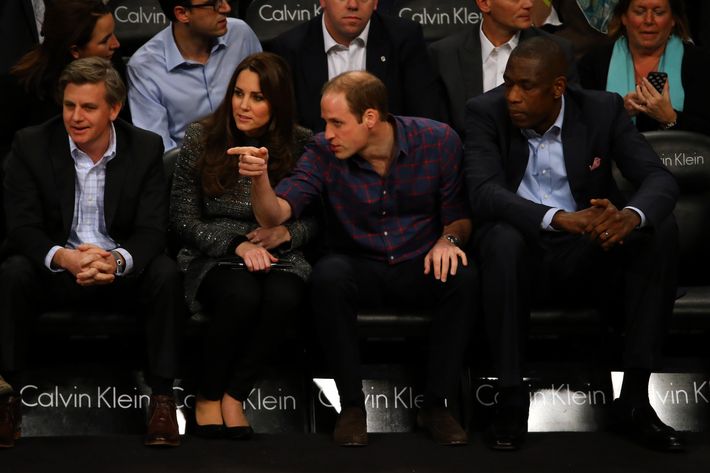 And then, between the third and fourth quarters, the moment came. Out of nowhere, game play was paused for an indeterminate amount of time, but it didn't matter, because as Beyoncé and Jay Z moved across the court toward the royals, time seemed to slow almost to a stop. A feeling of awe spread across the auditorium, gasps and shrieks punctuating the atmosphere, the energy buzzing far more intensely than it had at any moment during the actual basketball game. I let out a throaty cry — "OH MY FUCKING GOD" — without even really understanding why. My actions were not mine anymore. I was reduced to a fangirl, an apparition of tears and blurry cell-phone snaps.
They greeted each other. First Beyoncé shook Prince William's hand, and then she made small talk with Kate Middleton. "How do you get your hair like that?" I imagined her asking Kate. "How do you get your everything like that?" I imagined Kate responding. The Jumbotron projected the meeting for the entire stadium to witness. The Barclays organizers aren't stupid. This was why we were here. This was why we'd shelled out for the $80 ticket, spent $20 on a shitty beer and a pretzel, trudged through the crowds at Atlantic Terminal, waited in the freezing cold to slowly funnel into the stadium. It was all for this.
It was one moment nestled between a series of completely mundane sports moments. But it was a moment I will cherish for a lifetime.
The Nets lost 110 to 88.