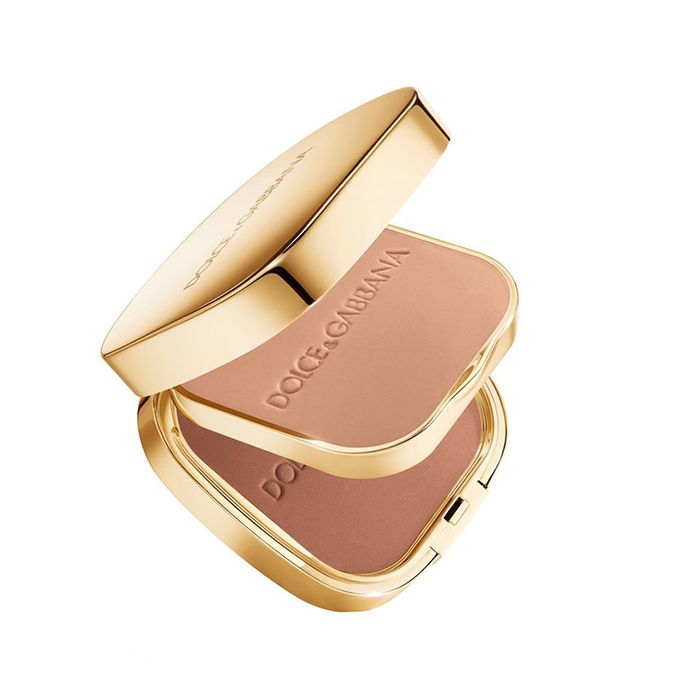 Nothing beats the warm glow of a bronzer on sad, sullen skin — unless it's two bronzers, like Dolce & Gabbana's Bronzer Duo. The pressed-powder palette includes two shades, one shade slightly lighter than the other, and they work together for natural, gradient coloring that fakes a day in the summer sun.
The Bronzer Duo (I tested the Deep Bronze shades) carries the slightest amount of shimmer to cast the subtlest, lit-from-within glow. The two richly pigmented shades in the palette can be used separately for dramatic or nuanced definition, or mixed together for balanced contouring. Either way, the powder was surprisingly blendable, adapting to my skin like it was made for my complexion. Using Kevyn Aucoin's Beauty Contour Brush, I prefer to swoop the darker of the two shades in the hollows of my cheeks to fake a slender face, and at the top of my face to minimize the appearance of my forehead. The lighter shade is ideal for contouring around the perimeter of my nose and my jaw. The bronzer's staying power is pretty impressive, too: It lasted an entire day without migrating down my face.
What's more, it comes in Dolce & Gabbana's signature gold case — and it's nice to have something glitzy to perk yourself up when the next warm, sunny day is still half a year away.
Dolce & Gabbana Bronzer Duo, $66 at Nordstrom.