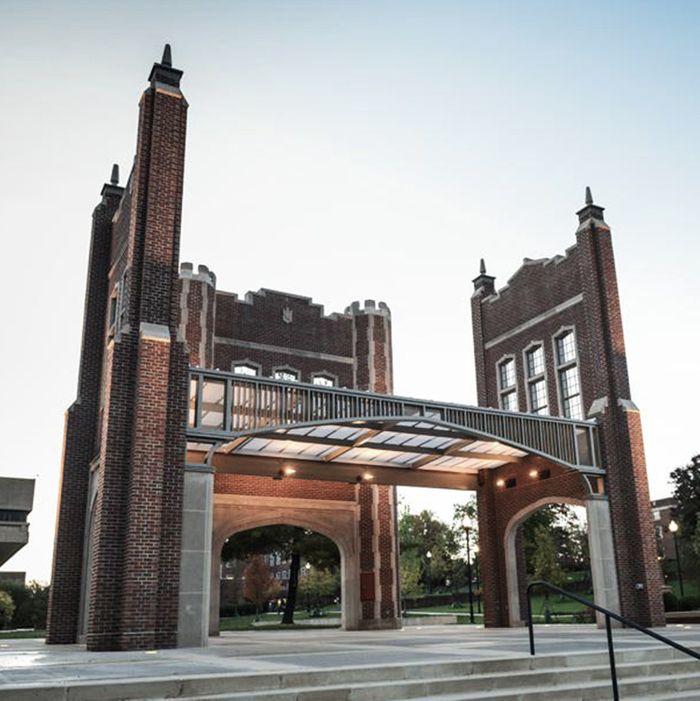 Photo: University of Tennessee at Chattanooga/Facebook
With Rolling Stone's UVA story still creating shock waves, it's worth taking a moment to acknowledge one thing we know to be true about campus rape, which is that it happens to a great number of people — and when cases are brought to university adjudication boards, such boards remain ill-equipped to take care of them, even after all the media coverage over the past year.
Reinforcing the responsibility a university bears toward student survivors of rape is where the current wave of activism around this issue began, after all, back at Yale and Amherst years ago. Activists like Alexandra Brodsky and Dana Bolger, of the activist group Know Your IX, were adamant that universities needed to protect their student populations from "gender-based violence," whether that was sexual harassment or assault. And this duty of school to student is not in dispute, though a lot of anxiety is going on right now amongst feminist writers who see the tide as having turned against them, as Amanda Hess chronicled last week in Slate; "Rolling Stone just wrecked an incredible year of progress for rape victims," wrote Arielle Duhaime-Ross at the Verge; at Autostraddle, Audrey White wrote that the UVA story was "on its way to becoming the next Duke Lacrosse — a highly publicized incident that misogynists will point to as a way to discredit all people, especially young women and students, who experience rape."
It's not a great situation all around, though it seems a bit extreme (not to mention ungenerous) to call the movement against sexual assault on campus an "overcorrection," as Emily Yoffe did in Slate. And to listen to many of the most vocal activists, the terrain, and their approach to it, hasn't changed much at all. Next month at Sundance, Kirby Dick and Amy Ziering, the team behind 2012's The Invisible War, the chilling documentary about military sexual assault, will premiere a documentary about campus rape entitled The Hunting Ground. The word is that this film will make audiences as thoroughly revolted and disturbed about the role of universities vis-à-vis rape as they were about the military's abdication of this responsibility in The Invisible War.
As anyone involved with the movement will tell you, the fact remains that when rape occurs at campuses in large swaths of the country, nothing happens. Forty percent of universities in the U.S. have never adjudicated a single rape case in five years. And many of the same problems with adjudication remain at other campuses, with few standards on the books for how a university should act. The process of adjudication itself is so broken at many of these schools that even when survivors report, the experience is punishing. It's like running a marathon.
***
To learn more about just how punishing that marathon can be, we spoke to a University of Tennessee at Chattanooga survivor. Molly Morris's case involves one of the top wrestlers at the school. This is her retelling of alleged events, and we have contacted the lawyer for the accused, giving him a chance to respond. UTC spokesperson Chuck Cantrell was also presented a number of queries, most of which he declined to answer, writing in an email that "the Family Educational Rights and Privacy Act of 1979 (FERPA) prohibits UTC from providing a substantive response to this question."
A red-haired 21-year-old psychology major with plans to receive a license to become a child music and art therapist, Morris is now living in New Mexico, where she grew up. She was a transfer student at UTC, enrolled on America's National Student Exchange. She grew up in Roswell, town of aliens, as the daughter of a former principal and a mechanic. "I've been in New Mexico my whole life," she says. "I've learned how to play guitar, and I thought I'd dabble in country music in Tennessee."
Last March, a friend from her Social Inequities class — ironically enough — invited Morris to a party. When she arrived, she was the only girl in the house with a bunch of guys from the wrestling team, who were playing beer pong. They gave her a Strawberita, a fruity beer drink, and then one of the guys offered her a flask of Jack Daniels, saying she didn't seem like a Strawberita girl. Two other girls eventually showed up. Someone brought out Fireball whiskey, and asked Morris if she wanted some. "There was only one centimeter of the Fireball left, so I thought, 'That's a no-no; I don't want to drink that,'" she says. "I also thought, 'Gross.'"
Her new wrestling friend leaned over and said, "Molly, that drink's for you."
Morris didn't drink the Fireball. But Morris alleges that the next drink she had, a Jack and Coke, had the cinnamon-y taste of Fireball whiskey in it. She barely had two drinks, but this is basically the last thing she remembers. Everything else appears in her memory like a still photograph, or a short Vine clip. One moment, she's in the bathroom, completely limp, throwing up. Everything is foggy, blurry. The next, the wrestler is propping her up on the side of the bathtub and slapping her face, saying her name over and over. "'Open your eyes, look at me,' he said. I opened my eyes, and he left," Morris remembers. "I said, 'Wait, don't leave. Help me.'"
In the morning, Morris woke up curled at the bottom of the bed with only a sheet covering her naked body. As soon as she was conscious, she jumped into her car, pulling away as fast as she could. At home, she crawled into bed. She had vomit on herself. She got into the shower. "I saw a gigantic hickey on my neck," she says. "I covered it up with makeup. And then I stood there, and thought about what happened. I knew he had slept with me. And I knew I didn't consent."
Morris didn't want to report, at first. "I thought, 'Maybe he was just really drunk? He seemed like such a nice guy.' But then I thought, 'There's no way I would have been out like that if I hadn't been drugged.' I've never even thrown up from alcohol in my life, and I'm a moderate drinker anyway." Soon, she was shocked to learn, she says, that there was another sexual assault report against a different wrestler pending. She decided to report. "I didn't want anyone else to get hurt," she says.
*****
At Morris's initial meeting with a UTC dean, the same thing happened to her that's happened to so many students: The dean took almost no notes in their initial conversation, writing down only three words, one of which was "Fireball."
The investigation began. At UTC, the accused student gets to decide what kind of hearing he or she would like. Sometimes the accused will pick a dean as sole decider; or a panel hearing; or an Administrative Procedures Act hearing, where a university judge presides. The alleged perpetrator has an attorney. UTC has an attorney. The survivor is merely a witness, a situation that Morris didn't like being in. She also believes the "entire APA hearing is a Title IX violation."
The APA hearing also tends to last for a long time. Cantrell, the UTC spokesperson, says, "Depending on the complexity of the case, the number of witnesses, et cetera, APA hearings can take longer than other student conduct hearings but not always." Perhaps the wrestler thought Morris was going to disappear, go back to New Mexico and never follow up. And by the time the hearing rolled around, she had already moved back home for the summer and had to fly back to Chattanooga on her own dime with her mom. Her mom stood in the hallway while the hearing was going on. "The first thing that she heard someone say, in the hallway, was 'I'm going to question her until she dies.'"
The initial decision was not guilty. The judge also mentioned she felt Morris should have "watched her drink."
Morris was allowed an appeal, and in this case — this happens rarely — the judge actually reversed herself on appeal. "The hearing officer, who, by the way, is an accounting professor, listened to all the evidence and issued an opinion saying that my client did not violate the student code of conduct," says Jeff Rufolo, the wrestler's attorney. "But within one week, without any explanation, she did a 180 degree turn."
Morris was very happy, but of course the wrestler appealed this decision, which meant yet another round of paperwork, and another hearing. All of this took months. She consulted often with Annie Clark, a University of Chapel Hill at North Carolina survivor and co-founder of End Rape on Campus, an advisory group that helps students understand their rights and advises on how to file paperwork for a Title IX complaint. But at times, Morris felt like she herself was becoming a lawyer. She spent hundreds of hours reading about survivor rights and preparing briefs. Meanwhile, she says, the guy was still wrestling on and off for the Mocs.
The wrestler lost his appeal. The APA procedure says to then send the alleged offender to UTC's chancellor Steve Angle, and let him decide whether the accused is guilty. The wrestler requested an oral argument in front of the chancellor, which he was granted, but Morris had to file a "motion to intervene" to receive her own oral argument. "I was going to get my 15 minutes if he had his," she says.
Morrus flew back again for that hearing, at her own expense. Angle asked for both she and the wrestler to reference the previous transcript, which they did. "I'm hearing a lot of 'where Molly didn't say no,'" Morris says Angle said. "But I'm not hearing where she said yes." She sighs. "And of course there's nowhere I said yes, because I never consented."
****
Unlike a lot of campus rape cases, this one has a relatively happy ending for the accuser. It took nine months, but the wrestler was just found guilty, again. He is now expelled — though it's possible he may appeal to another court, and has 60 days to make that decision. And even after his expulsion, his lawyer was able to get him the ability to take his final exams at UTC. "It is our position that if he had to get consent — meaning verbal consent or consent by acts that are unmistakable in their meaning — that he got consent by acts that are unmistakable in their meaning," says Rufolo.
For now, Morris is trying to focus on the future. She wants to do advocacy work for other survivors, and is focused on starting a website, Revoking Silence. "This experience has made me realize there are bad people in the world, but I refuse to believe everyone is bad," she says.