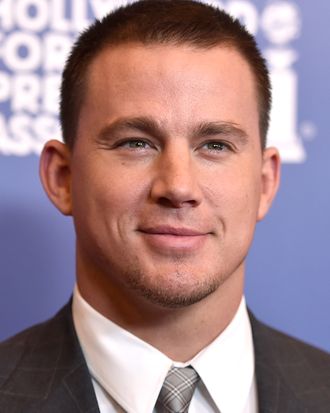 Photo: Frazer Harrison/Getty Images
I. TO WRITE AN EMAIL LIKE CHANNING TATUM, FIRST SELECT THE CAPS-LOCK FUNCTION. YOU COULD HOLD DOWN THE SHIFT KEY THE ENTIRE TIME, BUT WHY WOULD YOU UNLESS YOU'RE AN INTOLERABLE TRY-HARD WHO MAKES MORE WORK FOR HERSELF. YOU WILL NEED TO RESERVE SOME OF THAT ENERGY FOR LATER ENTHUSIASM.
II. LIVE IN THE REPETITION. ADD EXTRA EXCLAMATION POINTS AND AUXILIARY LETTERS. THIS WILL MAKE YOUR EMAIL RESONATE, LIKE AN ECHO FROM THE VICTORY CRY OF A RIGHTEOUS WARRIOR. FOR EXAMPLE, IN CHANNING TATUM'S LEAKED EMAIL CELEBRATING THE EARLY BOX-OFFICE SUCCESS OF 22 JUMP STREET,  HE ELONGATES WEIGHTY WORDS ("ALLLL TIMMMMME BEEEOTCH!!!!") FOR A SENSE OF CONSEQUENTIAL DRAMA. 
III. CONSIDER THE SOUND YOU WOULD LIKE YOUR EMAIL TO EVOKE, RATHER THAN THE MEANING. IN THIS CASE, THE SOUND IS TRIUMPHANT GIGGLES. IT'S ACHIEVED THROUGH THE SLIGHTLY VARIED REPETITION OF THE LETTERS A AND H, TYPED OVER AND OVER TO CREATED A SENSE OF INFINITY, THOUGH THEY ONLY APPEAR 14,553 TIMES IN TOTAL.
IV. RENDER NAMES AND TITLES IN A TRADITIONAL FASHION (I.E., CORRECTLY). THOUGH YOUR TYPING IS ZEALOUS, YOU WOULD NEVER PUT THIS VIBE ONTO ANY OTHER PERSON. EACH PERSON IS THE CHIEF OF HIS OR HER OWN VIBE. SPELL CATE BLANCHETT, JUMPSTREETERS, AND TED WITH ACCURACY. 
V. DO NOT GIVE THE SAME ATTENTION TO PROPOSITIONS. YOU ARE A PEOPLE PERSON, NOT A PREPOSITION PERSON; WITH CAN BE RENDERED AS WIT.
VI. NO SIGN OFF, OBVIOUSLY. YOU HAVE SAID YOUR PIECE. THAT IS ENOUGH.