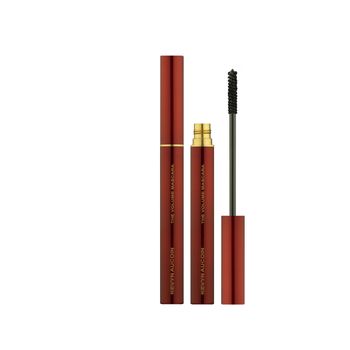 I don't take much stock in "old favorites" that we're theoretically supposed to enjoy. For the most part, the highly lauded cosmetics of yesteryear are overrated disappointments. So when a re-release of Kevyn Aucoin cult classic Volume Mascara landed on my desk, I braced myself for a big letdown. What could this 2001 formula do better than mascara's latest and greatest?
Slim and unassuming, Volume Mascara's wand is nothing like the inflated chubby wands of today. I noticed that after one swipe, my lashes were coated in an inky veil of black — sexy but understated. Two coats added a little drama; three and they rivaled a pair of falsies. My petite lashes now stood tall and perfectly separated at the roots. Was this cosmetic witchcraft?
The Volume Mascara employs similar technology to that of fiber mascaras, minus the flaky mess. Its glossy formula builds on top of itself, so each coat of mascara produces longer lashes. But — and this makes it downright extraordinary — it doesn't clump. Plus, removing the formula at night is a breeze, and produces nary a smudge.
If your lashes resemble sad baby-hairs, you should give the Volume Mascara a whirl. Although the volumizing effect of the mascara is tenuous at best, this mascara made my eyelashes look naturally fluffy and long. It appears that perhaps this longstanding classic is worthy, after all, of modern praise.
Kevyn Aucoin the Volume Mascara, $28 at Nordstrom.