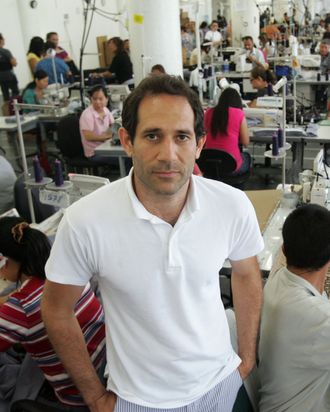 "He can be very entertaining," said Trish Regan of Bloomberg TV's Street Smart about her conversation with American Apparel persona non grata Dov Charney, who dropped by the station's offices for a chat after the news about his latest ouster emerged. While Charney didn't go on video, Regan shared her findings with Stephanie Ruhle on the channel's Market Makers this morning, and there were revelations about couch surfing — which, we'd wager, marks the first time the practice has been discussed on the program.
Regan explains that Charney claimed he felt used by Standard General, the hedge fund he partnered within order to build up his share to 43 percent of the company. He told Regan that Standard General had promised he would be reinstated as head of the company. "I gave Standard General my entire life's work, and they agreed to put me back in," Charney told Regan. "But instead, they used this investigation to fire me. They betrayed me. I gave them my heart. My shares … They teamed up with Allan [Mayer, a board member] and worked against me." (Update: Standard General sent us the following statement in response to Charney's comments: "As we have stated previously, our objective is to help American Apparel grow and succeed. We supported the independent, third-party and very thorough investigation into the allegations against Mr. Charney, and respect the Board of Director's decision to terminate him based on the results of that investigation. We believe that American Apparel will benefit from the leadership of its new CEO, Paula Schneider, and we are focused on supporting her and American Apparel going forward.")
Regan emphasized that Charney's heart, if not his shares, remains committed to the company. "He lives, sleeps, eats, and breathes this," she said, adding, "He's only got $100,000 to his name." A skeptical Ruhle immediately asked, "Where'd it all go?" While Regan never answered that question directly, she did note, "He's staying on the Lower East Side at a friend's place. He's sleeping on a couch, but he's trying to muster support." Also, his math-rock band is playing tonight at Pianos, and they could really use the support.
"Clearly, he's passionate. But did he seem rational to you?" Ruhle asked. Regan admitted that there are times when he "goes off on a little bit of a tangent." One thing the two could agree on? As Ruhle put it, "That hundred grand is going to go to legal bills overnight."