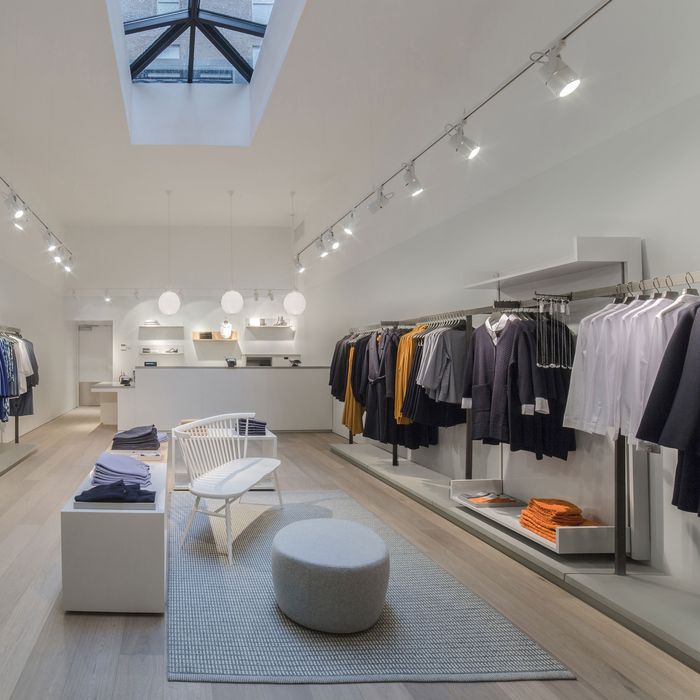 Over a year ago, rumors began that COS — that mid-range cult European store known for its Scandinavian-minimalist look — would open in the U.S. A slightly more expensive sister brand to H&M (in addition to & Other Stories, which opened on Broadway in October), the London-based COS has been a best-kept secret of fashion editors since its inception in 2007. Since then, it's expanded at a fast clip, opening over 100 stores across Europe, Asia, and the Middle East. Tomorrow, its first New York store finally opens in Soho at noon, on the coattails of L.A.'s debut in October.
COS's appeal lies in its architectural silhouettes and mature, muted palates. White shirts anchor every single season, because, as menswear design head Martin Andersson puts it, "they can be high fashion, and they can be basic. They transcend everything." Beyond that, womenswear head Karin Gustafsson explains that at COS, "you will always find a lot of gray melange, black, and navy blue."
For many budget-conscious shoppers, the brand is too good to be true: $19 will buy you a T-shirt or boxy evening bag — and a belted, boiled-wool coat with sharp lapels runs at $225, a fraction of its equivalents at high-end, understated Céline, or Jil Sander. 
COS doesn't advertise or hold runway shows. In fact, you're more likely to come across it in the context of an art exhibition, like the "COS x Nendo" installation at Salone del Mobile in Milan this April. The Japanese design studio hung dozens of COS's classic white shirts, dipped in gray, blue, and black dye, creating optical illusions within steel-frame boxes. This approach makes sense — COS is less interested in catering to a wide range of customers than H&M and & Other Stories. Andersson puts it bluntly: "We see our customers as a group of people with a very particular interest and mindset, and art is very important for us, and for them." In other words, see you at Basel.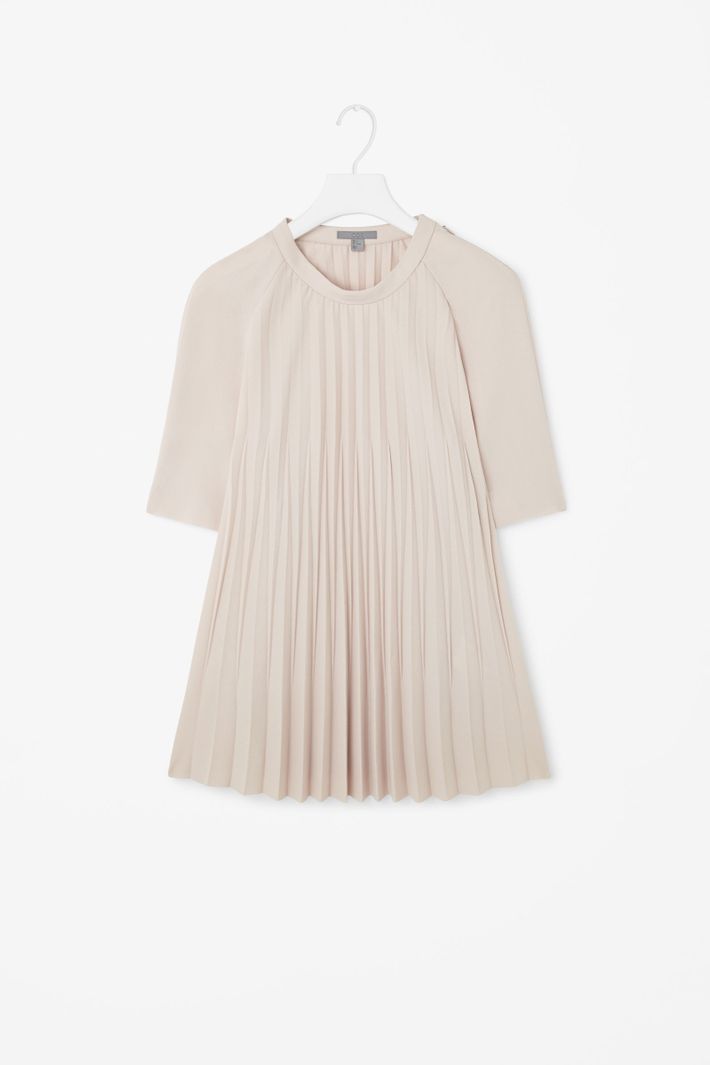 This Wednesday, sweating through my own (and only) crisp white shirt, I got a private tour of the nearly ready flagship on Spring Street with Andersson, Gustafsson, and the brand's managing director Marie Honda. Housed in an 18th-century carriage house that served, most recently, as an Italian restaurant, the store has none of the aloofness I tend to associate with the intersection of fine art and fashion. The front entrance, which displays silk collared shirts and velvet trousers that Gustafsson describes as "a modern take on tuxedo dressing," has pale concrete floors, white walls, and cheerily packed steel racks — a far cry from other high-end shops in the neighborhood that tend to use negative space as a primary design element. It feels downright cozy.
On the upper floors, the carriage-house windows have been renovated to mimic the originals, hundreds of years old, discovered in old black-and-white photographs. Buzzing with sales-associates-in-training dressed in black trousers and floppy sweaters, the vibe is less industrial loft, more This Old House. More steel racks of textural blue jersey knits and mustardy trousers with zipper cuffs surround a central woven rug on the ground floor. Gustafsson says she has recently fallen for a soft silhouette inspired by sweatpants, but you won't find any actual sweatpants here. Instead, pleated-seam wool trousers in charcoal gray (for $115) "fall when you wear them in that round way that a slouchy tracksuit would fall." It's all about "collapsing, with a soft edge."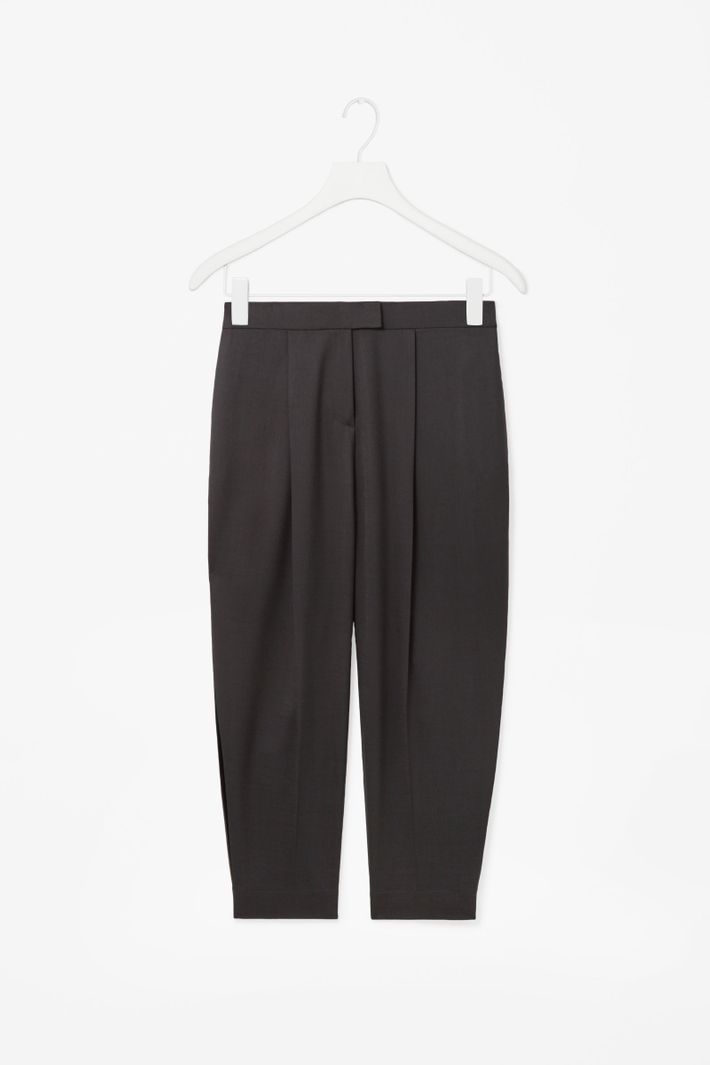 The top floor, once an attic, had telltale slanted roofs. Gustafsson coos, among the oversize merino wool turtlenecks and trim, cashmere pants gathered at the ankle, "here's where you will find the first and the last layers of the day." Menswear is in the basement. In the middle of the otherwise windowless room, there's a massive 19th-century red-brick well, which is nearly ceiling height.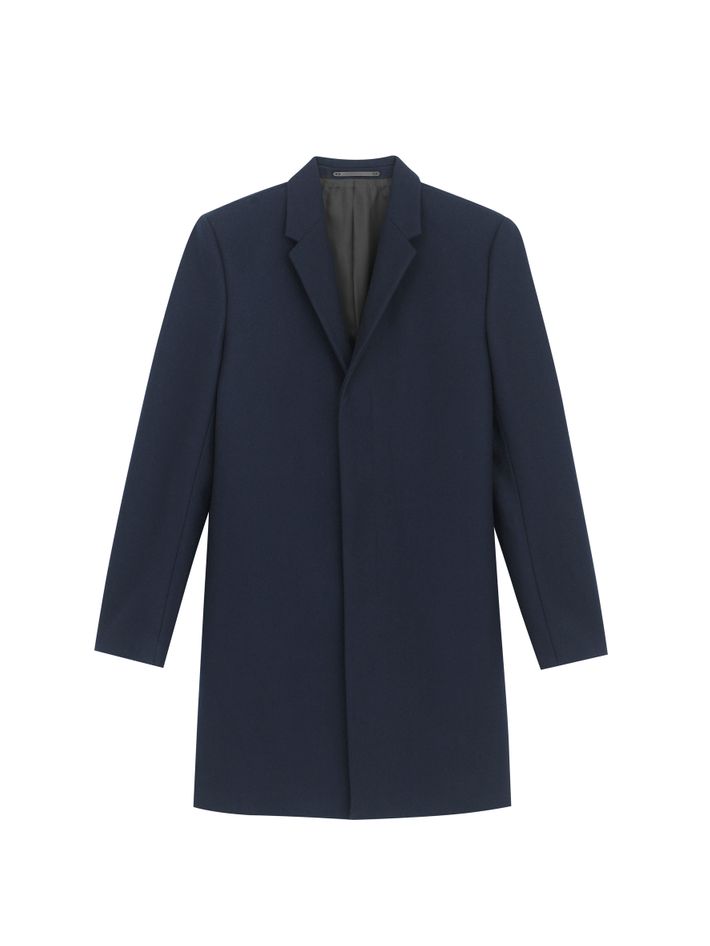 The COS aesthetic hardly seems original today, with every other Soho pedestrian swathed in a wool cocoon. But consider that the brand has been doing this for seven years, without a single advertisement (it only joined Instagram in April, and there's no Twitter handle to speak of, although fans make do with #cosstores). Andersson's favorite garment, like most of the pieces in the current collection, is quiet. It's a navy-blue topcoat. "We stripped all the detailing," he says proudly, holding it up to the light. "We removed the darts, and hid the pockets in the side seam." The coat is cut straight, to hang from the shoulders. "Walking down the street, you can spot it from quite far away. You don't really know what it is, but it's there." That's what COS is about.
COS, 129 Spring St., or online here; 212-389-1247