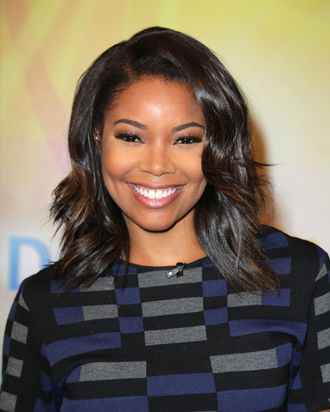 Photo: Alexander Tamargo/Getty Images
It's been a busy year for Gabrielle Union: She starred in two movies; completed the first season of her breakout show Being Mary Jane; and married her longtime boyfriend, basketball star Dwyane Wade. Now she's starring in Chris Rock's movie Top Five and has a collaboration with at-home gel manicure line Sensationail.
The Cut sat down with Union to discuss magical $20 body massages, social media mean girls, and how coconut oil is the overrated miracle ingredient of the moment.
I know how you use Neutrogena's Pink Grapefruit Cleanser, but what's your favorite beauty splurge?
My splurges are for massages and acupuncture. I'll go broke. If I ever end up on an episode of What Happened to These People? or Unsung, it will be because of massages. I have high anxiety and massages and acupuncture help me de-stress. I have been known to have massages or acupuncture back to back to back.
Have you tried the Guerlain spa at the Waldorf Astoria? It's a dream.
I like the Plaza's Caudalie spa. But we have this place back in L.A. called Happy Foot, not to be confused with Happy Feet. It's a reflexology place and they're everywhere in the western San Fernando Valley. You go in and get a full body massage for $20. You can go as soon as you get off work, or come from the gym, which I do. One time, D [husband, Dwyane Wade] came to town and was like: "I need a masseuse. We need to call somebody." I took him to Happy Foot. At first, he was trying to say he wouldn't be comfortable, but now he lives there. He took the team when they came last year. Lebron Instagrammed it! I wish there were more all over the country, but they are specifically concentrated in the west valley.
I read you have this very strict, veganlike diet.|
That was when I was filming in Atlanta; it's like in the movie when Chris [Rock] is going down the grocery aisle and he has to resist the alcohol [Chris Rock plays an alcoholic], that's me in Atlanta — resisting biscuits and fried smothered things that I love so much. I hired a vegan chef called Earth Candy Arts, which was so helpful because I just can't stop eating in Atlanta.
Do you still eat that way?
Oh no! I love meat! I love meat in a way that it is unhealthy for me. I'm from Omaha. I like real bacon. There's nothing that upsets me more than turkey or veggie bacon. I want pork. I'm down for the pig. But when I'm in Atlanta, it can just be a problem. There's something about comfort food that makes me so happy. But it does not help with continuity while filming if my weight is going up and down.
I heard about your love of drinking water.
I started that in my mid 30s. A gallon of water a day. Hair, skin, nails: It's the cheapest and best anti-aging and hair-growth treatment — it changed my whole life. It also helps if you're trying to maintain a certain weight — it's a little more forgiving, because well, people tend to get a little backed up if they don't drink a lot of it. Water cleanses you and keeps things moving beautifully.
Everyone seems to be obsessed with coconut oil. Do you use it?
I used it to cook recently. But other than that … Actually, when I was on my honeymoon in the Maldives, the masseuse told me to use coconut oil for my hair … I thought it was a little heavy. I haven't used it since. I do use black Jamaican castor oil for hair growth.
Tell me about that.
I discovered it on the Being Mary Jane set. We were Googling hair-growth treatments and it kept coming up, so we got some. It's thick. It's thick as hell. We apply it with a little brush, and I think it works.
Where do you apply it?
Wherever you think it may help around your scalp. You have to use it sparingly because it's thick and it will make your hair look like a limp rag. Check out the before and after pictures online. It works.
Tell me about your new partnership with Sensationail.
Every collaboration I'm a part of has come out of me actually using [the product] — it's completely organic. Last year when D proposed, I was in between manicures — I actually had on chipped black nail polish. After he proposed, I Instagrammed the ring. I wasn't thinking anyone would be looking at my nails, but they murdered me. My manicurist was like: "I can't believe that on your biggest day your nails look nuts. She sent me the starter kit for Sensationail and told me that no matter where I am, there will always be a drugstore with Sensationail. There's no excuse. So that's how I came to know the product. And it's come in handy so many times.
Favorite shades?
Vanilla Chai on the Being Mary Jane set and Midnight Rendezvous for fun.
This interview has been edited and condensed.