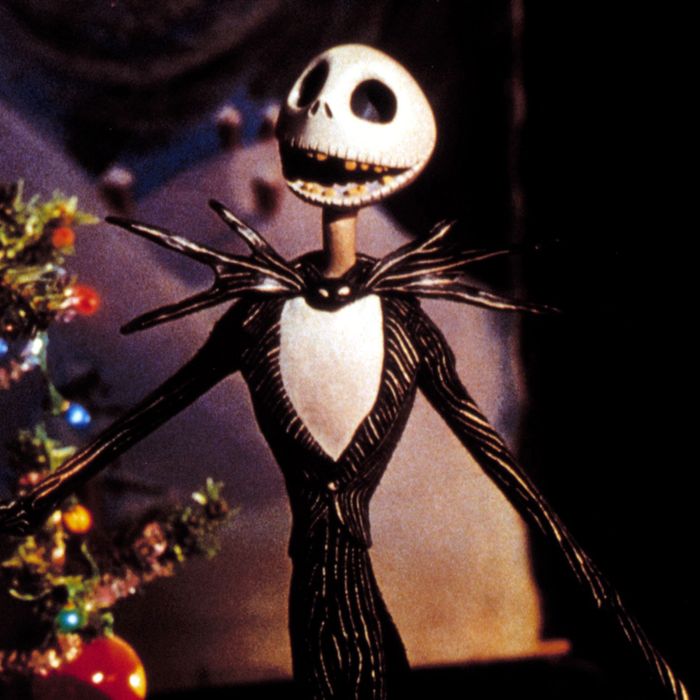 Photo: Buena Vista Pictures/Courtesy Everett Collection
Does anything really happen in the last two weeks of the year? If it did, would you care? Welcome to Brain Dead Fortnight, two weeks of mental vacation.
The holidays are the perfect time to contemplate what really matters, and if your tendencies lean Robert Smith–ward, that translates to the endless concatenation of miseries the world heaps upon our sorry souls. Here, in the Cut's guide to a goth Christmas, some macabre holiday-hacks to take your holiday from Irving Berlin wholesome to Dark Lord–approved. (If you're a health goth, just cry at the gym or something.)
Mascots
Standard Christmas protocol: A wink-y, crinkly, and likely Republican emissary from the North Pole.
Goth tweak: Krampus, a horned Teutonic figure with his own Geocities-esque personal website.

Music
Standard Christmas protocol: Jolly carols in which partridges, mistletoe, and a tenth-century Bohemian duke figure prominently.
Goth tweak: Instead of your traditional carols, bump jams like "Do You Fear What I Fear?" by the H. P. Lovecraft Historical Society and "Bring a Stake, Jeanette, Isabella," from Count Bachula's A+ compilation. Round out your playlist with grim Yuletide songs by the Cure, Siouxsie and the Banshees, Nick Cave, the Damned, and Ariana Grande (remember, she's really into demons).

Merch
Standard Christmas protocol: Deck the halls with boughs of holly, fa-la-la-ing optional.
Goth tweak: Razor-blade ornaments and goth mermen (the elusive confluence of seapunk and goth) will help set the scene.

Movies
Standard Christmas protocol: Anything co-starring Bing Crosby and fake snow. (White Christmas, Holiday Inn, and The Bells of St. Mary's all fit the bill.)
Goth tweak: Tim Burton is the reason for the season. A Nightmare Before Christmas and Edward Scissorhands make for a holly, jolly pairing. For extra credit, binge-watch old episodes of Dark Shadows, but steer clear of Burton's reviled 2012 adaptation.
Makeup
Standard Christmas protocol: A festive red lip.
Goth tweaks: A splash of a Black Phoenix Alchemy Lab scent from the brand's limited-edition holiday line or Helena Christensen's grimly titled fragrance Dead of Night. Coat your lips with a dark nightshade hue like Obsessive Compulsive Cosmetics' Lip Tar in Pagan or MAC Cyber lipstick.
Museum Outings
Standard Christmas protocol: Brave the crowds to see a holiday-trains exhibit.
Goth tweak: Park your parasol at the Met's "Death Becomes Her," a compendium of Victorian and Edwardian mourning fashions. For U.K.-based goths, the Royal Albert Museum in London has a show about Victorian Gothic design up through April.
Morsels
Standard Christmas protocol: Making a gingerbread house.
Goth tweak: More like ginger-dead house. For refreshment, consult Martha "Mistress of Darkness" Stewart's recipe for Gothic Grog With Black Ice.
Miscellaneous
Standard Christmas procedure: Settle down with a cup of tea and a copy of A Christmas Carol.
Goth tweak: Settle down with this cup of tea and a copy of Edward Gorey's The Haunted Tea-Cosy: A Dispirited and Distasteful Diversion for Christmas, a fittingly ghoulish take on the classic tale.