The things you say on Facebook apparently reveal a lot about your personality, according to a large new study in the Journal of Personality and Social Psychology that finds an association between words used in Facebook posts and personality traits. The results are pretty fascinating, not because they're surprising but because they're so spot-on, exactly what you'd expect from introverts, extroverts, and the like. 
Introverts, for example, tend to mention stereotypical introvert-y things in their status updates: computer, internet, read, anime — to an extent, these are words suggesting that they were posted while the writer was holed up at home. Extroverts, on the other hand, post enthusiastic notes that are more likely to acknowledge the existence of other people: party, girls, tonight, amazing, love! (Exclamation point theirs, not my own.)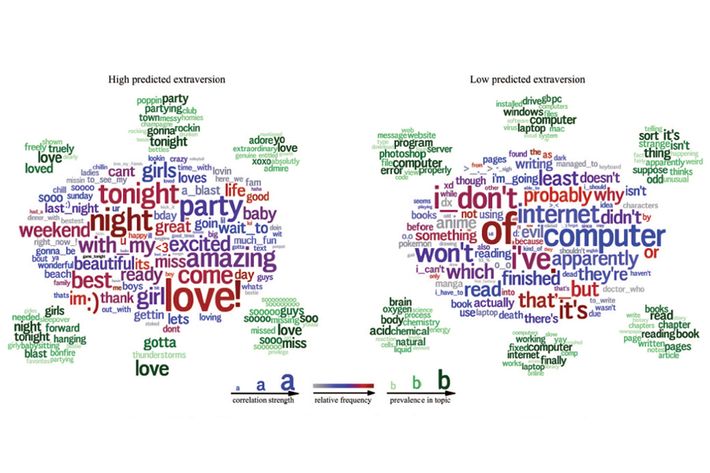 Surrounding the word clouds are green clusters of words most likely to be found together in a single status update. I particularly love the ones in the bottom right corners for both the introverts and the extroverts, which suggests that a typical extrovert's status might contain these words: soooo, missing, sooo, love. A typical introvert status update, in comparison, is more likely to contain these words: books, read, chapter, reading, book. 
Gregory Park, a postdoctoral research fellow at the University of Pennsylvania's Positive Psychology Center, and colleagues analyzed Facebook status updates from more than 66,000 users, who'd also used a third-party personality quiz app. Personality here means what psychologists call the Big Five: openness, conscientiousness, extroversion, agreeableness, and neuroticism. These are the traits that research has shown remain pretty stable in people, independent of mood or context. 
Park explained how their study worked, in an email to Science of Us:
After identifying the words and phrases that correlate with personality traits (like missin and extraversion), we developed a predictive algorithm could use just the words from Facebook updates to accurately assess a user's big five traits—at least as well as their friends can (and friends are surprisingly good judges of our personalities!). 
Here's a look at the rest of the word clouds in the paper — with a quick heads-up that disagreeable people tend to use some NSFW language in their Facebook posts.