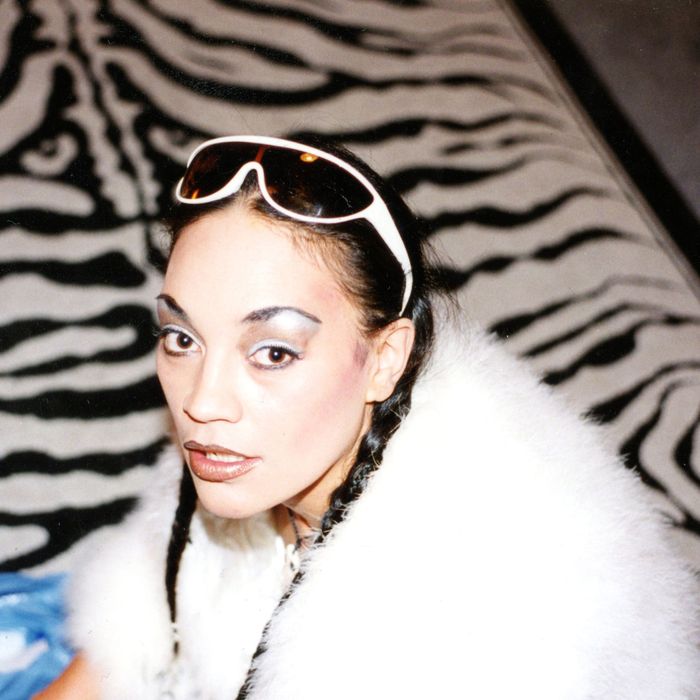 Photo: Courtesy of Nina Manandhar/Prestel
Look back at old photos from disposable cameras now, and you'll find they're endearingly unpolished. When someone took a group shot at a party, you didn't know how you looked until the prints came back — and, more often than not, you'd be captured in the middle of an unflattering blink or sneeze. Pre-iPhones and Instagram our poses were less posed, more natural. 
This is the era captured in the new photo book, What We Wore: A People's History of British Style. Compiled by the London photographer Nina Manandhar via a website sharing the book's name, it consists of amateur snapshots that show how young Brits dressed from the 1950s onward — complete with anecdotes from those who submitted the photos.
"I think this one is a classic, thanks, in no small part, to my stepdad's socks-and-sandals combo," one caption reads. And another: "This was taken at the beginning of my hard-core raving days." Some contributors talk thoughtfully about the wider music or social scenes of their youth, from mod to U.K. garage. Others cringe at what they once thought looked cool.
Manandhar only started work on the book last year, but she's been running the project online since around 2009. To her, it's the amateur-ish, personal quality of the photographs that makes them so special. "I was looking at images that people shared of themselves on Flickr, and I noticed they were different from the kinds of pictures you see by professional photographers who shoot youth culture. There was a bit more intimacy and energy to them." She set up a Flickr group and invited people to submit, later transferring it to her website ISYS, and finally to the stand-alone site.
The book is divided into themes, and starts with "At Home" — a section packed with photos of teenagers posing in their childhood bedrooms. Many of them, from the 1970s to the turn of the millennium, have turned a bedroom wall into a collage of images ripped out of magazines. It's a weird contradiction: On the one hand, we all express our individuality. On the other, we all do it in the same way.
What interests Manandhar throughout the book is how "your creativity is part of your every day. Some of those walls are as creative as doing a painting," she says. In the same way, the styles captured in the book — from punk to reggae to Britpop — paint a colorful and complex portrait of who the British really are.
As well as inviting submissions online, Manandhar contacted influential artists and musicians and asked them to contribute, too. Not everyone was forthcoming. "Some people love it and come back to you saying, 'Oh my God, I've got so many pictures!' They like the memories and they like telling their stories," she says. "But lots of people don't have anything. They say, 'I wasn't taking photos — I was too busy enjoying myself. I didn't need to document it.'"
The online archive at What We Wore is ongoing — and it's receiving more submissions now than ever before. But Manandhar is happy to have made a tangible, printed record, just like we used to when we sent our snapshots off to be processed. "A print document is sort of like a time capsule, isn't it?" she says. "Because you don't really know what's going to happen with the internet. One day it might just disappear into a puff of smoke."
Click through our slideshow below to see images from the book alongside memories from each subject.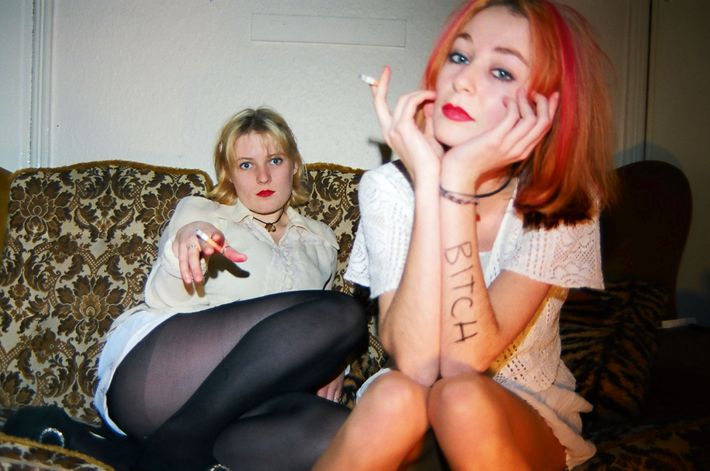 Hannah Asprey, graphic designer and photographer; Sheffield, 1994
"The Riot Grrrl movement was a big deal for us. We were both shy and insecure and we felt that a lot of those loud females seemed to be shouting and screaming on our behalf when we were too lacking in confidence to do it for ourselves. They expressed our frustration and anger at how sidelined we felt as young women in the music scene, the skateboarding scene that we were also part of, and society in general."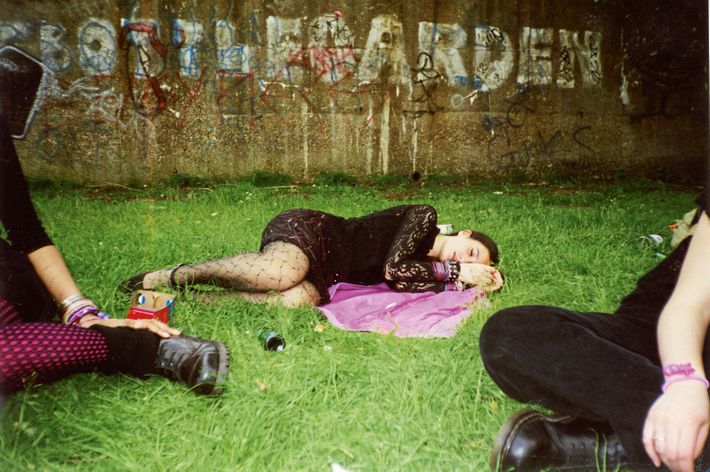 Angel Dahouk, writer; London, 1996
"By the time I was 16, I'd amassed over 100 letter-writing friends across the globe who shared my love of the Manic Street Preachers. Everything was decided by the music we listened to — the clothes we wore, the books we read, the films we watched, the people we called friends. I over-accessorized with glitter and routinely committed the fashion faux pas of lace-on-lace."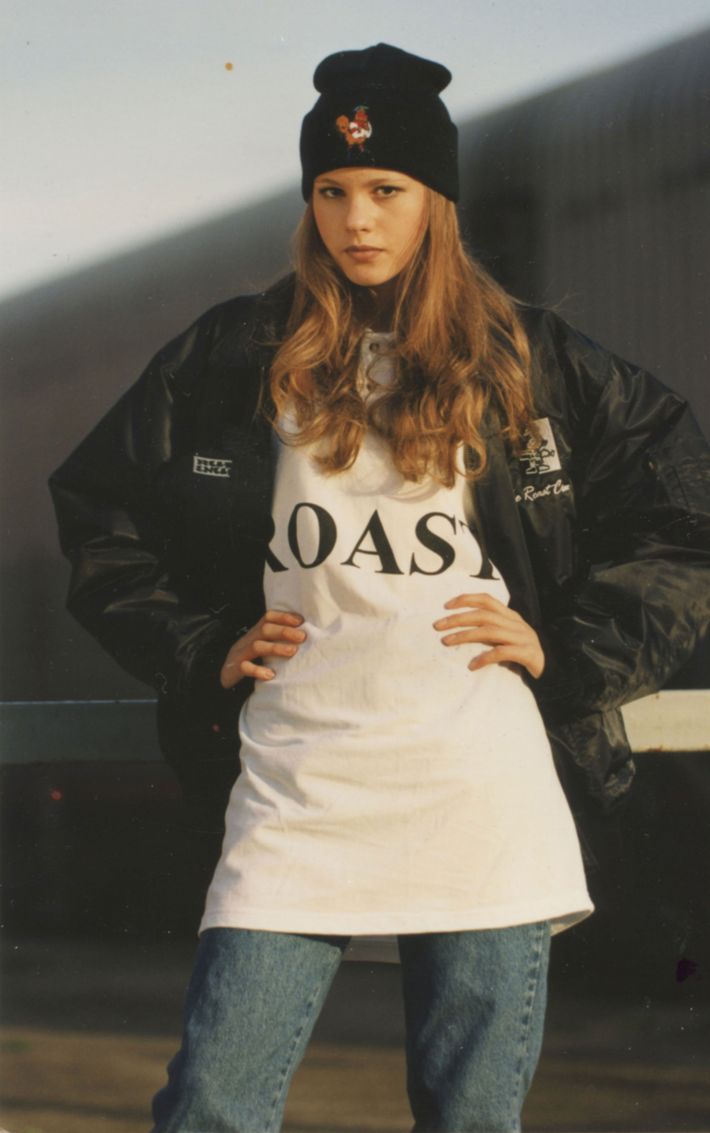 Natalie Coleman, receptionist; London, 1995
"I started raving at 13 and was still at school. I think the first place I went was Labyrinth on Dalston Lane. Then I hit most of the jungle, drum 'n' bass, and happy hardcore events. Those were the days when you didn't really need I.D. Things were more relaxed then. I listened to jungle on pirate radio stations and once ran up a £600 phone bill doing shout-outs to my friends. My mother wasn't very impressed!"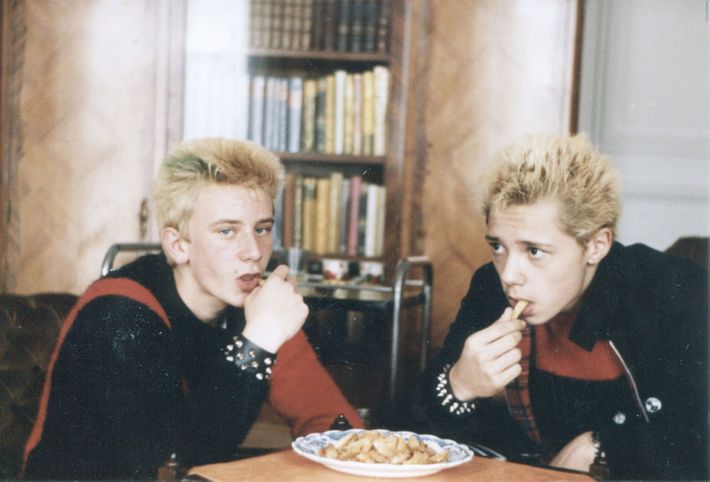 Andrew Gallix, writer; Merton, 1981 
"I was only 11 when I got into punk, which was very young, even back then. The first punk garment I bought was a green T-shirt with a cheesy transfer of the words 'punk rock' daubed onto an unconvincing brick wall. My mum bought it for me on our first trip down the King's Road in July 1977. I knew it wasn't really punk precisely because it had the word 'punk' on it, but that's all we could afford. The picture above is of me and my best mate Yannick. These red and black jumpers, knitted by Yannick's mum, were part of our own distinctive style."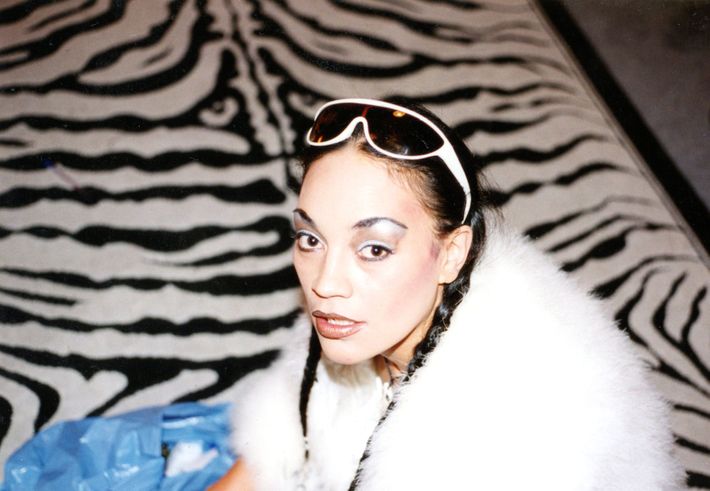 Hoana Poland, founder of Strut London Boutique; London, 1995
"I was 25 when this was taken, at my friend Danny's house. We were having a few drinks before going out. My friend had a drag show at Madame Jojo's and then we were going to Club Naive, which played garage, house, and techno. They were days of excess. People had started taking a lot of heroin; it was the beginning of heroin-chic culture. It wasn't just a fashion name: People who didn't have that switch-off button were dying from it or being sent to prison. We managed to get through relatively unscathed."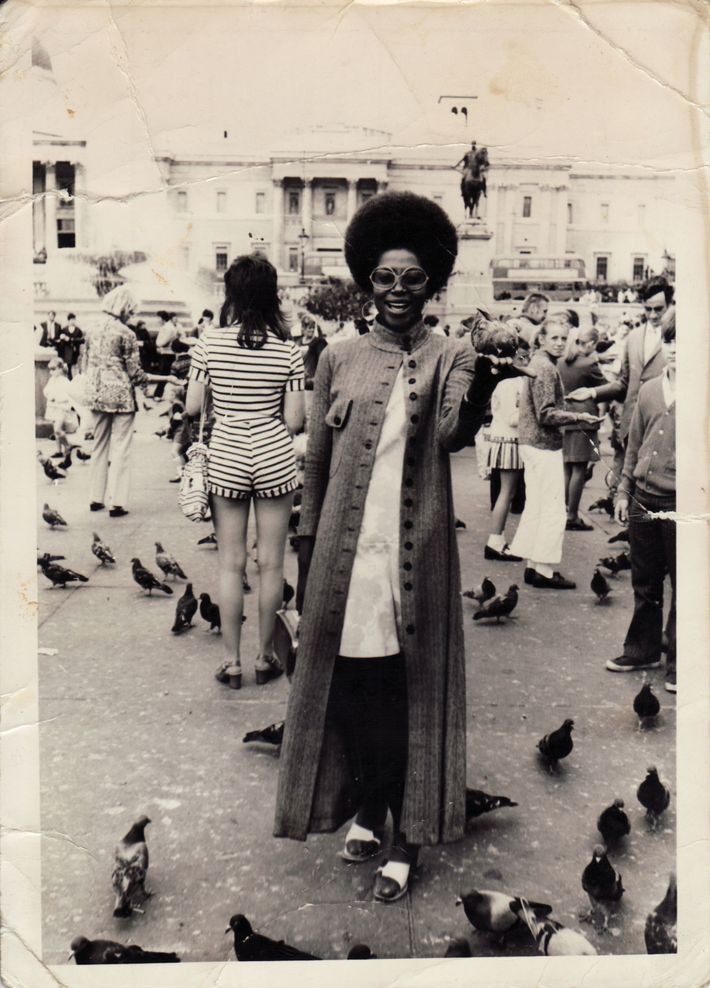 Mimi Joshua-Olushoga, hat designer; London, 1971
"This picture was taken in spring 1971 on my way from a fashion show held at the Nigerian Embassy in Northumberland Avenue, near Trafalgar Square, to promote Nigerian woven textiles. I am wearing a lightweight tweed maxi coat that I bought from Bourne & Hollingsworth in Oxford Street a few weeks earlier."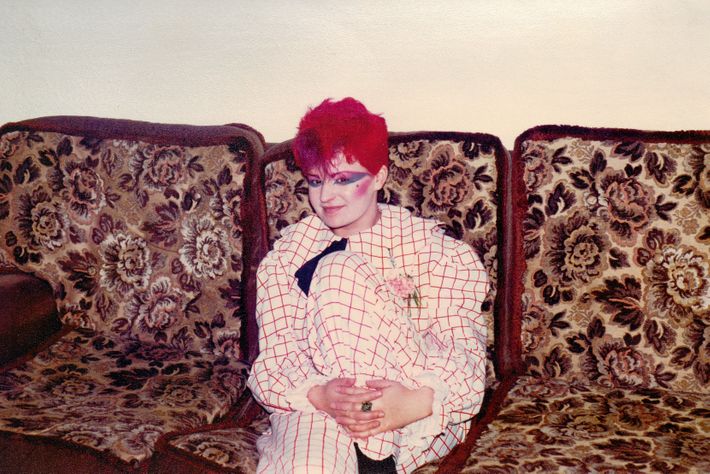 Marie Jones, fashion designer
"I was 18 and about to go to my new boyfriend's sister's wedding and had made this outfit specially. It was an all-in-one and heavily influenced by the New Romantics! I made it from fabric I bought at Habitat. Hair was a Crazy Color and a variation on many different colors I wore at the time. The makeup was an integral part of the look, and I never went out without it at this time."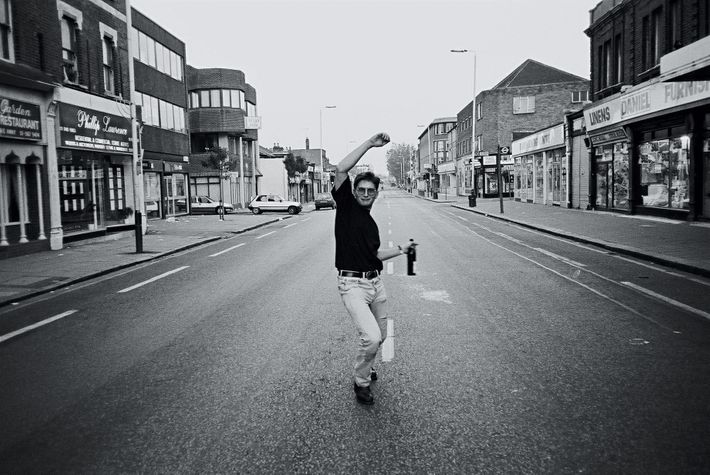 Mark Charnock, photographer;  London, 1981
 "The end of our teen years saw a broadening of our musical, fashion, and nightlife horizons. We listened to the likes of Depeche Mode, Devo, Fad Gadget, and Cabaret Voltaire. Rather than the high streets of Ealing, shopping expeditions took us to Shepherd's Bush Market for Sta-Prest trousers and Gabicci tops, Stardust on Portobello Road for American shirts, and Fifth Column for T-shirts, plus Camden and Kensington Markets."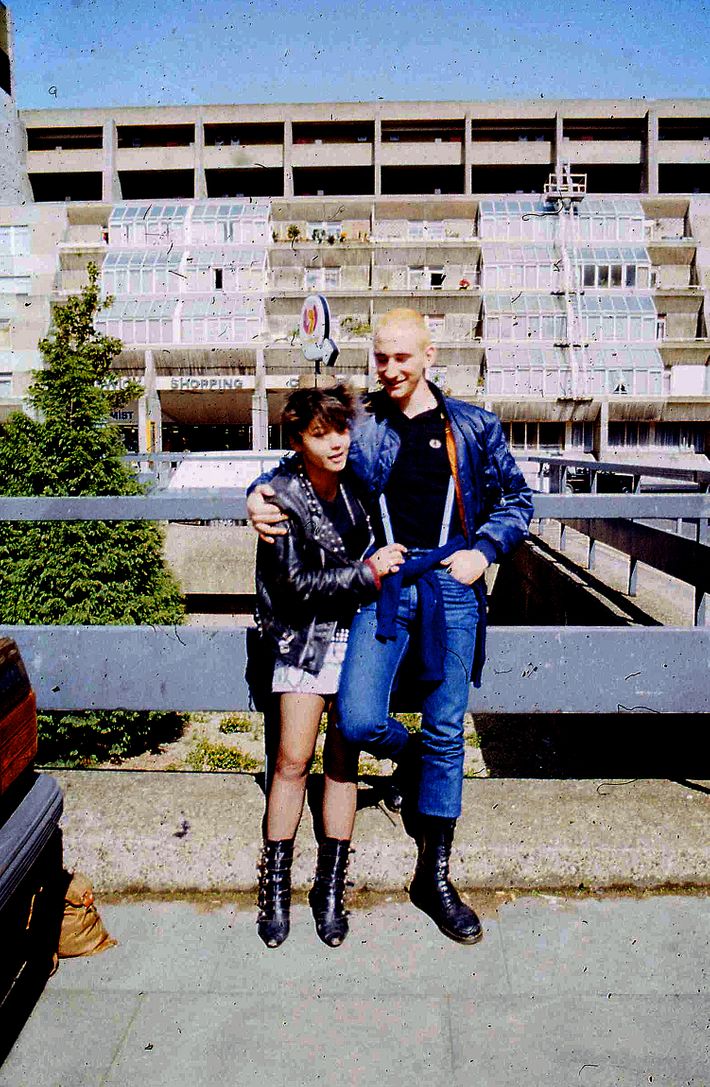 Gavin Watson, photographer; London, 1983
"My girlfriend and I had traveled down from Slough to see my friend Cass, who was a photographic printer, and got drunk at a pub in Bloomsbury. I was 17 and Keeley was 15 and still at school."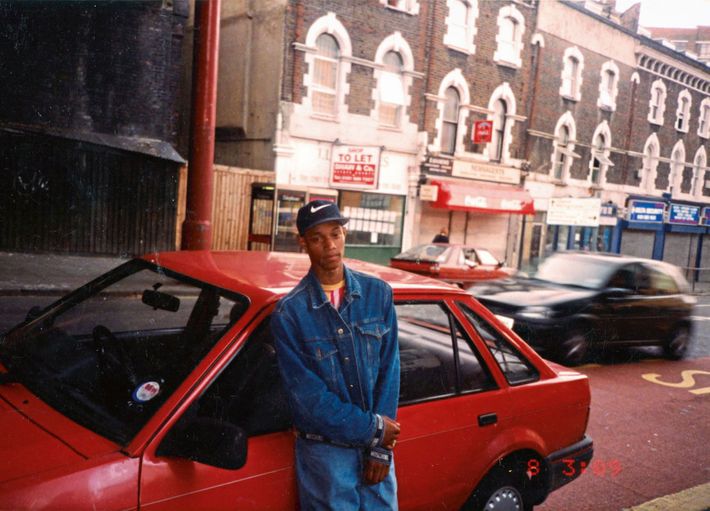 Winston Milton, company director and promoter; London, 1990s
 "I've always loved living in Hackney; I still love living in Hackney. It was wild, it was fun, it's always been multicultural. And you always felt that Hackney kinda had an influence on everything that was happening in London to do with fashion, music, and stuff. You always felt that, wherever you went, everyone just knew that you were from Hackney, you didn't have to say it out loud."